Source: The Conversation (Au and NZ) – By Kate Griffiths, Deputy Program Director, Grattan Institute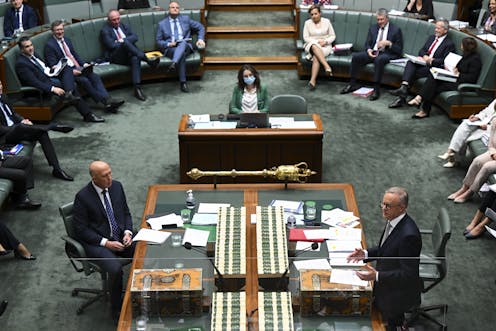 Lukas Coch/AAP
Nine months after the 2022 federal election, voters finally get a look at how much the parties spent and who funded their campaigns.
Data released today reveal Australia's political parties collectively spent a whopping $418 million in the year leading up to the federal election.
Money matters in Australian elections because it helps spread political messages far and wide. But political parties remain highly dependent on a small number of powerful individuals, businesses, and unions, to fund their campaigns. In the shadowy world of donations and lobbying, this dependence creates enormous risks of private influence over public decision-making.
The Coalition was the biggest spender, followed by Clive Palmer
The Coalition outspent Labor in the year leading up to the 2022 federal election, declaring $132 million in expenditure compared to Labor's $116 million. The Coalition has been the biggest spender at every federal election since 2007.
Clive Palmer's United Australia Party came in second in 2022 (on $123 million), outspending Labor. Palmer was a big presence in the 2019 federal election campaign too, but this is the first time he has edged out a major party in the spending stakes.
The 2022 election is the first federal election since 2010 where the party with the biggest wallet didn't win.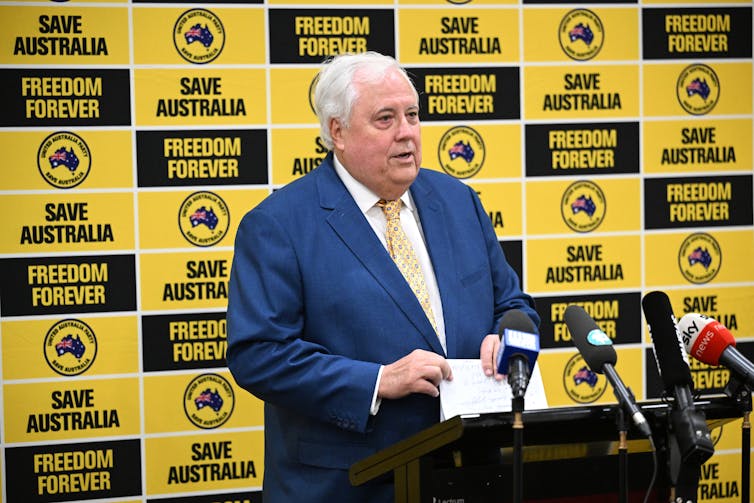 Who funded the 2022 election?
Clive Palmer broke records again, with his mining company Mineralogy donating $117 million to his United Australia Party. This breaks his own previous record of $84 million in the lead up to 2019 election, and dwarfs all other donations on record.
Anthony Pratt's paper and packaging company Pratt Holdings was the next largest donor in 2022, at $3.7 million, with the funds more or less evenly split between the Coalition and Labor.
Most of the major donors to Labor were unions (Figure 1), who collectively contributed more than half of all Labor's declared donations. Labour Holdings, an investment arm of the party, was also a major contributor, and Pratt Holdings was the largest individual donor for Labor.
---


Read more:
How big money influenced the 2019 federal election – and what we can do to fix the system


---
By contrast, most of the major donors to the Coalition were wealthy individuals and corporate donations funnelled through fundraising entities associated with the Liberal or National parties. The Coalition's top five donors accounted for more than a third of their declared donations and included $3.9 million from the Cormack Foundation (an investment arm for the Liberal Party). Other big donors to the Coalition included Sugolena Holdings, owned by businessman and investor Isaac Wakil, and Jefferson Investments (Figure 1).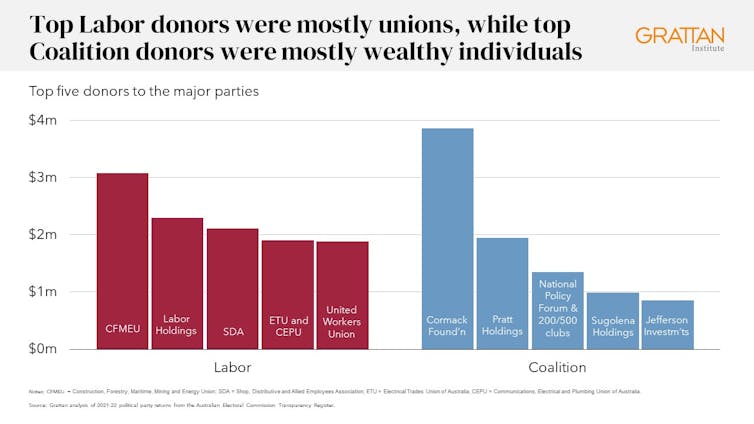 What about the Teal independents?
Independents and other individual candidates collectively spent about $21 million at the 2022 federal election. While this was a lot more than the $7 million they spent in the 2019 federal election, it was only 5% of party expenditure in the 2022 election.
A big chunk of independent candidate funds came from pro-climate action donors – largely under the banner of Climate 200, an organisation set up to fund political action on climate change, with wealthy backers including Mike Cannon-Brookes, Scott Farquhar, and Simon Holmes à Court. Climate 200 donated $6 million across 19 candidates. Most other large donors were also Climate 200 donors.
But many of the Teal candidates ran strong grassroots campaigns too. For example, Monique Ryan raised $1.8 million from 3,762 donors for her successful campaign to unseat former treasurer Josh Frydenberg in the Melbourne seat of Kooyong.
How to prevent donors 'buying' influence
As a 2018 Grattan Institute report showed, political donations buy access and sometimes influence over public policy. While explicit quid pro quo is probably rare in Australia, the risk is in more subtle influences – that donors get more access to policymakers and their views are given more weight. These risks are exacerbated by a lack of transparency in dealings between policymakers and special interests.
Political donations and lobbying activity should be much more transparent. This would in turn give politicians, journalists, and the broader public the information to call out those "in the room" – and speak out for those who are not.
There is a lot of private money we know nothing about in federal elections (Figure 2). To improve transparency, we believe the donations disclosure threshold should be lowered from the current threshold of $15,200. Labor has a policy to lower it to $1,000, which would mean all donations big enough to matter are on the public record. Political parties should be required to aggregate multiple donations from the same donor, so big donors can't hide. And it is frankly ridiculous that donations data is released long after the election is over. Real-time disclosure already happens in some states, and it should happen federally as well. Voters should know who's funding political campaigns when they go to the polls.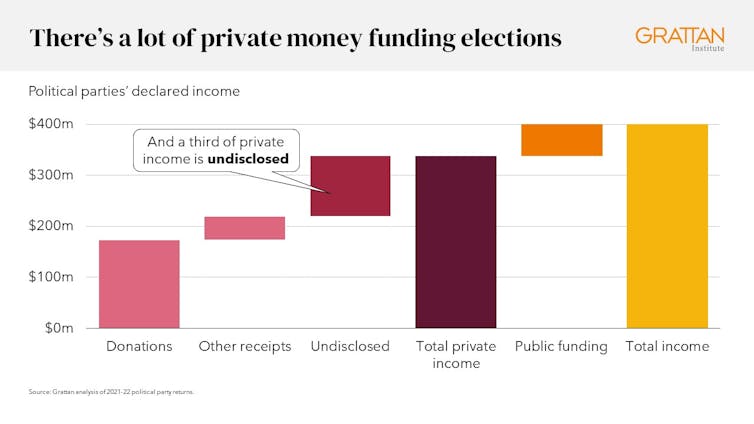 Transparency is important, but it is not enough on its own. Ultimately, to reduce the influence of money in politics, parliament should introduce an expenditure cap during election campaigns. Limiting expenditure by political parties – and third parties – would reduce parties' dependency on major donors and limit the "arms race" to raise more and more funds.
Politicians could still spread their messages far and wide – but they'd have to rely more on people power and less on private money.

The Grattan Institute began with contributions to its endowment of $15 million from each of the Federal and Victorian Governments, $4 million from BHP Billiton, and $1 million from NAB. In order to safeguard its independence, Grattan Institute's board controls this endowment. The funds are invested and contribute to funding Grattan Institute's activities. Grattan Institute also receives funding from corporates, foundations, and individuals to support its general activities as disclosed on its website.
Iris Chan does not work for, consult, own shares in or receive funding from any company or organisation that would benefit from this article, and has disclosed no relevant affiliations beyond their academic appointment.
– ref. Big money was spent on the 2022 election – but the party with the deepest pockets didn't win – https://theconversation.com/big-money-was-spent-on-the-2022-election-but-the-party-with-the-deepest-pockets-didnt-win-198780