SPECIAL REPORT: By Ella Kelleher
The violent protests which erupted in major cities across Kazakhstan over the past week, fueled by the people's fury over high gas prices, grew into a monumental anti-corruption movement with the hope of changing the country's direction.
The Kazakh people are reportedly fed up with the country's immense wealth, owed to large oil reserves, being held by a small number of corrupt elites.
However, as with so many revolutions, the battle has intensified into a bloody clash between the people and the military.
Last Sunday, the rebellion began in western Kazakhstan, a region known for its natural resources and oil richness, against a significant surge in fuel prices. Despite the Kazakh government's promise to lower them­­, the protests spread throughout the country with a broader demand for better social benefits and less governmental corruption.
The Kazakh president, Kassym-Jomart Tokayev, issued a statement on Wednesday night calling, without offering evidence, protesters "a band of terrorists" who had been "trained abroad" – alluding to possible foreign interference.
Tokayev declared a state of emergency in Kazakhstan and requested the intervention from Russia's version of NATO, the Collective Security Treaty Organization (CSTO), to which Kazakhstan and Russia are members. Others include Armenia, Belarus, Kyrgyzstan, and Tajikistan.
The chairman of the CSTO, Armenian Prime Minister Nikol Pashinyan, also blames "outside interference" for the mass protests.
Russian-led troops
As promised by the military pact between Russia and Kazakhstan, Russian-led CSTO troops have stormed into Kazakhstan's largest city, Almaty, and were being met by large groups of demonstrators setting fire to trucks, police cars, and barricading themselves.
Some protesters wielding firearms were caught on camera looting shops and malls and setting government buildings on fire (including Almaty's City Hall and the president's former office).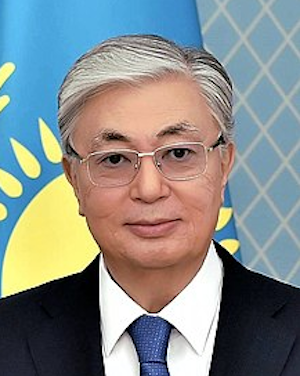 Local demonstrators also captured the Almaty airport. Flights in and out of airports in Almaty, Aktau, and Aktobe were suspended until further notice.
Much of the violence and scale of the chaos can be witnessed on social media applications such as Instagram, Facebook, and Tik Tok. However, with the government's internet shutdown on the entire country, many current reports are unconfirmed.
Kazakh locals, such as Galym Ageleulov, who has been witnessing the events of the past few days, states that throngs of criminals had co-opted the "movement that was calling for peaceful change".
Suddenly, the protesters morphed into groups of primarily young men posing with riot shields and helmets captured from police officers.
According to Ageleulov, these groups of men had replaced the Almaty police force and were "highly organised and managed by gang leaders".
Three police beheaded claim
Further unconfirmed reports sent in by locals on the ground in Almaty have stated that these men have beheaded up to three police officers.
The Kazakh interior ministry stated that at least eight police officers and national guard troops were killed during the protests while 300 were injured and more than 3800 protesters were arrested.
Kazakh Americans have flocked to social media to spread awareness of what is going on in the influential Central Asian nation.
One source on Tik Tok powerfully declared that "the revolution has started" and that the Kazakh people are calling for President Tokayev to "step down".
In response to the people's demands for a sincere governmental anti-corruption, Tokayev simply sacked the country's cabinet — and this did little to ease dissent and infuriated the protesters.
Tokayev's request for foreign military troops to help quell the protests has only further angered the Kazakh people, who feel deeply betrayed that their government would beckon foreign military groups to gun down Kazakh protestors chanting for their country's freedom.
The nation's fury with their authoritarian leader is exacerbated by Tokayev's recent statement in a televised address that "whoever does not surrender will be destroyed. I have given the order to law enforcement agencies and the army to shoot to kill without warning".
Locals line up for bread
Almaty's commercial banks have been ordered to shut down, forcing Kazakhs to withdraw all their cash from ATMs. Stores and markets have been forcibly closed as well, causing locals to line up for rations of bread — a heartbreaking sight that has been unseen in Kazakhstan since the country's independence from the Soviet Union in 1991.
Almaty's City Hall, a famous white building that once served as the Communist Party headquarters, is charred black from protestors' flames set on it.
Kazakhstan has been long been praised as being one of the most successful post-Soviet republics. The country has by far the highest GDP per capita in the Central Asian region and plenty of oil reserves, driven mostly by its western region.
Additionally, Kazakhstan accounted for more than 50 percent of the global uranium exports in 2020.
Kazakhstan is also the second largest country for bitcoin mining. Due to the Kazakh government's shutdown of the internet, crypto markets have seen a considerable loss.
Despite the country's abundance of natural resources, most of Kazakhstan's enormous wealth has not been equally spread among the populace.
Corrupt elites live in style
Since the country's independence, corrupt elites and officials have been living in luxury while the vast majority of the Kazakh people survive on paltry salaries.
The current dire situation in Kazakhstan can be interpreted as a significant warning for neighbouring Russia. Presidential succession creates unrest in authoritarian countries.
In 2019, former president Nursultan Nazarbayev hand-picked his successor, Tokayev. While this change may have seemed refreshing on the surface, the Kazakh people are well aware of Nazarbayev's shadow-emperor hold on the country's political power.
An invaluable lesson must be learned from Kazakhstan's present state: a raging sea of anger and discontent might be storming beneath a thin veil of regional stability.
A petition posted on Change.org, which 36,000+ people have signed, calls to remove foreign military troops from Kazakhstan.
Ella Kelleher is a Kazakh American at English major graduate at Loyola Marymount University, Los Angeles, US. She is the book review editor-in-chief and a contributing staff writer for Asia Media International. Republished with permission.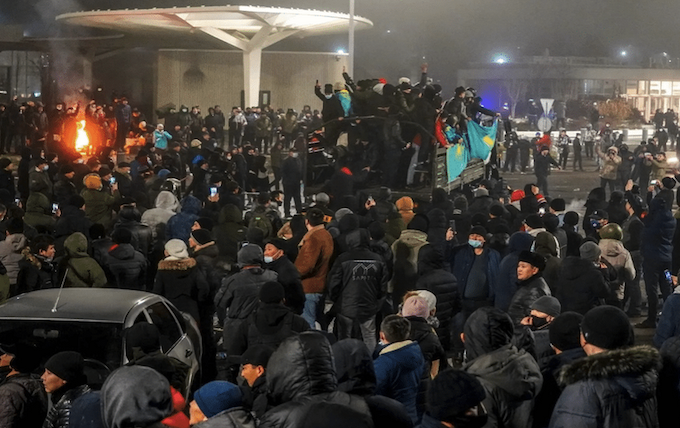 Article by AsiaPacificReport.nz