Source: The Conversation (Au and NZ) – By Katy Thomas, PhD Candidate, University of Tasmania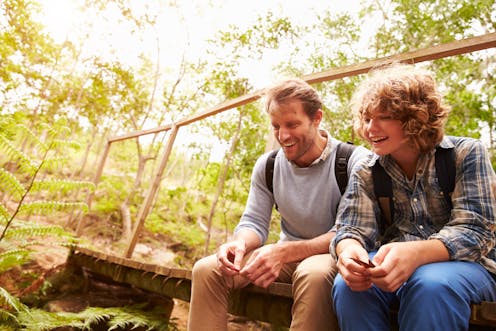 In the media, parents can be portrayed as fearful and conservative when it comes to relationships and sexuality education. Parental concern about the appropriateness of such programs at school is often cited as a reason they may be watered down.
My recent study examined the views of 612 fathers of children aged 3-12 across Australia on relationships and sexuality education. Most (94%) of the fathers surveyed said they valued it for their own children and 92% said they wanted to play an active role in delivering it.
Why does it matter?
There are many reasons why it's important men are more involved in conversations around relationships and sexuality education.
For instance, men are more likely to hold homophobic views than women. And in Australia, 83% of criminal offences related to intimate partner violence in 2019 and 2020 were perpetrated by men.
However, research shows fathers in Australia are substantially less involved in relationships and sexuality education than mothers, and are also less likely to participate in related research. The reasons for this largely reflect expectations mothers are nurturers and fathers providers. Although these notions are outdated and evolving, they do persist in Australia today.
---


Read more:
Parents, your kids are watching you. Sex education begins at home


---
Additionally, fathers consider themselves poorer communicators and feel less comfortable talking about sensitive topics than mothers. This leads to a gap between their intentions and their actions as sexuality educators.
What I did in my study
My study included fathers of varying types and levels of employment and education, different cultures, ages, and ethnic backgrounds. Participants also included fathers of varying sexual orientations. The proportions of fathers in each category broadly resembled that in the Australian population more generally.
First, 612 fathers completed a survey on their opinions about what should be included in relationships and sexuality education, as well as the extent to which they were involved.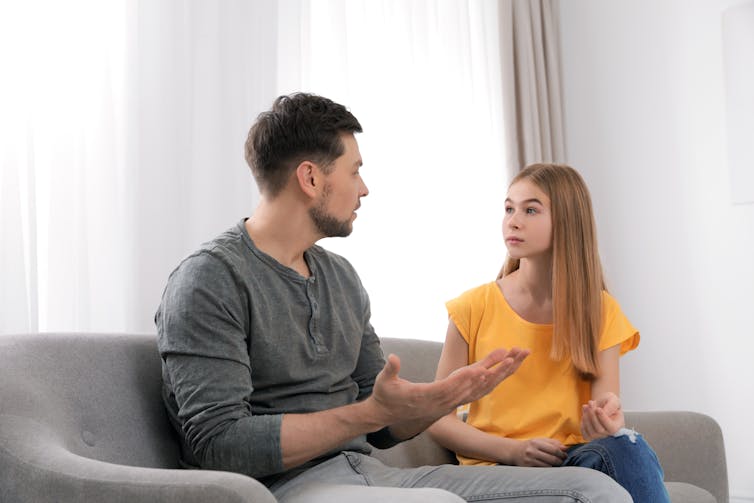 The survey comprised 106 questions about various aspects of relationships and sexuality education. These included the appropriate age to teach it and value placed on various topics and outcomes, the strategies fathers recall using, and fathers' fears, concerns and barriers to engaging with it.
I then interviewed ten fathers to help explain the findings.
What fathers said
The survey included a list of 17 outcomes of relationships and sexuality education. These ranged from understanding puberty and reproduction, to knowing how to find help with a sexuality related issue. Fathers rated these on a scale from "not important" to "very important".
When asked to rate how important individual outcomes were for their children as they approached the teen years, fathers' top priorities were their teenagers' capacity to avoid violent relationships, understand consent, and recognise and report sexual abuse.
When asked about what motivated him to be involved in relationships and sexuality education for his children, one father of six in his 60s said:
I want to make sure that if something happens to one of my kids, they can come to me to discuss it.
Understanding gender diversity, emotions, puberty, contraception, body image, sexual orientation, values, reproduction and birth, and sex were all outcomes fathers considered important.
---


Read more:
Instagram can make teens feel bad about their body, but parents can help. Here's how


---
Most interview participants felt the recent changes in social norms around gender and sexuality reflected in the media were opportunities for them to start conversations:
One father in his late twenties, with two sons, said:
There's a big change around gender and all of that, so I'm reading up on that and I translate it into how I'm dealing with my kids.
In both the survey and interviews, most fathers dismissed concerns the mere act of talking about sex would shatter childhood innocence.
One father said he received no education or involvement from his own father on sexual or relationship matters. He also said:
I don't think that you are going to make a six-year-old suddenly super interested in sex if you just have an honest conversation about what it is.
Fathers rated most outcomes as more important for daughters than for sons, reflecting a slightly elevated level of concern and a perceived vulnerability of daughters when it comes to sex and relationships:
I think the consequences for girls are, in our society especially, harder.

I see that the repercussions are worse for girls and women because sexual violence is gendered.
The responsibility to prepare sons to treat women and girls with respect was also front of mind for many participants. One father said:
It would be mortifying if I sent a boy out, you know, who was a predator.
Religious fathers, who constituted 30% of participants, valued the majority of outcomes slightly less than non-religious fathers. However, they still rated a range of progressive outcomes that might be considered discordant with religious values, such as comfort with sexual orientation and use of contraception, as important.
While fathers accepted exposure to sexualised imagery and pornography was, to some extent, out of their control, they wished to protect their children from perceived harms.
One father of four from a religious background said:
When it comes to pornography, or sexualisation and social media, I've got an important job to actually provide protection for the children.
Fathers need more support
Unpublished findings from my study indicate fathers would like to have access to a range of resources specifically designed for fathers to support further engagement with relationships and sexuality education.
One father said:
I don't know how I'd have those conversations, but I would cross that bridge when I got there, you just have to.
Several tips to start conversations about sexuality with your kids include:
try to answer questions simply and add layers as your children mature or ask for more detail

aim for frequent, small, casual conversations that show you are a non-judgemental, unshockable parent

ask your children to share with you their opinions and values, and listen to them

use media and events as prompts to start a conversation, and keep in mind you don't need to have all the answers
You may need to start the conversations yourself, as your children may never ask.
For more tips, look at Talk Soon, Talk Often.
---


Read more:
Not as simple as 'no means no': what young people need to know about consent


---

Katy Thomas does not work for, consult, own shares in or receive funding from any company or organization that would benefit from this article, and has disclosed no relevant affiliations beyond their academic appointment.
– ref. 'I want to make sure if something happens to one of my kids, they can come to me': fathers want to talk to kids about sex, but need support – https://theconversation.com/i-want-to-make-sure-if-something-happens-to-one-of-my-kids-they-can-come-to-me-fathers-want-to-talk-to-kids-about-sex-but-need-support-167878