Analysis by Keith Rankin.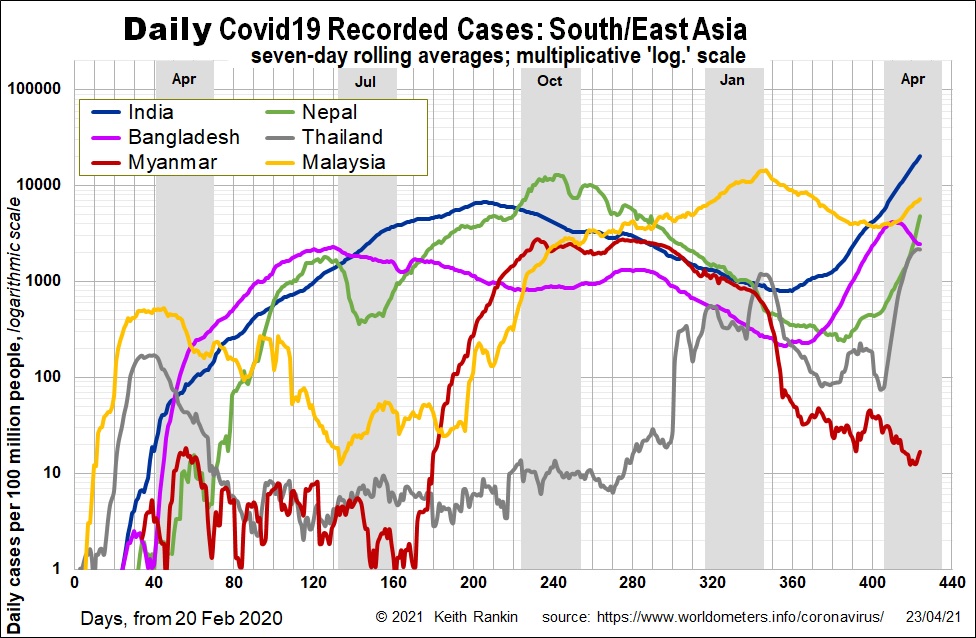 While, for Covid19, India is the big news story this week, there has been a general upsurge in the wider region, with substantial upsurges in Nepal, Bangladesh (which seems to have peaked), and Thailand. Malaysia had many cases around January, and is now facing another resurgence.
Re India, we should note that the outbreak is uneven, with the cities of New Delhi and Mumbai most affected, and, for the rest of India, the south has been more affected than the north. Test positivity rates are lower in India than in South America and in Eastern Europe. New Delhi is unlikely to become as badly affected as, say, Prague in the Czech Republic, or Budapest in Hungary.
Of considerable concern is Myanmar. It's reported Covid19 case numbers have dropped dramatically since the February 1 coup. Most likely, but by no means certainly, Covid19 is running rampant through Myanmar right now; it's just that the military government is 'too busy' to test and report for case statistics, let alone help people with it.
However, Covid19 is a disease that is transmitted by travelling populations – especially international travel – and in Myanmar the amount of international and presumably domestic travel will have fallen dramatically. So, maybe an unintended but effective lockdown is in place, and the numbers really have dropped from their pre-coup peaks.
—————–
Islands Compared
On the matter of the role of travel in the spread of Covid19, it is pertinent to note a few island examples. Among the Caribbean islands, the four territories (Aruba, Curaçao, Sint Maarten, Caribbean Netherlands)  that belong to the realm of the Netherlands easily have higher death rates than any of the other islands in the Caribbean Sea; death rates comparable to the Netherlands itself, which has so far lost one in 1,000 of its people to Covid19. Most of the politically independent islands in the Caribbean – poorer, but less the playgrounds of Europe – have much lower covid case and death rates than do these islands. This better performance includes most of the islands affiliated to West Indies cricket. Also, interestingly, Netherlands' former colony on the South American mainland – Suriname – is much less affected by Covid19 than the four island territories which still 'belong' to Netherlands (and despite its bordering on Brazil's Amazon region).
There are other match-ups of interest, in the Indian Ocean. Réunion, part of France and a spectacular place that I visited many years ago, is much worse affected than is independent Mauritius. (The Seychelles, much more dependent on European tourism than Mauritius, falls in between Réunion and Mauritius in its covid impact.)
Between Madagascar and the African mainland lie the Comoros Islands. When they became independent from France, one Island, Mayotte, held out; it remains part of France. Yet Mayotte, with a GDP per capita probably 100 times that of the independent Comoros has Covid19 nearly an order of magnitude worse than its poor neighbour.
Covid19 is a disease most experienced by poor people in rich countries and rich provinces of medium income countries. It is a disease transmitted to poor people by rich people.