Analysis by Keith Rankin.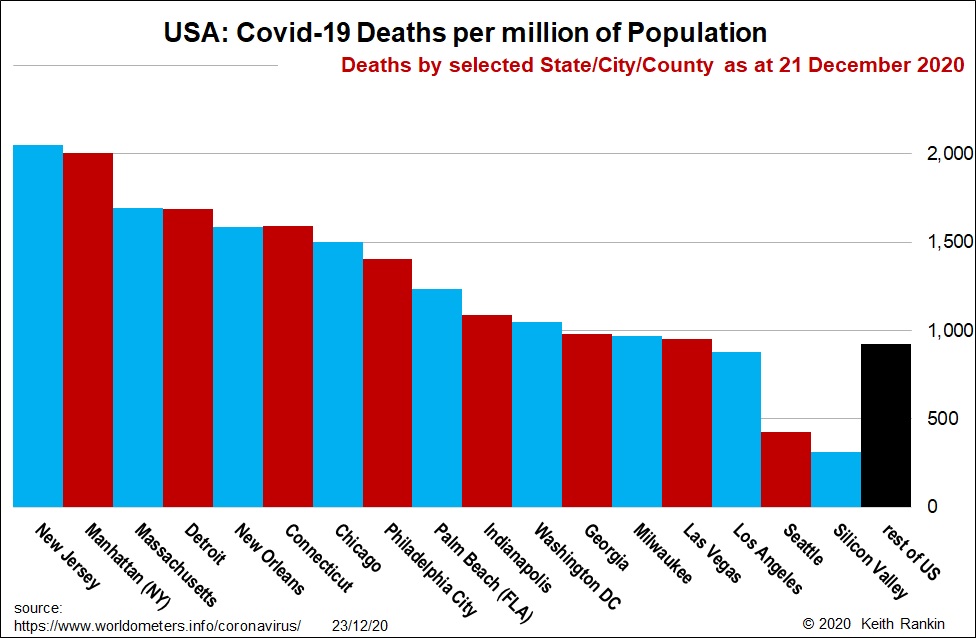 The parts of the USA with the highest Covid19 death rates – New Jersey and New York City – have lost two in every thousand persons in their populations. That's consistent with 40 percent of the populations of these places having been infected with the disease, based on a 0.5% case fatality rate.
I first created a chart like this one in March.
Covid19 came into the United States' west coast from China in January (with Seattle and Silicon Valley – aka Santa Clara county – markedly affected), and to the east coast from Europe to New York. The west coast outbreak was contained early, although Seattle took quite a big hit. The out of control pandemic in the United States started in New York, and was transmitted early to New Orleans and Detroit City.
While the death tolls have substantially evened out over the whole country, the northeast urban belt remains the worst affected region, by virtue of its larger numbers of earlier covid deaths. New Orleans has clearly mitigated the disease much better than New Jersey, the latter being practically a part of New York.
The west coast centres which caught the disease early – and directly from China – are now well below the United States' average. Even Los Angeles, which we have heard much about in the media, remains below average for covid deaths.
Over the next four months, the coldest cities in the northern 'rustbelt' are clearly at greatest risk. Cold weather, vaccination priorities, pockets of extreme poverty in these cities, and the comorbidity that goes with malnutrition – all suggest that the American tragedy has a long way to go yet.
While places like Palm Beach – Florida – may continue to have case fatality rates over 2%, due to their preponderance of older people, a combination of warmer weather and more vaccinations should see Palm Beach contain the disease.
The United States – and the rest of the world – could have consigned the SARS-COV2 virus to the same microbiological dustbin as the more lethal SARS-COV1. It would have required a combination of New Zealand-style lockdowns (with NZ criteria for emerging from those lockdowns) and the immediate introduction of Basic Universal Incomes as an unconditional financial cushion. Had these policies been understood and implemented, the economies and the health of the world's peoples could have been saved.