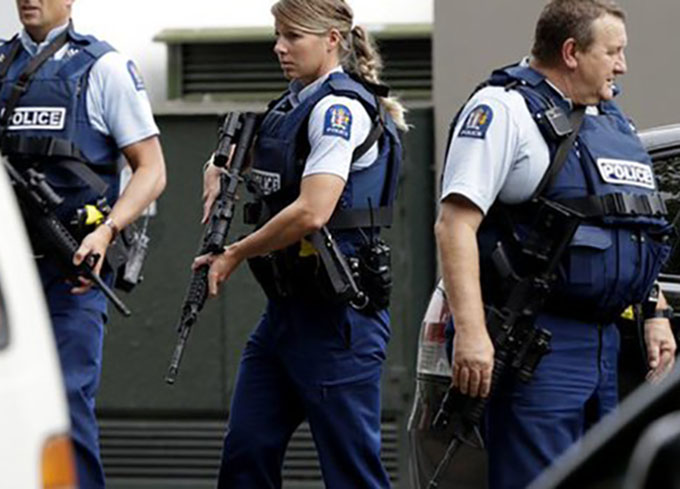 Armed police in action during the Christchurch lockdown after the attack on two mosques today. Image: RNZ Twitter
By RNZ
Armed police have been deployed after shots were fired at two mosques where hundreds of people were praying near Hagley Park in Christchurch today.
READ MORE: 'This is horrible – unthinkable in New Zealand'
Key points:
There have been two shooting incidents – at the Masjid Al Noor Mosque next to Hagley Park, and at the Linwood Masjid Mosque in the suburb of Linwood.
Police Commissioner Mike Bush said one person was in custody, but police said there may be other offenders.
Prime Minister Jacinda Ardern said on live television: "There is no place in New Zealand for extreme violence."
An eyewitness inside the Masjid Al Noor Mosque said he heard shots fired and said at least four people were lying on the ground and "there was blood everywhere".
An eyewitness said a man wearing a helmet and glasses and a military style jacket opened fire inside the mosque with an automatic weapon.
About 300 people were inside the mosque for afternoon prayers.
Police sid the "risk environment remains extremely high".
The manager of the An-Nur Early Childhood centre in Wigram earlier said police gave some parents an update that said there were two gunmen and at least one was on the loose.
People in central Christchurch have been urged to stay indoors and report any suspicious behaviour immediately to 111.
All Christchurch schools, Christchurch Hospital and Christchurch City Council buildings have been placed into lockdown.
This article is republished under the Pacific Media Centre's content partnership with Radio New Zealand.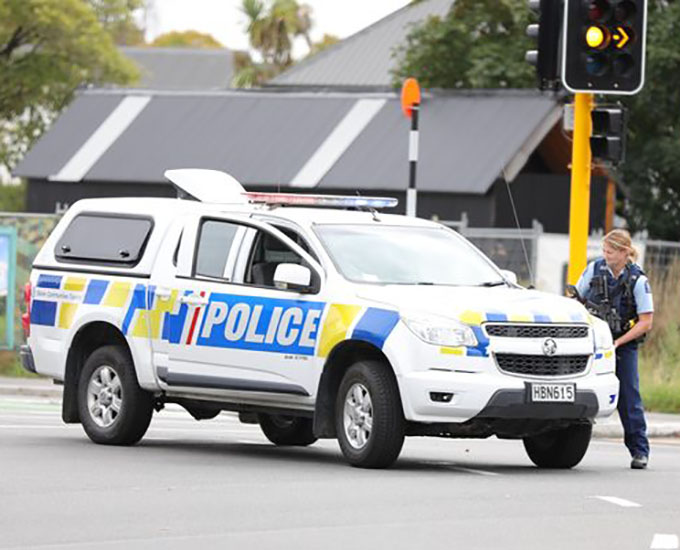 Police at the cordon around a shooting incident in central Christchurch today. Image: Simon Rogers/RNZ

Article by AsiaPacificReport.nz