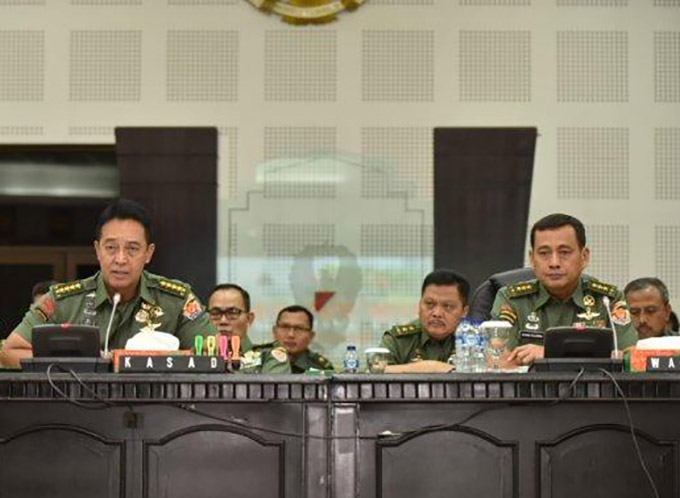 Indonesian military … cooperation with Australia is one of the biggest that the TNI enjoys with armies of other countries. Image: TribuneNews
By Gita Irawan in Jakarta
Indonesia's Army Chief of Staff (Kasad) General Andika Perkasa and Australian Defence Force chief General Angus John Campbell have agreed to further increase military cooperation between the two countries.
The meeting between Perkasa and Campbell was held in the framework of a "courtesy call" between the military leaders of the two countries.
This was conveyed by army information office chief (Kadispenad) Brigadier-General Candra Wijaya in a written press release received by Tribune News this week.
"During the meeting, the Kasad said that the TNI AD's (army's) role in safeguarding and defending the unity of the land territory of the NKRI [Unitary State of the Republic of Indonesia] is not easy, so in several of its activities the TNI AD always endeavors to improve professionalism and the quality of its soldiers," General Wijaya said.
General Wijaya said that this effort include improving education and training programmes and closer cooperation with the armies of friendly countries.
General Wijaya also took the opportunity to say that Perkasa is very aware that the cooperation and the bilateral relationship between the armies of the two countries have been good.
According to General Wijaya, this cooperation is one of the biggest that the TNI AD enjoys with the armies of other countries.
Several proposals
"Because of this, the essence of the discussions at this meeting is that the two sides agree to increase military cooperation between the two countries, particularly their armies," General Wijaya said.
General Wijaya also said that during the meeting Perkasa made several proposals to General Campbell related to military cooperation.
"This included joint training activities, the exchange of lecturers and instructors, as well as improving the education organised by the TNI AD as well as the Australian Defense Force", General Wijaya said.
General Wijaya said that that General Campbell welcomed the suggestions made by Perkasa because the Australian Defence Force also hopes that cooperation between the two armies will continue to improve in the future.
Also present at the meeting was Kasad's Head of Expert Staff Major-General Felix Hutabarat, Deputy Security Advisor Brigadier-General Djaka Budhi Utama, Deputy Assistant of Operations Brigadier-General Untung Budiharto and Indonesia's Defence Attache in Canberra, Admiral R Teguh Isgunanto.
Translated by James Balowski of Indoleft News Service. The original title of the article was "Bersenjata Australia Sepakat Tingkatkan Kerjasama Militer".

Article by AsiaPacificReport.nz