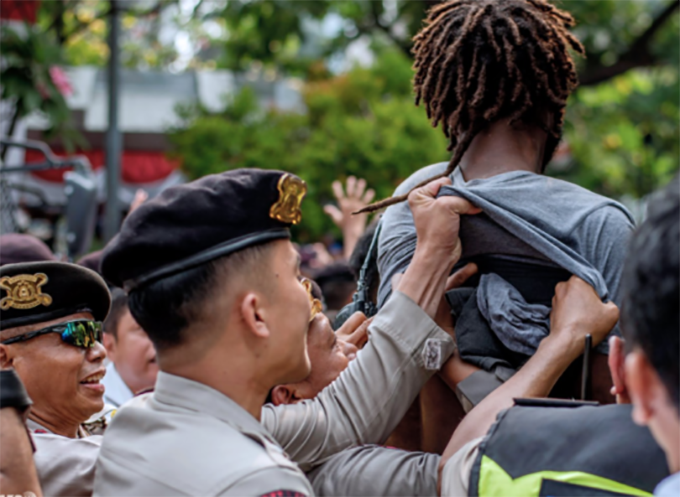 Indonesian police torture a pro-independence West Papuan suspect. Image: West Papua Campaign/AFP
Pacific Media Watch Newsdesk
The Free West Papua Campaign has welcomed the call by the United Nation's human rights experts for "Prompt and impartial investigations … into numerous cases of alleged killings, unlawful arrests, and cruel, inhuman and degrading treatment of indigenous Papuans by the Indonesian police and military".
Benny Wenda, chair of the United Movement for the Liberation of West Papua (ULMWP), said: "The West Papuan people are crying out for their freedom and self-determination.
"In January, we handed the UN High Commissioner for Human Rights a petition of 1.8 million signatures – 70 percent of the Indigenous West Papuan population – for an internationally supervised vote, a referendum, on independence from Indonesia. Finally, the Indonesian State's brutal repression and genocidal killing is being recognised by the United Nations."
READ MORE: UN human rights experts condemn human rights abuse and racism in West Papua
The statement from UN experts was sparked by the
torture of a political prisoner with a snake
.
The UN recognised that this incident is "symptomatic of the deeply entrenched discrimination and racism that indigenous Papuans face, including by Indonesian military and police".
The ongoing genocide in West Papua by Indonesia is estimated to have killed 500,000 West Papuans since 1969.
The UN statement continued:
"We urge the Government to take urgent measures to prevent the excessive use of force by police and military officials involved in law enforcement in Papua. This includes ensuring those, who have committed human rights violations against the indigenous population of Papua are held to account.

"We are also deeply concerned about what appears to be a culture of impunity and general lack of investigations into allegations of human rights violations in Papua."
The Office of the High Commissioner for Human Rights (UN Human Rights) is the leading UN entity on human rights. The General Assembly entrusted both the High Commissioner and her Office with a unique mandate to promote and protect all human rights for all people.

Article by AsiaPacificReport.nz