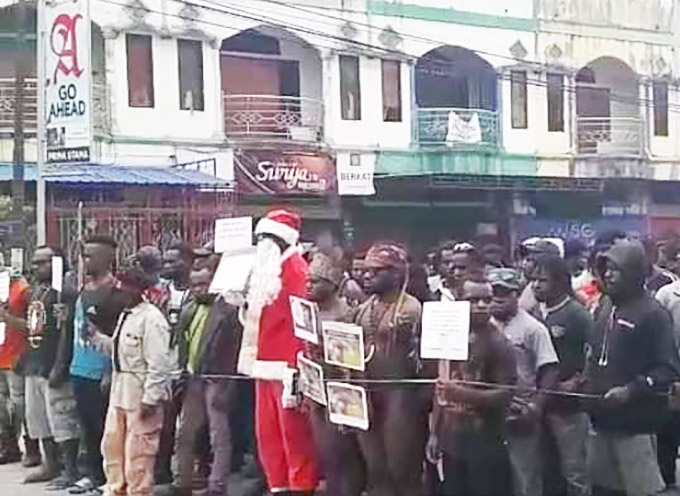 Christmas spirit at a Human Rights Day rally in the Papuan capital of Jayapura this week. Image: Voice Westpapua
Pacific Media Centre Newsdesk
Indonesian police should investigate a Papuan armed group's killing of at least 17 people, including a soldier, at a construction area in Nduga in Papua's densely forested Central Highlands earlier this month, Human Rights Watch said today.
The circumstances of the killings on December 2 remained unclear, said the watchdog.
Papuan militants should cease unlawful killings, and the Indonesian government should ensure that its security forces act in accordance with international standards and not commit abuses in response to the attack, said the watchdog.
READ MORE: Indonesia's Papua media blacklist
"A Papua militant group's attack on a worksite raises grave concerns that require a full investigation," said
Elaine Pearson
of Human Rights Watch.
"Militants and responding security forces should not inflict harm on ordinary Papuans."
The West Papua National Liberation Army (Tentara Pembebasan Nasional Papua Barat), the military wing of the Free Merdeka Movement (Organisasi Papua Merdeka), claimed responsibility for the killings, saying those killed were military personnel from the Indonesian Army Corps of Engineers.
An army colonel said that three of the survivors of the attack were military personnel working as engineers.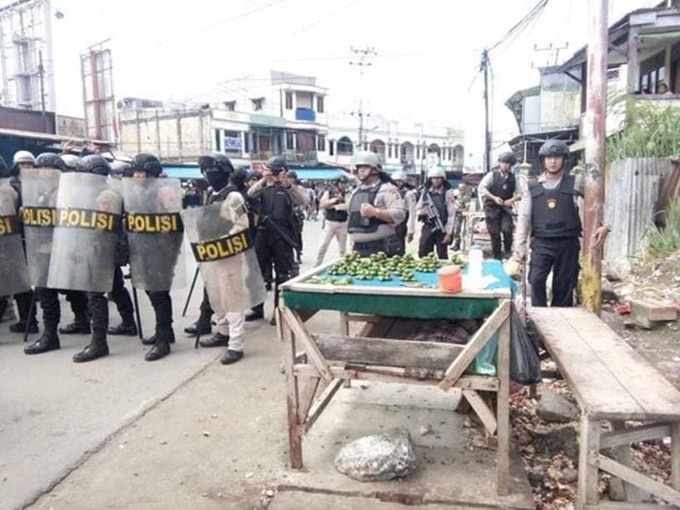 Indonesian police prepare to face peaceful Papuan protesters in the capital of Jayapura this week. Image: Voice Westpapua
'Military engineers'
Sebby Sambom, a spokesman for the Papuan armed group, told the media that the attacks were organised by the militant's group's third Ndugama Command.
He said they had monitored the workers for three months and concluded that they were engineering corps personnel wearing civilian clothes.
However, Indonesia's public works minister, Basuki Hadimuljono, said that those killed were workers from state-owned companies PT Istaka Karya and PT Brantas Abipraya, sent from Sulawesi to work on the 4300 km Trans-Papua highway.
He said that only the soldiers protecting the workers were armed, including the one killed in the attack.
Indonesian President Joko Widodo said in reaction to the attacks he had "ordered the armed forces commander and the police chief to pursue and capture all the perpetrators of such rude and violent acts".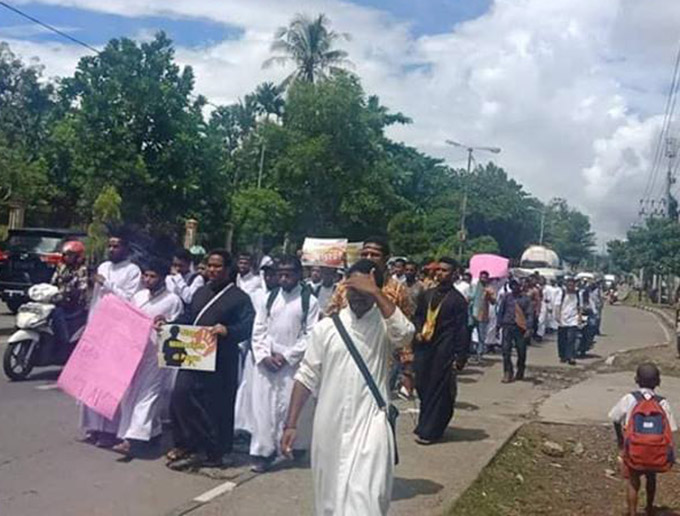 Priests, seminarians and students take part in a peaceful Human Rights Day march in the capital Jayapura this week. Image: Voice Westpapua
In West Papua, December 1 is widely commemorated as the day West Papua declared nationhood. In 1961, under Dutch rule, an elected council consisting mostly of indigenous Papuans commissioned the creation of a national anthem and flag.
On December 1, 1961, the West Papuan Morning Star flag was flown beside the Dutch tricolor for the first time.
Indonesia took control over Papua with United Nations recognition in 1969.
500 plus arrested
Over the last five decades, some Papuans have resisted Indonesian rule. On December 1, 2018, more than 500 students were arrested in more than 10 Indonesian cities after peacefully raising the Morning Star flag and demanding a referendum on independence.
Indonesia's National Police initially announced that the killings in Nduga were in retribution for a worker taking photographs of Papuan militants organising a flag-raising ceremony near a road and bridge construction.
More than 100 military and police officers were evacuating the dead and injured, and engaged in a military operation against the militants.
Human Rights Watch has long documented human rights abuses in Papua's Central Highlands, where the military and police have frequently engaged in deadly confrontation with armed groups.
Indonesian security forces have often committed abuses against the Papuan population, including arbitrary detention and torture. A lack of internal accountability within the security forces and a poorly functioning justice system mean that impunity for rights violators is the norm in Papua.
"The Indonesian security forces should exercise care when operating in Nduga, directing all security personnel to treat Papuans in accordance with international standards," said the watchdog.
"They should transparently investigate and hold accountable anyone implicated in a criminal offence. Both the military and the police should allow journalists to operate independently in the area."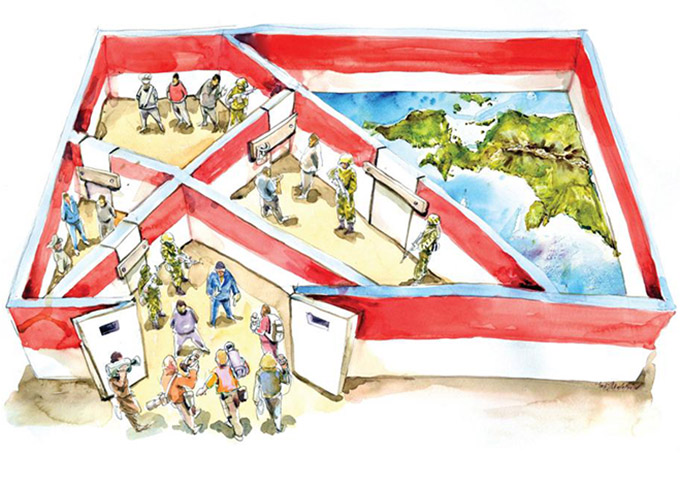 A cartoonist's depiction of Indonesian government restrictions on media freedom and rights monitoring in Papua. Cartoon: © 2015 Toni Malakian/Human Rights Watch
Remote access
Nduga is an extremely remote area where no journalists have had access since the attacks.
A decades-long official restriction on foreign media access to Papua and controls on Indonesian journalists there have fostered that lack of justice for serious abuses by Indonesian security forces and fueled resentment among Papuans.
"The situation in Nduga is muddled in large part because no journalists can independently go into the area to interview witnesses and verify what happened," Pearson said.
"Having independent monitors on the ground will help deter abuses by both the militants and security forces, which would benefit all Papuans."

Article by AsiaPacificReport.nz