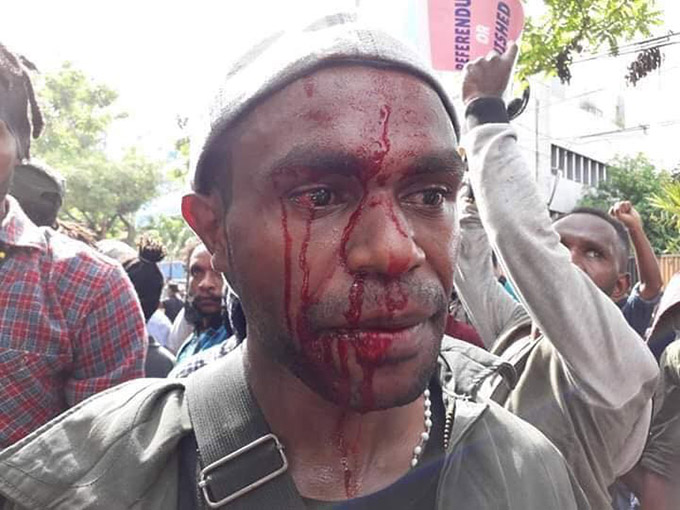 An unnamed Papuan student beaten during the December 1 West Papuan flag demonstration in Surabaya, Indonesia. Human rights sources report more than 300 arrests by Indonesian authorities. Image: Humam rights sources
Pacific Media Centre Newsdesk
Hundreds of Papuan students faced off with counterprotesters in Indonesia's second largest city of Surabaya today in a rally calling for the Melanesian region's independence while pro-independence sources reported more than 300 people arrested in West Papua.
The Surabaya rally was organised by the Papua Students Alliance. The demonstrators chanted "Freedom Papua" in Surabaya city to mark December 1, which many West Papuans consider as the 57th anniversary of what should have been their independence, report news agencies.
The crowd, many of whom wearing headbands of the Morning Star flag – banned by Indonesian authorities, was blocked from marching to the city center by scores of counterprotesters from several youth organisations waving the Indonesian flag.
READ MORE: Mass arrests over West Papua demos in Indonesian cities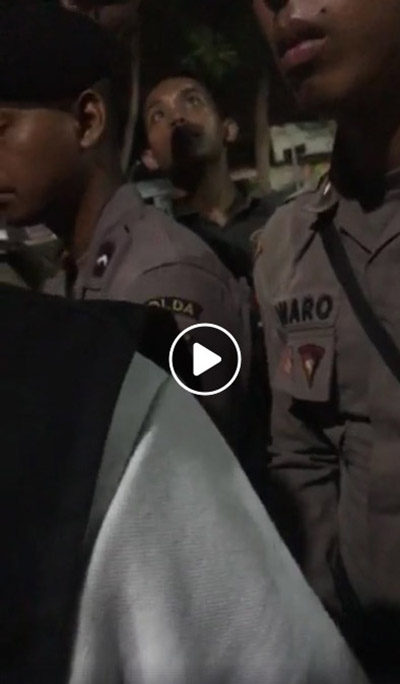 A screenshot from a secret video report of the mobilised Indonesian police about to raid the Papuan dormitories in Surabaya tonight. Image: Human rights sources
They confronted the pro-independence protesters with sharpened bamboos.
Several hundred members of anti-riot police prevented the two rival groups from clashing.
The protest ended after about two hours.
However, human rights sources reported tonight that Indonesian police and military had  surrounded Papuan student dormitories in Surabaya and arrested 223 people. They were being detained at the Surabaya City sector police station.
The Free West Papuan Campaign reports that more than 300 people have been arrested across West Papua.
Peaceful demonstrations
In several regions of West Papua, peaceful demonstrations took place. Protests were reported in Jakarta, Surabaya, Palu, Kupang, Ternate, Makassar, Manado, Ambon, Poso, Sula, Timika, Meruake, Waropen, and Tobelo.
In addition to police intervention during public gatherings, the London-based campaign's website said it had received reports that Indonesian security forces had also raided several student dormitories, and the West Papua National Committee (KNPB) headquarters was vandalised.
From the monitoring team, below is the interim report of arrests throughout West Papua and other parts of Indonesia: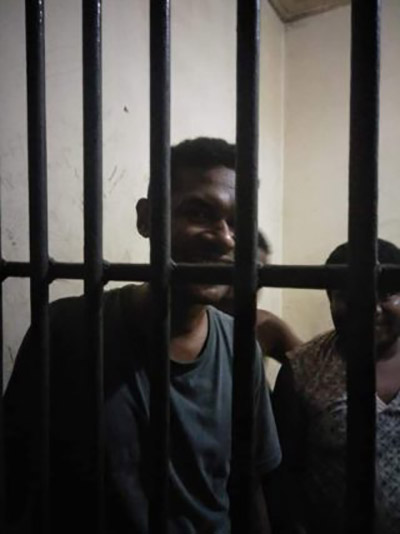 Philipus Robaha is among students still detained in Polsek KP3, Naval Base, Jayapura. Image: FWPC
1. Kupang – 18 people arrested.
2. Ambon – 43 arrested.
3. Ternate – 99 arrested. One of the activists was rushed to hospital due to suffocation
4. Jayapura around 85 people from 4 different locations: Dok IX, Abe, Jayapura and Sentani.
5. Jakarta – 140 arrested
6. Surabaya – hundreds involved in a long march towards Kamasan III student dormitary were confronted by tni-polri and some students were bruised from confrontation.
7. Manado – 29 arrested
8 Waropen – 7 arrested. Names: Jhon Wenggi, Yulianus Kowela, Monika Imbiri and Fiktor Daimboa
9. Sorong and Merauke, including KNPB HQ in Waena, Perumnas III: in lock down and an urgent need for advocacy at these places.
RNZ Pacific also reports mass arrests over West Papuan demonstrations in several Indonesian cities.
Today marks the 57th anniversary of the first time West Papua's flag of independence, the Morning Star, was raised.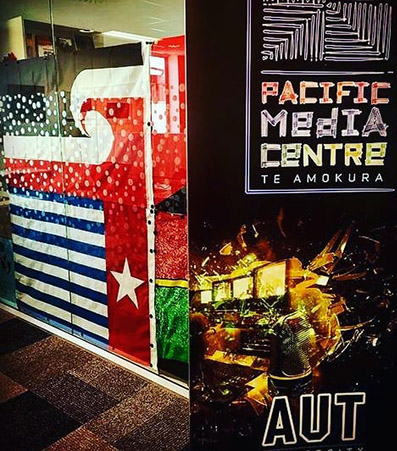 The banned West Papuan Morning Star flag on display at Auckland's Pacific Media Centre today. Image: PMC
In commemoration of the historic event numerous non-violent peaceful demonstrations and prayer vigils were organised around the country.
Worldwide flag raisings of international solidarity increase each year as the support for West Papuan independence gains momentum. In New Zealand, flagraising events were held in Auckland, Wellington and Christchurch.
This protests comes at a time of increased violence in West Papua, including suspected extrajudicial killings in the region.
Urgent issues of concern also include increased military presence, the killing of civilians caught in crossfire in the mountain regions, and armed civilian movements of Papuans protecting their villages.
The International Coalition for Papua (ICP) compiles data on political arrests and violence in West Papua. This information has been made public through quarterly reports. The latest ICP reports are at www.humanrightspapua.org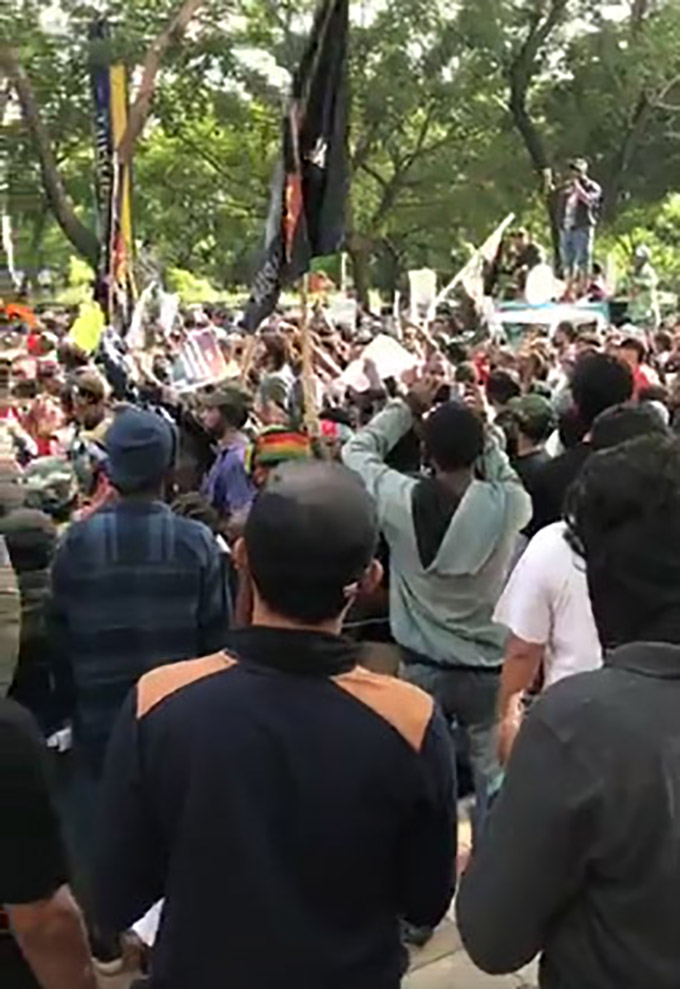 A scene from the Surabaya rally today with the crowd chanting "Freedom Papua". The men in the front of the image appear to be undercover police filming and recording events. A short distance away there was a counterprotest with Indonesian flags. Police kept the two groups apart. Image: Still from a West Papuan sourced video

Article by AsiaPacificReport.nz