<![CDATA[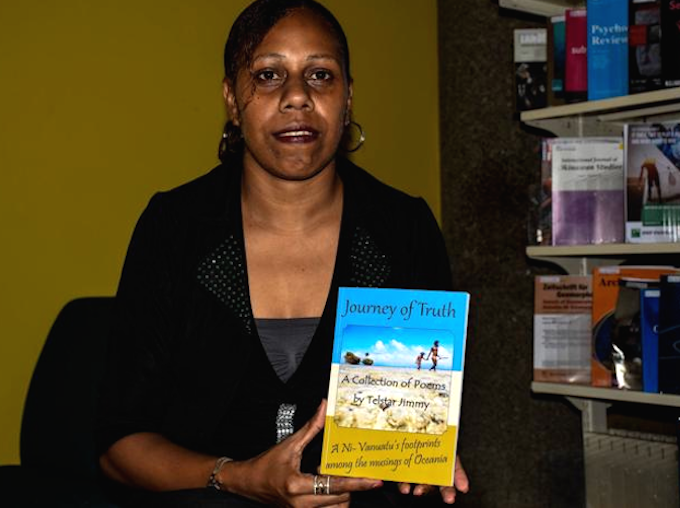 Telstar Jimmy with her poetry book Journey of Truth at USP's Laucala campus in Suva … now keen to help others publish. Image: Harrison Selmen/Vanuatu Daily Post
By Harrison Selmen in Suva, Fiji

Vanuatu student journalist Telstar Jimmy launched her first poetry book in Fiji last week and vows bigger plans ahead to to help boost publishing in her country.
Although it took her several years to achieve her passion, Jimmy was proud that everyone around her is enjoying the moment.
"I feel relieved that I was finally able to publish, and overjoyed that I can now be able to share my poems with others – not just in Vanuatu but in the Pacific, because friends from Solomon Islands, Fiji and Nauru have already started buying the book and giving me a lot of positive feedback on it," she says.
Jimmy's plan now is to find other poets in Vanuatu and promote their work in anthology collection that can give them recognition.
"I know many have the potential but they lacked the opportunity to shine and share their stories," she says.
While on the verge of completing her Bachelor degree at the University of the South Pacific majoring in journalism and language and literature at the end of this year, the launch of her book marks a double highlight in her academic journey.
The title of the book is Journey of Truth with four chapters and 76 pages.
Oceanic views
The poems cover global issues, oceanic views of the Pacific, family values and love stories.
She says the title of the book reflects the many stories in the book depicting real life events and journeys of life.
When asked who inspired her develop her poetry and why she decided to write a book, Jimmy answers, "Grace Molisa [an acclaimed ni-Vanuatu politician, poet and campaigner for women's equality in politics] was my big inspiration … but then she passed away so soon".
She said one of the main reasons to publish the book is to create a resource for Vanuatu generations with the Oceania and Pacific context.
As a mother of three children and mentor for many young Vanuatu students at Laucala during her three years of study, Telstar Jimmy describes the poems as a voice for all the silenced women – especially in a male-dominated country like Vanuatu.
Many student journalists at USP have posted messages on social media to congratulate the Vanuatu journalist for her poetic talents.
"Writing was fun and easy but publishing was quiet hard," she says, thanking her family for funding her publication in Fiji.
Never give up
Jimmy's message to her peers is never give up in life, even if it takes many years to achieve their dream.
"Don't neglect the potential that you have."
She thanked her families, especially her parents, siblings, children and husband for their support.
"Not forgetting Tony Alvero and Jerome Robert for the artistic designs, my English teachers at Malapoa and literature lecturers at USP, colleagues and friends and most importantly the almighty God for the wisdom and blessings," she says.
Telstar Jimmy featured in a Pacific Media Centre climate change video last year by AUT student journalists Julie Cleaver and Kendall Hutt. Asia Pacific Report has a content sharing arrangement with Vanuatu Daily Post.

Article by AsiaPacificReport.nz
]]>