<![CDATA[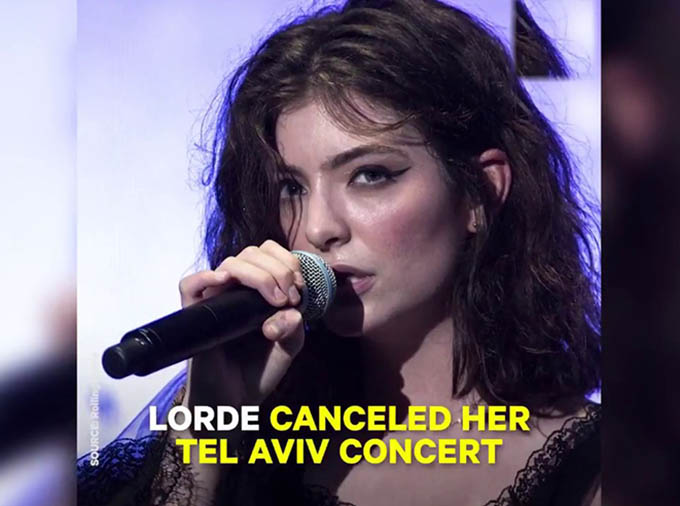 Lorde cancelled her concert in Tel Aviv days after BDS activists appealed to the singer in an open letter. Image: YouTube screenshot
Pacific Media Watch Newsdesk
Two New Zealand activists have raised thousands of dollars through crowdfunding after an Israeli court fined them for their role in singer Lorde cancelling her show in Tel Aviv, but they plan to donate the money to Gaza Mental Health Foundation instead, reports Al Jazeera.
Justine Sachs and Nadia Abu Shanab have rejected the legal action which ordered them to pay over $12,000 in damages for causing mental harm to three Israeli teenagers who had purchased tickets to the concert.
The duo turned to a crowdfunding website raising more than $33,000 with 705 donors by today.
READ MORE: NZ activists fined for Lorde cancellation raise funds for Gaza charity
The defendants wrote on Friday on fundraising website Give A Little that they had no intention of complying with the Israeli ruling.
"We will not be paying the court ordered amount. Instead, we would like to redirect the support extended to us back to Palestinians in need of mental health support," they wrote, adding that the money would go to the Gaza Mental Health Foundation.
"Emotional distress is a lived reality for Palestinians in Gaza, where over half of children suffer PTSD as a result of Israeli military attacks," the activists wrote.
Abu Shanab of Palestinian descent told RNZ that the pair were not prepared for the amount of international attention they would receive.
'Sense of responsibility'
She said the pair had been "struck with a sense of responsibility".
"Israel has chosen to make an example of us," Abu Shanab said.
The lawsuit, filed in January, is the first ruling to cite a controversial 2011 Israeli anti-boycott law that allows civil action against entities who call for a boycott of the state as part of the Boycott, Divestment and Sanctions (BDS) movement.
Palestinians in Gaza face mounting mental health crisis
Activists behind the BDS movement say it is inspired by the campaign that targeted South Africa's apartheid regime.
"Playing in Tel Aviv will be seen as giving support to the policies of the Israeli government, even if you make no comment on the political situation," the activists wrote in their letter to Lorde in December.
The singer responded on Twitter, saying the concerns had been "Noted!"
Days later, the 21-year-old New Zealander cancelled the performance which was due to conclude her Melodrama world tour, saying she "didn't make the right call" in her initial willingness to sing in Tel Aviv.
Israel sees BDS as a strategic threat and accuses it of anti-Semitism – a claim activists firmly deny, calling it an attempt to discredit them.
Artists who have participated in the cultural boycott of Israel through the Palestinian-led BDS movement include Brian Eno and Pink Floyd's Roger Waters, writers Arundhati Roy and Eduardo Galeano, and filmmaker Ken Loach.

Article by AsiaPacificReport.nz
]]>