<![CDATA[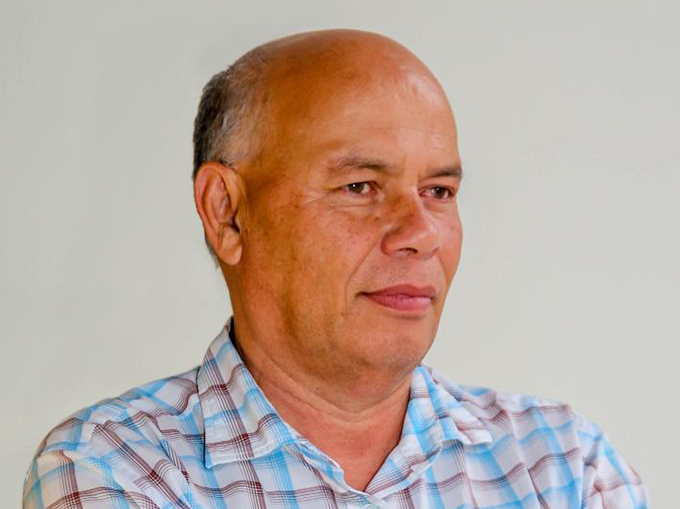 Dr Colin Tukuitonga, a New Zealander of Niuean descent and proposed by New Zealand, was given resounding support for his nomination from Pacific countries. Image: AUT
By Sri Krishnamurthi

Health challenges in the Pacific Islands require acute and immediate attention from the World Health Organisation, says Dr Colin Tukuitonga, a New Zealander of Niuean descent whose nomination was proposed by New Zealand.
Dr Tukuitonga goes into battle this week for the position of WHO regional director for the Western Pacific, in a struggle which takes place on October 8-13 in Manila, Philippines.
He is up against three others – Dr Narimah Awin, proposed by Malaysia; Dr Takeshi Kasai, proposed by Japan; Dr Susan Mercado, proposed by the Philippines – at the nomination which will take place during the 69th session of the Regional Committee for the Western Pacific.
READ MORE: Background on the WHO issue
"I know what needs to be done," he says emphatically.
"Without a doubt it is our turn, not just for climate change but other health challenges such as Non-communicable diseases (NCD) (diabetes and heart disease) child health, polio in Papua New Guinea, and the list goes on."
He says it is a position that needs fresh thinking and new leadership in keeping with good governance rather than being bogged in the mire of bureaucracy.
Already Solomon Islands and Papua New Guinea have publicly indicated they will vote for Japan.
'More of the same'
"Voting for Japan is a vote for more of the same. The candidate is a long-term staff member of WHO," says Dr Tukuitonga.
"WHO Western Pacific Region (WPRO) needs change and transformation, lift impact, get value for money, improve transparency and accountability. The region needs diversity in leadership."
Dr Tukuitonga is guarded against talk of the money-game buying votes in the process.
"Only in so far as offers made by Japan to small islands, such as a new airport extension in Solomon Islands," he says, and quickly adds "New Zealand is meeting most of the costs of my campaign".
His expectation is that all the Pacific Island countries will back him – at least when it comes to voting from the second round onwards. However, he expects that he has done all the work he could to convince countries to vote for him.
"It is hard to say which way countries will vote, but all Polynesia, plus Micronesia, plus Nauru and New Zealand, Australia, France and the United Kingdom have indicated support for me," he says.
"Papua New Guinea, Solomon Islands, Vanuatu and Fiji have signalled support for Japan.
Papua New Guinea and Solomon Islands have made public statements supporting Japan.
We are told Vanuatu and Fiji also (supporting Japan), but it is not public."
Nomination backed
It was only last year that the Pacific Island countries backed his nomination for the regional director's position, and he is left wondering what the difference is now.
"They (Pacific Island Countries) approached me to stand back in October 2017. We can't win without remaining united, where is the regionalism? Where's the Pacific way?" he asks.
And Dr Tukuitonga answers the question himself.
"I suppose it's an issue for Pacific leaders.
"Do we believe in our ability to influence global and regional affairs? Do we have the skills and talent as a region, rather than being viewed as passive, poor and dependent? Can we truly harness our collective power?
"Solomons benefited from RAMSI (Regional Assistance Mission to Solomon Islands), and now this! Where's the solidarity? Is there a future for regionalism? Is regionalism a fact or a fallacy?" he asks.
In the meantime, Dr Tukuitonga must gird his loins for battle and at stake is the championing of the Western Pacific region.
Sri Krishnamurthi is a journalist and Postgraduate Diploma in Communication Studies student at Auckland University of Technology. He is attached to the University of the South Pacific's Journalism Programme, filing for USP's Wansolwara News and the AUT Pacific Media Centre's Asia Pacific Report.

Article by AsiaPacificReport.nz
]]>