<![CDATA[
An Air Niugini plane which landed in a Micronesian lagoon apparently overshot the runway on landing.
The Boeing 737-800 was scheduled to stop in Chuuk on its way from Pohnpei to Port Moresby.
All 47 people on board are reported to be safe by the national police.
The plane was reportedly carrying 36 passengers and 11 crew.
RNZ Pacific's correspondent Giff Johnson said small boats quickly went out to help rescue passengers from the plane before it sank in the waters off the runway in the Chuuk capital, Weno.
"It clearly wasn't a crash, in the sense of a plane going down and coming apart. The plane seemed to be intact and that fits in with landing on the runway and then shooting off which we've had some experience with, with other airlines."
All through Micronesia generally runways are short, according to Giff Johnson, who's based in the Marshall Islands capital, Majuro.
"On a normal landing you end up 30 metres from the end of the runway and the end of the runway means water," he said.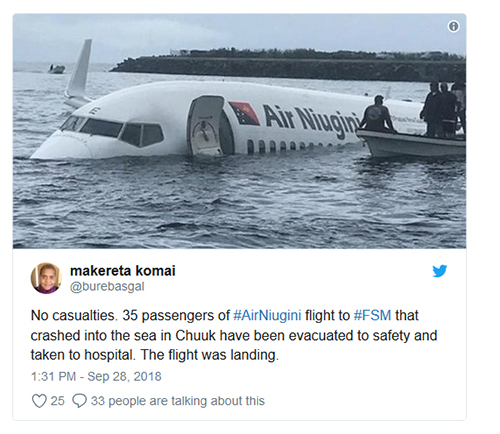 Pacnews editor Makareta Komai's tweet on the crash landing.
An Asia Pacific Airlines Boeing 727 cargo plane overran the runway in Pohnpei 10 years ago.
According to reports it came to a rest with its nosewheel in the water of the lagoon at the end of the 1800 metre runway in May 2008.
This article is republished under the Pacific Media Centre's content partnership with Radio New Zealand.
Article by AsiaPacificReport.nz
]]>