<![CDATA[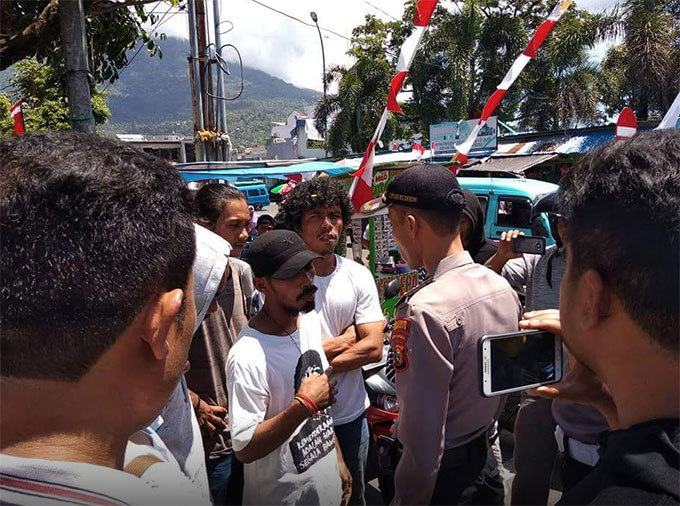 Papuan protesters arguing with local Indonesian police in Ternate, North Maluku, about the rights to a public demonstration. Image: FRI-WP/Suara Papua
By Arnold Belau in Jayapura
Police have violently broken up a peaceful action being held by the Indonesian People's Front for West Papua (FRI-WP) in Ternate, North Maluku, this week.
Action coordinator Rudhy Pravda said the action by 22 protesters on Wednesday was to mark 56 years since the signing of the New York Agreement on August 15, 1962, enabling Indonesia to rule the former territory of Netherlands New Guinea
Pravda said the FRI-WP had followed legal guidelines by submitting a notification with Ternate district police (Polres) three days before the action.
Police responded however with a written rejection on the grounds that the action conflicted with the sovereignty of the Unitary State of the Republic of Indonesia (NKRI).
"We said that we would still hold the action no matter what the consequences. Given the situation we held the action but with the position that we would accept bear the risk from Ternate Polres," Pravda said.
"Before the action was broken up, we held negotiations with police. Several FRI-PW members were interrogated by four plain-clothes intelligence officers while they were waiting for protesters to arrive.
"They tried to intimidate the protest leaders, saying that they were not allowed to hold an action and if they insisted on protesting they must be prepared to accept the risk.
'You want to die?'
"They said, 'if you want to die please go ahead'," Pravda said.
Pravda said the information on plans to block and break up the rally was obtained from protesters attending an earlier rally at the same location. He said that they wanted to negotiate with police but were instead threatened and intimidated.
"Then before they had even unpacked campaign materials for the action, they were surrounded by plain-clothes intelligence officers and uniformed police who banned them from holding the protest, and denying them a chance to negotiate their legal rights.
"I was pushed and shoved and a female demonstrator was also pushed and shoved, and they tried to use violence. The female action coordinator was pulled and grabbed by intelligence officers.
"Although we were determined to continue with the action they outnumbered us so in the end we weren't able to hold the action," Pravda said.
Field coordinator Gamaria Mansur said that in addition to breaking up the action, police also confiscated and tore up protest materials such as banners, placards and propaganda.
She added that earlier there had been an argument between protesters and police.
Protesters intimidated
"Police intimidated protesters with threats, saying, 'do you want to die?' and calling us traitors and so on.
"I was also pulled and grabbed, then after I shouted I was finally let go", she said.
When sought for confirmation on the incident, FRI-WP chairperson Surya Anta said he strongly condemned the violent actions by police in Ternate.
"We strongly condemn it. The police's actions in prohibiting and breaking up the action violate Indonesia's own laws and regulations on freedom of expression," he said.
About submitting this report for publication, Ternate police chief Assistance Superintendent Azhari Juanda, who was contacted by Suara Papua through his official Facebook account, has yet to responded.
Background
Following the launch of the Trikora military operation which was aimed at harassing and forcing the Dutch out of Netherlands New Guinea in 1961-62 and under the threat that Indonesia would move from armed infiltrations to a large-scale military attack, US sponsored negotiations that led to the signing of the New York Agreement on August 15, 1962.
The Netherlands agreed to hand over administration of Western New Guinea to Indonesia pending a UN administered plebiscite.
Seven years later under the newly installed Suharto dictatorship, the treaty led to the so-call "Act of Free Choice" in 1969 in which 1025 hand-picked Papuans "voted" at gun-point for the territory remain part of Indonesia.
An abridged translation by James Balowski for the Indoleft News Service. The original title of the article was "Polisi Bubarkan Aksi FRI-West Papua di Ternate".

Article by AsiaPacificReport.nz
]]>