<![CDATA[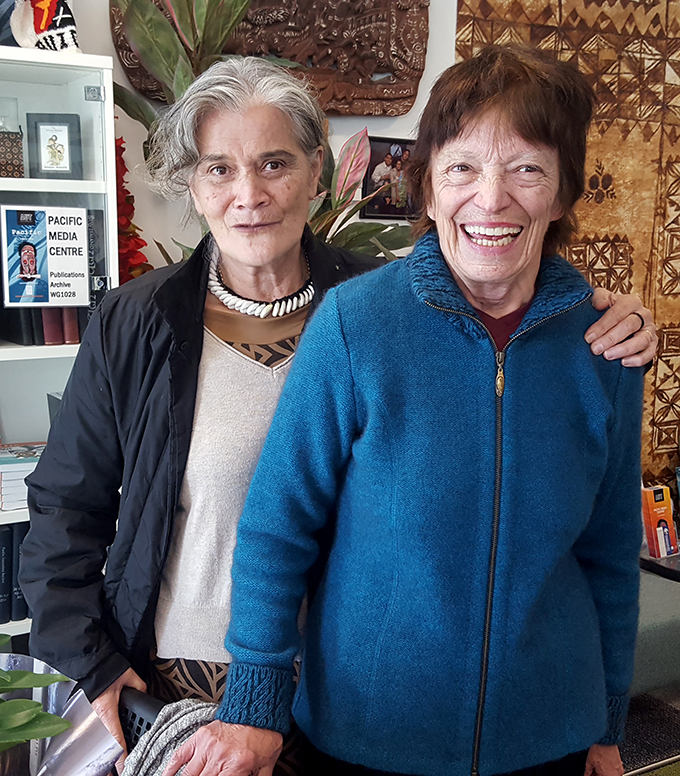 Tui O'Sullivan (right) with Tagaloatele Peggy Fairbairn-Dunlop at the Pacific Media Centre recently when retiring. Image: Del Abcede/PMC
PROFILE: By Leilani Sitagata
Educator and kuia Tui O'Sullivan has recently retired from Auckland University of Technology after close to 40 years of service.
Born and breed up North in the heart of Ahipara, she says choosing to do tertiary study was the right choice for her.
"Growing up as a young girl you were told to pick from three directions – academic, commercial or homecraft," O'Sullivan says.
"I never had a burning desire to become a teacher, but it just seemed like the best fit for me to follow that path."
Over the years, O'Sullivan (Te Rarawa and Ngati Kahu) gained a Bachelor of Arts, Master's in Education (Māori), a Diploma in Ethics and a Diploma in Teaching.
"Coming from a town where you didn't know names, but everyone was Aunty or Uncle, Auckland was by far a change of scenery."
O'Sullivan was appointed as the first Māori academic at AUT, then AIT.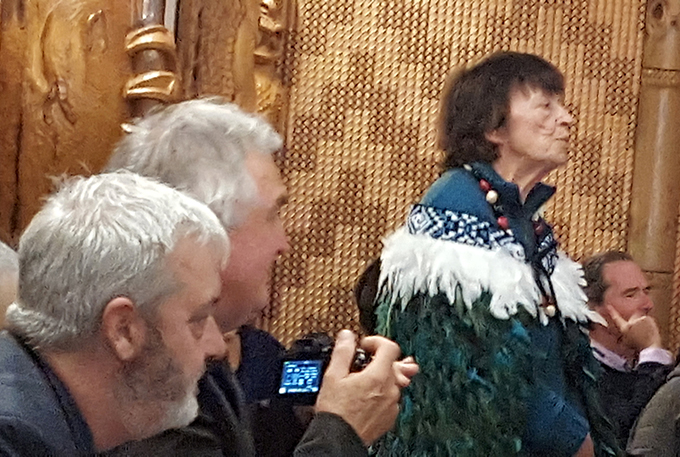 Tui O'Sullivan at her recent Auckland University of Technology farewell on Ngā Wai o Horotiu marae. Image: Del Abcede/PMC
Evening classes
She says she taught evening classes on literacy twice a week and had many people from the Pacific wanting to improve their written and oral skills.
"A number of them were members of church groups who wanted to polish up for competitions involving writing and speaking."
Alongside the night classes, O'Sullivan was involved in the formation of the newspaper Password.
"We formed a newspaper which explained certain things about living in New Zealand, among other things like the Treaty of Waitangi and Māori culture."
O'Sullivan says there was an increasing number of immigrants to her English classes and Password helped with their immersion into a new culture.
While working in general studies, she says she helped teach communications English and basic skills to full time students, predominantly young men.
However, women started to come along to O'Sullivan's teaching and the numbers slowly grew.
Tui O'Sullivan (right) with fellow foundation Pacific Media Centre advisory board member Isabella Rasch. Image: Del Abcede/PMC
First women's group
O'Sullivan was part of the creation of the very first women's group on campus.
"A senior lecturer approached a couple of us women staff asking if we could keep an eye out for the young women and be an ear should they need that.
"From there Women on Campus developed which looked after the interests of women students and staff members."
She said they switched the name of the group over the years because what they originally chose didn't have a ring to it.
"We were called Women's Action Group for a while, but WAG didn't sound too good."
Another first for the university was the establishment of the Ngā Wai o Horotiu marae in 1997 which Tui said she'll forever remember.
When the marae was officially opened more than 1000 people turned up to celebrate the momentous occasion.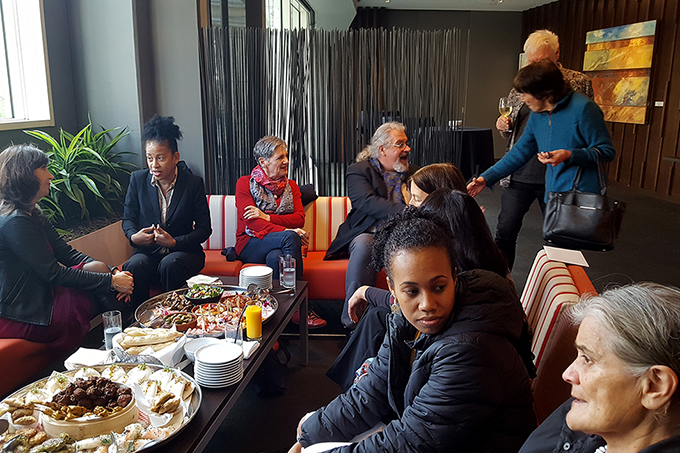 Students and staff at the Pacific Media Centre's farewell for Tui O'Sullivan. Image: Del Abcede/PMC
Emphasis on diversity
The marae opening signified AUT acknowledging the Treaty of Waitangi and further emphasised the diversity within the university.
"The majority of staff here have had this willingness and openness to support and promote success for Māori and Pacific students."
When asked what was one of the most gratifying times for her during her time at AUT, O'Sullivan simply says applauding the young people who cross the stage.
"I always seem to end up with lots of those lolly leis because people end up with so many, and they get off-loaded to me."
O"Sullivan says that over the years she's never missed a graduation for her faculty regardless of how many there are.
"Seeing students wearing their kakahu or family korowai, and others who have grown to learn more about their whakapapa and their place in the world.
"Those are the most rewarding times for me."
O'Sullivan was the equity adviser for the Faculty of Creative Technologies and lectured in Te Tiriti o Waitangi and community issues. She was also a strong advocate of the Tertiary Education Union (TEU) and a foundation member of the advisory board for AUT's Pacific Media Centre from 2007.
She insists she hasn't left a legacy but has been part of an ever evolving journey that AUT is going through.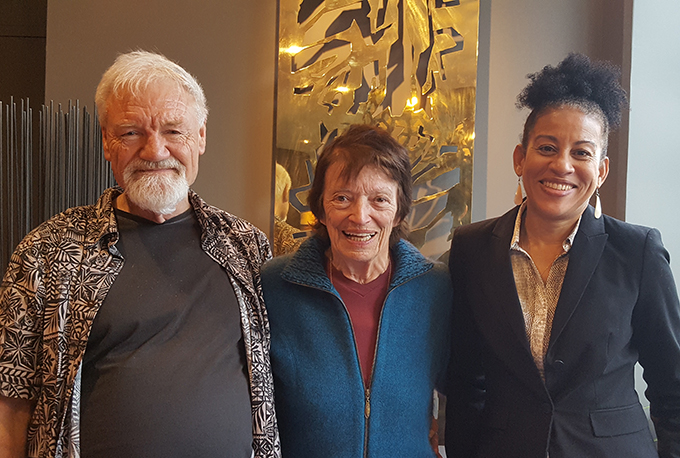 Tui O'Sullivan (centre) with Pacific Media Centre director Professor David Robie and advisory board chair Associate Professor Camille Nakhid. Image: Del Abcede/PMC

Article by AsiaPacificReport.nz
]]>