<![CDATA[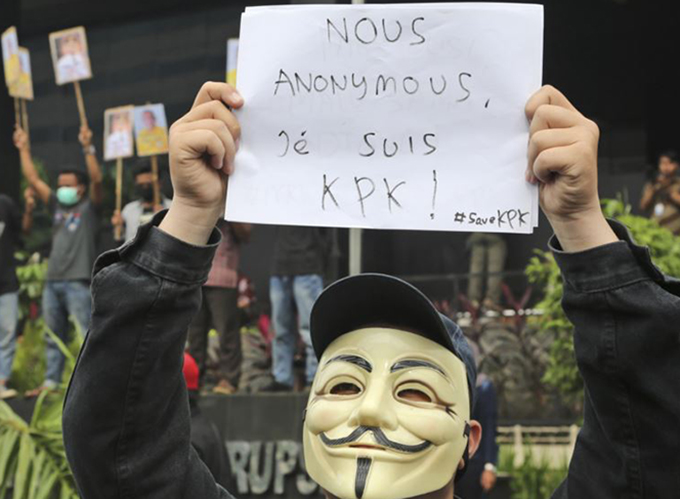 A masked supporter of Indonesian Corruption Eradication Commission (KPK) holds up a poster declaring "I am KPK" during a 2015 protest in support of the commission. Image: VOA file
Pacific Media Centre Newsdesk
Corruption Eradication Commission (KPK) investigators have arrested nine people during a raid in Jakarta, including a member of the House of Representatives, an expert staffer, a driver and a businessman, reports the Jakarta Post.
The KPK also seized Rp 500 million (US$34,692) as evidence, the newspaper said.
KPK chairman Agus Rahardjo alleged the evidence confiscated was related to a transaction involving the House's Commission VII overseeing energy, mineral, research and technology and the environment.
Reports circulated that the lawmaker in question was Eni Saragih, the deputy leader of Commission VII, and that she was arrested in the residence of Social Affairs Minister Idrus Marham. Both are Golkar Party politicians.
Agus said the arrests were conducted of Friday following anonymous tip-offs, reports the Post.
Golkar politician Maman Abdurahman immediately dismissed the report of the arrest, saying that the KPK had merely "picked up" his colleague "ES" from Idrus' residence while the minister was throwing a birthday party for his youngest child.
Maman was also present at the party.
"I didn't know what reason the KPK had for picking her up. We should wait for the KPK to release an official statement. I hope she stays strong," he said in a statement.

Article by AsiaPacificReport.nz
]]>