<![CDATA[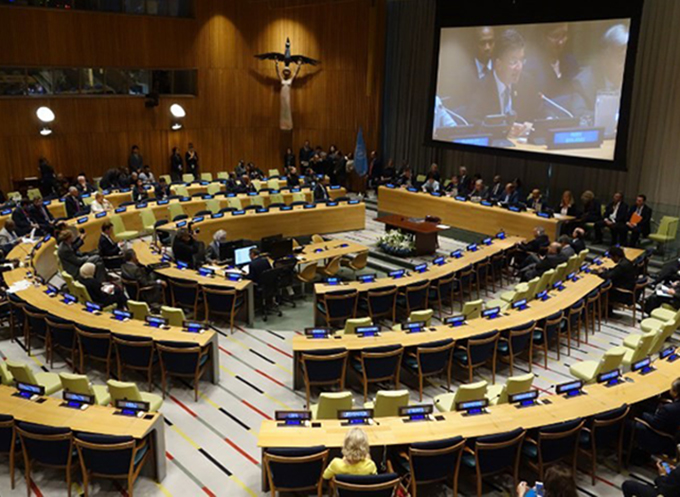 Say No to Nuclear … Members attend the signing ceremony for the Treaty on the Prohibition of Nuclear Weapons on September 20, 2017 at the United Nations in New York. Image: Jakarta Post
By Deandra Madeena Moerdaning in Vienna

A year ago on July 7, 2017, the United Nations General Assembly adopted a resolution that pushes forward a new treaty on the Prohibition of Nuclear Weapons.
The agreement is the first of its kind that categorically prohibits nuclear weapons and hence focuses merely on disarmament. The treaty will only enter into force once 50 nations have ratified and acceded to it.
As a nation whose representative was among vice-presidents leading negotiations of the treaty and as a vocal opponent of nuclear weapons, it is crucial that Indonesia ratifies the Nuclear Weapon Ban Treaty immediately.
Here are the key reasons why:
As a member of the Non-Aligned Movement (NAM) and a coordinator of its working group on disarmament and nonproliferation since 1994, Indonesia was among co-sponsors of the resolution.
Indonesia signed this UN Treaty on September 20, 2017, the day when it opened for signature at the UN headquarters in New York. Ironically, Indonesia is not among the ten nations that have ratified the treaty through national legislation.
It is of vital importance that Jakarta maintains its leadership role and show commitment to shared international security interests of developing countries, the majority of NAM member states. Jakarta and NAM have always been vocal about attempts to eliminate double standards in international security, particularly regarding nuclear security.
Excellent example
On top of being an excellent example to ASEAN countries regarding compliance with non-proliferation regimes, Jakarta continues to encourage ASEAN member states and beyond to improve the persistently slow progress of the nuclear disarmament.
In a joint effort with ASEAN member states to combat the threat of nuclear weapons, during its chairmanship of the Association Jakarta opened the door for consultations between member states and nuclear-weapon states (NWS), to encourage the latter to sign the Southeast Asian Nuclear Weapon Free Zone Treaty (SEANWFZ).
Jakarta was praised for its efforts in promoting the spirit of the treaty beyond the region.
By ratifying the new Treaty, ASEAN member states would prove their determination to disarmament and making the region free from all kind of nuclear threats. Currently, only Thailand and Vietnam have ratified the treaty.
Others, including Indonesia, were had signed the deal, while Singapore chose to abstain.
Indonesia should immediately follow the path of Thailand and Vietnam and together persuade Singapore to support the Nuclear Weapon Ban Treaty in the spirit of Southeast Asia's nuclear weapons-free zone.
Once all ASEAN member states have ratified the Nuclear Weapon Ban Treaty, they can continue pressing wider acceptance of SEANWFZ to nuclear weapon states.
Previous failure
The previous 2015 Non-Proliferation Treaty (NPT) Review Conference was dubbed a failure due to absence of consensus on nuclear disarmament. Thus all parties including Indonesia must prepare themselves better for the next 2020 Conference and keep trying to achieve a shared vision on disarmament.
The 2015 conference manifested the non-nuclear-weapon states' concerns over the scale and pace of disarmament.
These states believe there have been too many restrictions and demands for them regarding peaceful use of nuclear technology. They also think nuclear weapon states have been ignoring their obligation to disarm their nuclear arsenals.
The 2020 Conference will be an excellent platform to reaffirm Jakarta's demand for nuclear disarmament and security as well as to pressure nuclear weapon states to manifest their commitment to nuclear disarmament.
Indonesian delegates should continue expressing concerns about international security, including the US administration's decision to withdraw from the Joint Comprehensive Plan of Action (JCPOA).
According to the Foreign Ministry, Affairs, Indonesia regrets this decision as Jakarta believes that the JCPOA is an achievement of diplomacy and can maintain stability in the region and the world. Indonesia is still optimistic about the future of JCPOA and hence urges other JCPOA's signatories to maintain support for the agreement.
Nuclear weapons present a real and imminent threat to humanity, thus Indonesia should not loosen efforts towards nuclear non-proliferation and disarmament. Ratifying the UN Treaty on the Prohibition of Nuclear Weapons means Jakarta is greatly concerned about the slow pace of disarmament.
Deandra Madeena Moerdaning earned her master's degree from King's College in London's War Studies Department. She is interning at the International Atomic Energy Agency in Vienna.

Article by AsiaPacificReport.nz
]]>