<![CDATA[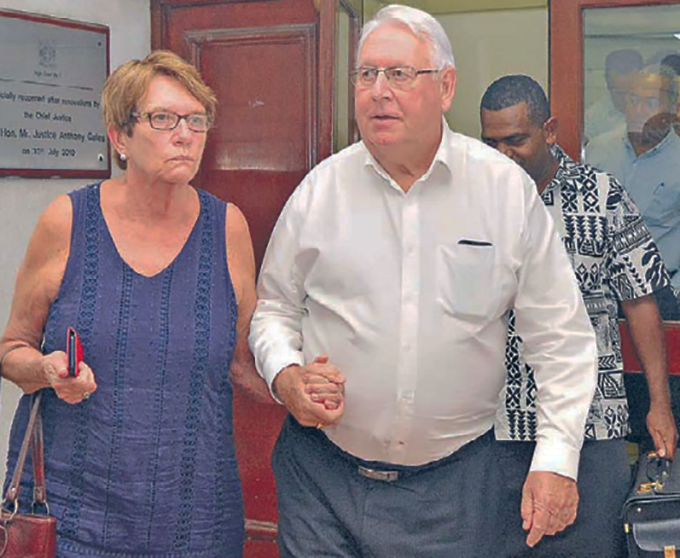 Holding on … The Fiji Times publisher Hank Arts and his wife leave the High Court in Suva yesterday. Image: Jovesa Naisua/Fiji Times
By Litia Cava in Suva
High Court judge Justice Thushara Rajasinghe is set to deliver his verdict on Tuesday after the three assessors returned with a unanimous not guilty opinion against three senior management and editorial staff of The Fiji Times daily newspaper, a letter writer and the Fiji Times Ltd yesterday.
After three weeks of trial, Justice Rajasinghe will decide on whether the alleged seditious article that was published in Fijian language Nai Lalakai newspaper on April 27, 2016, was seditious and if it had an intention to cause feelings of ill will and hostility between different classes of the Fijian population:
The Fiji Times editor-in-chief Fred Wesley together with Nai Lalakai editor Anare Ravula are each charged with one count each of aiding and abetting the publication of a seditious  article,
Fiji Times Ltd publisher Hank Arts is charged with one count of publishing a seditious article in Nai Lalakai;
Letter writer Josaia Waqabaca is charged with one count of submitting for publication an article written by him with a seditious intention, and
Fiji Times Ltd is charged with one count of printing a seditious publication.
All pleaded not guilty.
READ MORE: The Fiji 4 – the case that tests press freedoms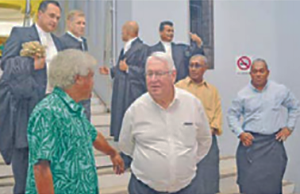 The four accused with their lawyers outside the High Court in Suva yesterday. Image: The Fiji Times
While summing up the case, Justice Rajasinghe reminded the assessors that their main task was to assess and evaluate the evidence that was provided by all witnesses and to determine its credibility, reliability and truthfulness.
Fiji Village reports that Justice Thushara Rajasinghe told the assessors to read the Nai Lalakai article from the minds of reasonable and fair minded iTaukei readers.
He told the assessors to take into consideration under what circumstances the article was published and to consider the reaction of the readers.
Fiji Village's report on YouTube.
Justice Rajasinghe told the three that he did not find the opinion of Permanent Secretary for iTaukei Affairs, Naipote Katonitabua, and linguist Professor Paul Geraghty would be much help to the assessors. Dr Geraghty had said that he did not have much interaction with the iTaukei community for the last 10 to 15 years as he was mainly teaching, while Katonitabua had said that he used to talk to the iTaukei community at times.
The judge told the assessors to consider the truthfulness of the answers given in the caution interview.
Litia Cava is a Fiji Times journalist.


Article by AsiaPacificReport.nz
]]>