<![CDATA[
By Jean Bell in Auckland
An alarming number of "targeted" journalists being killed and West Papua media for independence were just some of the topics covered in wide-ranging seminar by the director of the Pacific Media Centre last night.
Professor David Robie called for the media, universities and journalism schools to take their Pacific "backyard" more seriously and not just wait for crises to happen.
The seminar was in marking May 3 – World Press Freedom Day. This year's conference is in Accra, Ghana.
Dr Robie cited the number of journalists killed while working in 2017 and called journalism an increasingly "dangerous occupation".
"Reporters Sans Frontières (RSF) [Reporters Without Borders] statistics showed 65 journalists were killed worldwide in 2017," Dr Robie said. Of the 65 journalists killed, 7 of these people were so-called citizen journalists.
This number of casualties varied between media freedom monitoring agencies depending on the definitions of journalists and media workers counted in the statistics, he said.
Although this statistic showed a drop from the previous year, the growth of "hatred" for media and targeting of journalists was a worsening problem.
"This is a dire situation that is getting worse." 
On top of the killings, the Paris-based statistics showed that 326 journalists were detained in prison and a further 54 were being held hostage. 
Dr Robie said use of the term "citizen journalist" was problematic, as it gave an impression of untrained journalists working without an ethical basis. In fact, many professional journalists were becoming "citizen" journalists tactically and using social media to defeat mainstream media "gags" such as relating to the Melanesian region West Papua inside Indonesia.

"There are more and more independent journalists that are disillusioned" and publishing untold stories on their own blogs.
One such journalist is Papua New Guinea's Scott Waide, with whom Pacific Media Centre is collaborating with, published many articles by independent journalists and civil society people on his blog My Land, My Country.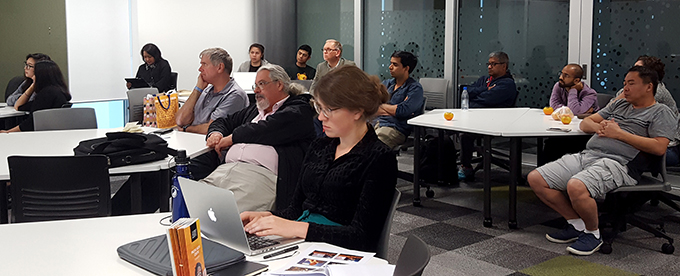 Some of the audience at the WPFD 2018 seminar last night. Image: Del Abcede/PMC
A Filipino radio journalist, Edmond Sestoso, was shot last Monday – three days before Press Freedom Day – and died the next day. He was murdered in a drive-by scenario by a gunman on a motorcycle. According to Dr Robie, it is a "very common way of doing it" in the Philippines.

World Press Freedom Day 2017
In 2017, Dr Robie was invited to go to the week-long UNESCO World Press Freedom Day media conference in Jakarta, Indonesia.
He was one of just two New Zealanders at the conference out of the 1500 people attending the WPFD conference. He spoke a journalist safety academic conference at WPFD but was also a guest keynote speaker at an alternative "Free Press in West Papua" conference organised by Indonesia's Alliance of Independent Journalists (AJI).

Dr Robie said it was "astonishing" that were not more people from New Zealand present at WPFD and said it shows how "appalling" New Zealand's interest in international affairs is with an information gap in coverage of Asia-Pacific issues. The other New Zealander present was Mary Major, executive director of the New Zealand Media Council.
Dr Robie described the week as "challenging" and "inspiring".

"I was representing AUT university and also entering a fraught situation."
Independent Indonesian journalists were planning to protest against the treatment of West Papua and make a showcase stand before the world's press, said Dr Robie.
At the WPFD, there was a tight military and police security cordon which kept out West Papua protesters and prevented conference participants from joining the protests in solidarity.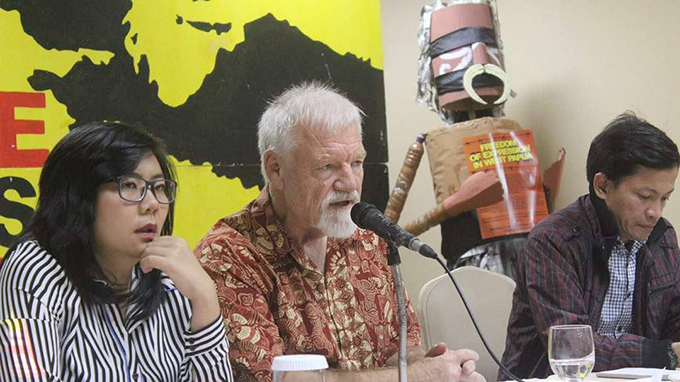 Professor David Robie with Indonesian human rights lawyer Veronica Koman and Amnesty International Indonesia's Usman Hamid at the "Free Press in West Papua" seminar at WPFD in Jakarta last May. Image: Bernard Agape/PMC
While en route to Jakarta, Dr Robie was also invited to speak at a conference hosted by the Australian Centre for Independent Journalism, the last investigative journalism unit at an Australian university, which was closing under protest after 25 years on the "frontline".

He was able to address West Papua there too.
"I'm an educator and a journalist….I have a responsibility to share my knowledge with as many people as I can about issues," said Dr Robie, who is author of Don't Spoil My Beautiful Face: Media, mayhem and human rights in the Pacific.

West Papua plight 'censored'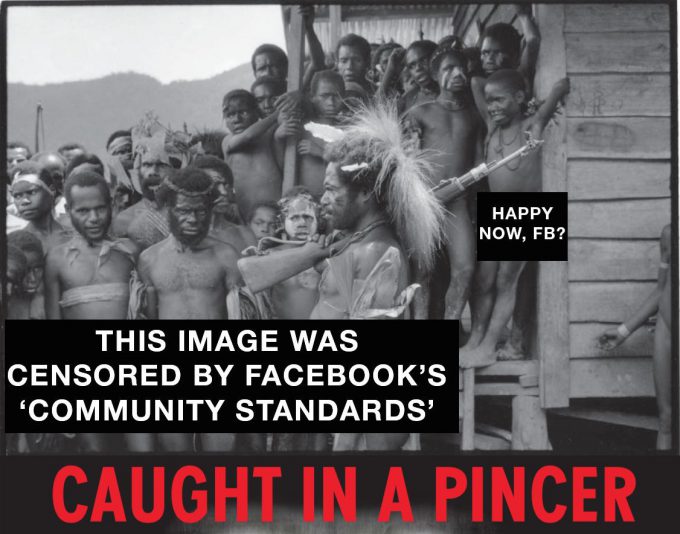 The Facebook "censored" Ben Bohane image after a "facelift" by the Vanuatu Daily Post.
Dr Robie discussed Facebook recently wrongly "censoring" a 1995 photo of an armed West Papuan OPM guerilla and fellow tribespeople in traditional nambas (penis sheaths), pointing to the Pacific Media Centre coverage that sparked an RNZ Mediawatch story on the issue.
Photojournalist Ben Bohane, who has extensively covered conflict issues in the Asia-Pacific region, wrote a two-page article in the Vanuatu Daily Post in response to a piece about China and Vanuatu by The Sydney Morning Herald that had speculated about a "naval base" plan for a wharf aid project at Luganville, Espiritu Santo. Dr Robie said the Australian article was  "scaremongering."
"Ben Bohane's article said China was not the real concern," he said. "The real threat in terms of stability and security is Indonesia, for which New Zealand media have a blindspot."
When the PMC republished the article on its current affairs website Asia Pacific Report, Facebook links were removed. "I got a message saying the picture breached Facebook's community standards." While the Facebook "block" did not affect the actual article itself, Dr Robie said it limited the reach of the important article.
Dr Robie said he believed the photo censorship had more to do with "politics" rather than "nudity" and was undoubtedly an attempt by Indonesian sources to curb the debate regarding West Papua.
"It is not the picture that is the real issue," said Dr Robie. He quoted from Ben Bohane's latest message saying the cenorship was ongoing in spite of Facebook saying it had lifted the block.

It is not the first time Facebook has censored an iconic photo that illustrates dire situations in the Asia-Pacific region. Dr Robie pointed to how Mediawatch raised the issue of how the social media platform in 2016 censored images of the "napalm girl" taken during the Vietnam War in 1973. This caused an international storm of protest.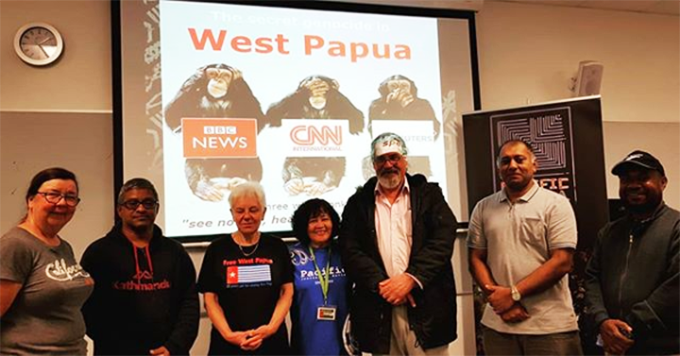 Activists, acdemics and journalists at the Pacific Media Centre WPFD seminar last night. Image: PMC
WPFD in Indonesia – an irony
Dr Robie pointed out the irony over Jakarta hosting the WPFD 2017 conference in light of censorship and repressive actives by security forces in West Papua.
According to Dr Robie, Indonesia has a vibrant "plurality" of voices but forces were seeking to radicalise people, along with targeting journalists.
While President Joko Widodo had changed policy in 2015 to "allow foreign journalists into" West Papua after he was elected in 2014, not much had really changed. Arrests and deportations were continuing.

"It's very tightly controlled by the bureaucracy and security authorities," said Dr Robie.
He highlighted the message from critics and researchers of a "secret genocide" in West Papua.
"The state of mainstream international media is a big part of how West Papua is ignored. There is a big difference when you watch some news media that take a more independent stance, such as Al Jazeera."
He praised Al Jazeera's Dutch journalist in Jakarta, Step Vaessen, for her coverage.
The penalties for showing support for West Papuan independence is severe "15 year prison sentence if you raise the banned Morning Star independence flag – even wearing a t-shirt like I am wearing tonight with the flag on can get you into trouble," Dr Robie said.
"It is a very serious situation for West Papuans."
"They believe their independence was declared in 1962 and despite that, Indonesian forces invaded.
"Western countries have become persuaded that West Papua has become part of Indonesia, making the situation a wrong that has never been righted."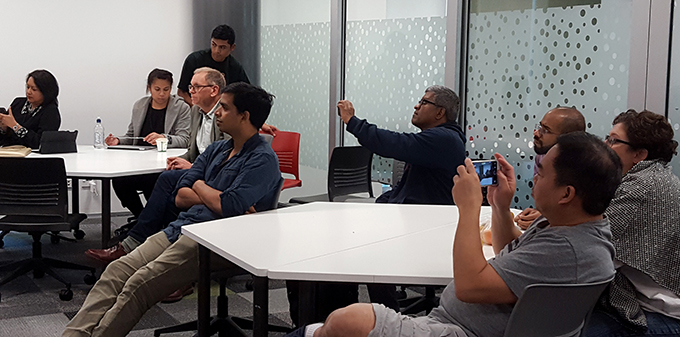 The WPFD 2018 seminar last night. Image: Del Abcede/PMC
NZ media coverage
While the situation is still dire, there has been some sporadic New Zealand coverage of the West Papua situation, said Dr Robie.
New Zealander Karen Abplanalp, who researched journalist access into West Papua for her masters degree, assisted Māori Television in a reporting mission with Adrian Stevenon to West Papua in 2015. The crew had to "dress" up the assignment bid with the authorities by saying it was a cultural showcase and had a nice side report about a kumara aid project in the Highlands.

Johnny Blades and Koroi Hawkins from RNZ also visited West Papua that year and did a rare interview with Lukas Enembe, the governor of Papua.
Dr Robie said New Zealand media covered disasters, coups and cyclones, while ignoring many of the social justice and development stories that were "crying out to be covered" in the Asia-Pacific region.

"Universities have responsibilities to shed light through research," concluded Dr Robie.
He called for Indonesia to genuinely "open the door" to journalists and non-government agencies to visit West Papua, and for a "real" UN referendum on self-determination for the Papuans.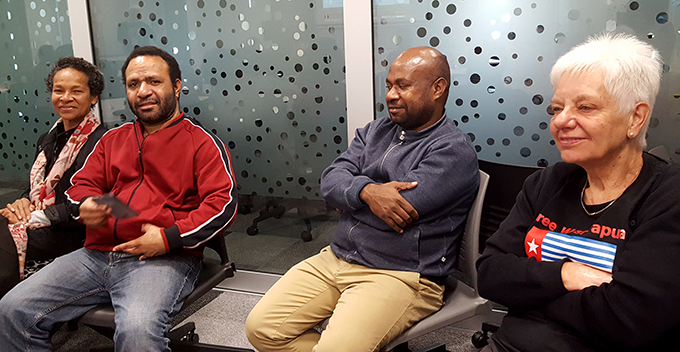 Social justice activist Maire Leadbeater (right), author of a forthcoming book on West Papua, with "wantok" Melanesians at the Pacific media Centre seminar last night. Image" Del Abcede/PMC
Peace and human rights activist Maire Leadbeater said the presentation was enlightening and covered many topics.
"It was great, I really enjoyed it. Dr Robie covered a lot of bases," Leadbeater said.
Leadbeater is due to have a book published next month about the issue, See No Evil: New Zealand's betrayal of the people of West Papua.

"The book will be a probe into New Zealand's diplomacy that hasn't been done before."

Article by AsiaPacificReport.nz
]]>