<![CDATA[
By Jean Bell in Auckland
Volunteer teachers are being wrongly labelled as "terrorists" by the Philippine government while paramilitary and mining activity increases in the country, say visiting indigenous Lumad education advocates.
Fritizi Junance Magbanua, a volunteer teacher and administrator with the Save Our Schools network, says teachers, schools and communities of indigenous peoples are being targeted and labelled as terrorists by the government.
The Save Our Schools network is a collection of 215 community based schools that operate throughout the southern Mindanao island region in the Philippines.
The network is part of community groups and advocates that fight for indigenous peoples rights to "defend their land, right to education, right to self-determination," said Lorena Sigua at a public meeting in Auckland's Peace Place last night.
She is a volunteer at Education Development Institute (EDI) curriculum development based in Mindanao.
"Save Our Schools has documented 89 harassments of our schools, 18 military activities inside our school vicinity, 27 schools forcibly shut down because of the intensifying military presence in our area," said Magbanua.
This does not just apply to school teachers. "The environmental activists, human rights activists are also being targeted and tagged as terrorists," said Sigua.
The indigenous people, known collectively as Lumads, are the main people suffering. "Our indigenous peoples in the Philippines are now being attacked by our government," said Magbanua.
"Mostly those who are killed are our parents and our tribal leaders who constructed the schools."
Mining behind military threat
The threat of paramilitary and government military activity is part of the government's move to allow mining by multinational corporations in the area.
"The southern Mindanao is blessed with a lot of resources. It is the mining capital of Philippines. As you know, big businesses are coming over to take advantage of that," Sigua said.
"Ironically, we are the poorest region but it is the mining capital," said Magbanua.
"When mining is in our area, the first step our government will do is deploy their troops to give way to the mining equipment. They harass people to vacate their land."
It can also turn violent. "One of our supporters was killed a couple of weeks ago by a paramilitary group."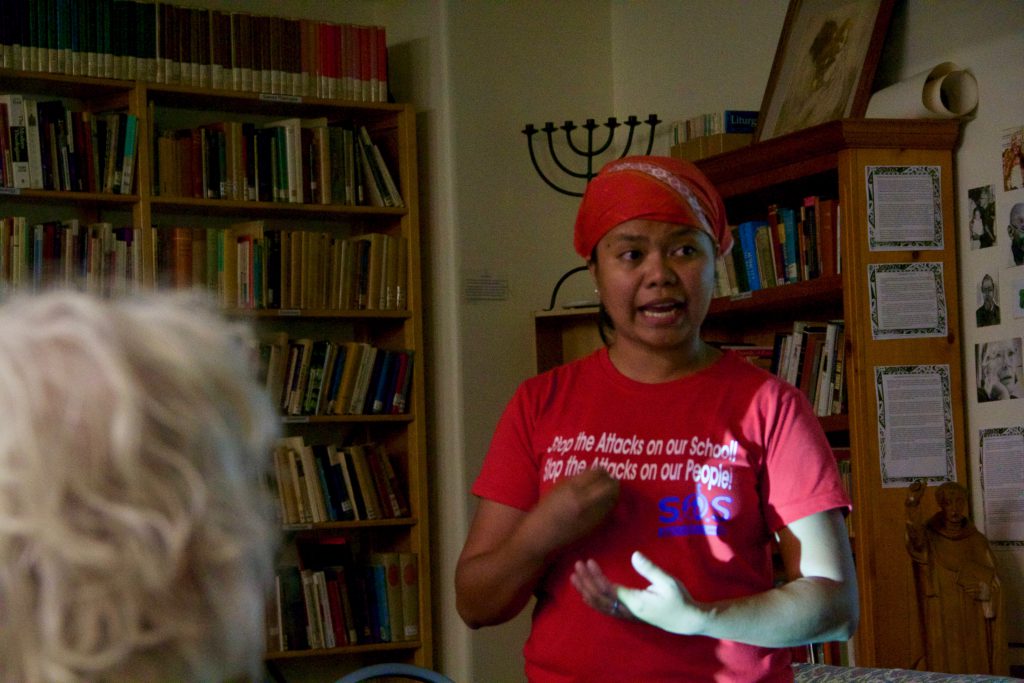 Fritizi Junance Magbanua … "By blood I am also a Lumad. I see their plight, their hunger for education." Image: Jean Bell/PMC
Magbanua pointed to the actions of President Rodrigo Durterte which she said were encouraging the violence.
"In the first six months that President Durterte was elected, we were hopeful for a change… he says he was a socialist, and a leftist, a pro-Lumad, and anti-mining."
'Changed his tune'
But in November 2017 when the APEC summit took place in Manila and President Trump visited the Philippines, Duterte seemed to change his mind.
"After the visit of Trump, he changed his tune. He welcomed all the investors to extract our natural resources. So he's a puppet," said Magbanua.
Sigua said: "The educators in Mindanao are being targeted as terrorists.
"The indigenous peoples are now being empowered and educated because of the schools. If they are empowered, they know their rights."
Magbanua said: "Duterte was the one who says he would bomb our schools… Under his regime, 37 Lumads have been extra-judicially killed under martial law."
Sigua said: "There is massive militarisation in the in area. Students are evacuating, the community is evacuating."
"There is now militarisation in the indigenous communities," she said. This was a reaction against the fear and tension caused by other military forces in the area.
'Land is life'
Land is often at the center of the conflicts. "We believe that land is life," says Magbanua.
"We, the indigenous people, need to protect it from mining and multinational corporations. We have to defend this for the next generation.
"We get all our needs from the mountains. From our medicines, our foods it is our supermarket and hospital.
"We call our land the land of promise. The greedy people want to take it away from us and convert it into banana plantations and mining areas."
After getting her university degree, Fritzi Junance Magbanua committed herself to serving indigenous people.
"For six years now I've been teaching and monitoring my co-teachers, facilitating the training, and doing some psychosocial therapy with my students."
Magbanua has never thought about doing anything different than being a volunteer teacher.
'Indigenous need me'
"After I graduated, a lot of opportunities came my way but I turned them down. Somebody needs me and it is the indigenous people."
"It is my commitment and responsibility to be with them and serve them without anything in return."
A turning point for her was her personal connection to the Lumad's struggle. "By blood I am also a Lumad. I see their plight, their hunger for education. When I have this knowledge, I just want to help and educate them also."
I am a part of their struggle to defend their land. Their plight at Mindanao is to uphold their right to self-determination."
Lorena Sigua is from Manila. She is a graduate of the the University of the Philippines and currently is a volunteer at the Education Development Institute (EDI) curriculum development based in Mindanao.
Sigua was inspired to get involved with Save Our Schools after witnessing the Lakbayan march, where indigenous peoples were protesting about their concerns.
Challenging life
Life as a volunteer teacher in Mindanao is challenging, said Magbanua.
"Once you are a volunteer, you are not just a teacher. You are a counsellor too. The community respects us and sees us as their hero because no body cares. Especially the government in our communities, but only us teachers and the institutions we came from.
Being a teacher for the indigenous peoples has a lot of sacrifices. We are not salary based. We receive NZ$100 a month.
The teachers often must travel to remote locations to reach local communities. "We are deployed in far flung areas."
The furtherest place the network serves requires a two-day walk through a snaking path to travel to. "We cross one river 52 times. But it's just a little sacrifice. For us we are ready to commit ourselves to the less fortunate who are hungry for education."
The organisation demands no payment for their work. "Our education is free for all. We don't ask for anything in return. In fact, we provide school supplies, toiletries to continue and sustain their education.
"On our island in Mindanao, there is no electricity, no signal. You have to walk an hour to search for a signal. You literally have to climb up a tree just to search for the signal."
Asia-Pacific consultation
Kevin McBride, national co-ordinator of Pax Christi Aotearoa, hosted the talk.
"I had expectations it would be a good revelation of the situation in Mindanao of the Lumad people," said McBride.
In December 2017, McBride represented Pax Christi in attending an Asia-Pacific Consultation in the Philippines.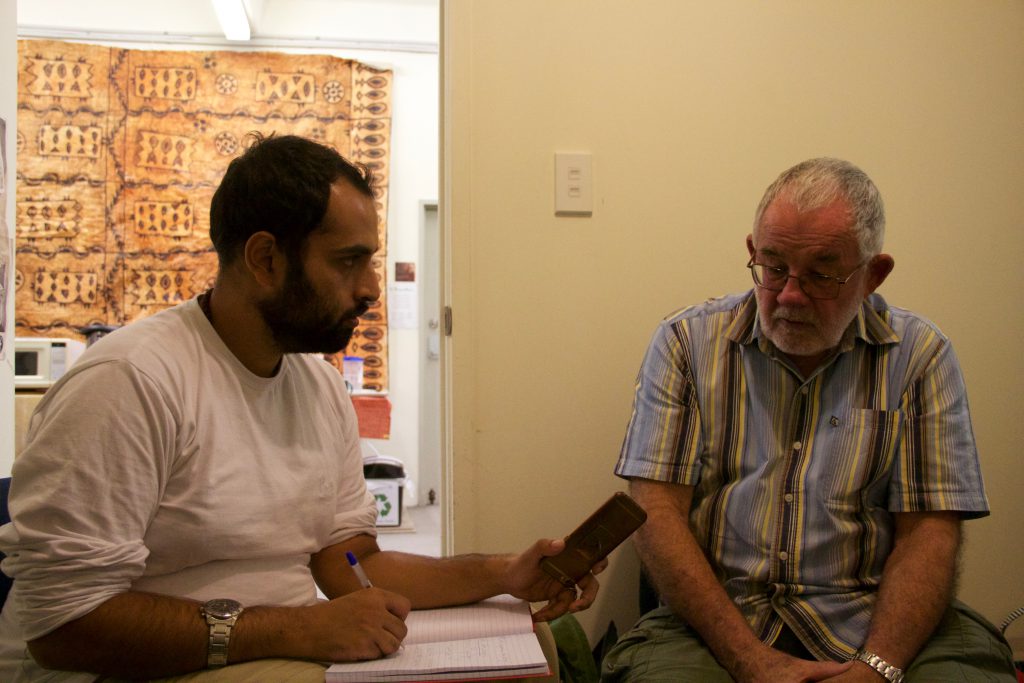 Student journalist Rahul Bhattarai (left) speaks with Pax Christi's Kevin McBride about the Lumad's struggle. Image: Jean Bell/PMC
With the New Zealand government being in touch with President Duterte, McBride believes New Zealand should try to do more to help.
"We do have opportunities to raise these issues and hold them to account for their activities. Shamefully, too often we don't as it would affect our trade."
Appeal for help
Every year the indigenous peoples go to the capital region in the Philippines to rally and send a message to the government about their concerns.
It is called a Lakbayan, said Sigua, and it was similar to the Hikoi taken by indigenous Māori in New Zealand.
"We are sharing a struggle with Māori," said Magbanau.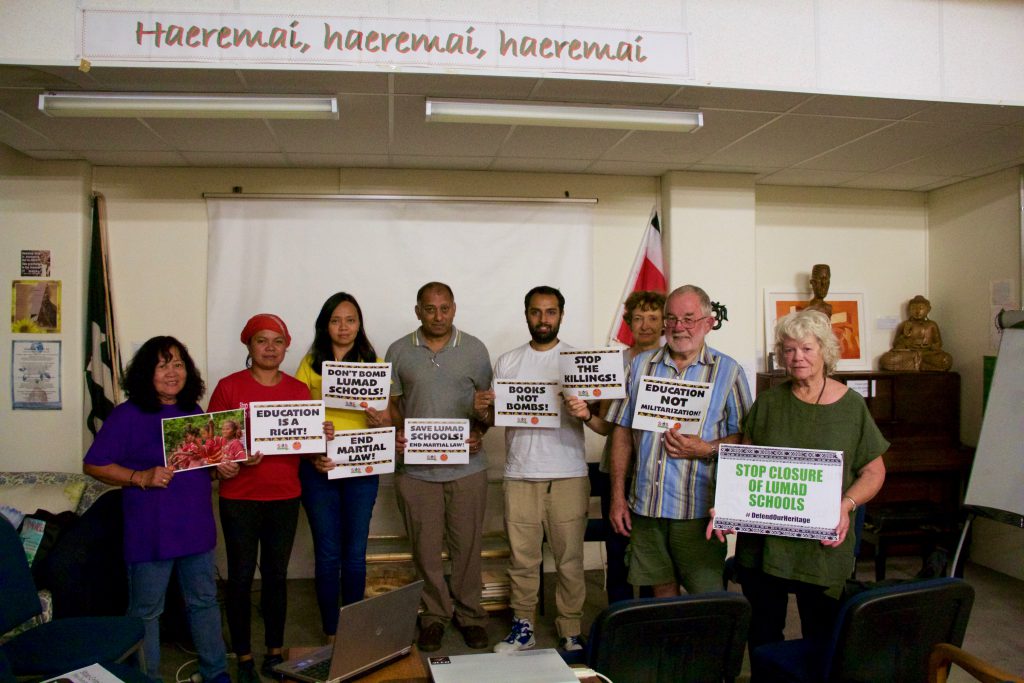 Human rights advocates at the Peace Place meeting last night. Image: Jean Bell/PMC
"We are appealing to your government to support our calls to stop the attacks on the activists. The activists in the Philippines are being tagged as terrorists."
Jean Bell is contributing editor of the Pacific Media Centre's Pacific Media Watch freedom project. Additional reporting by Rahul Bhattarai who is an Auckland University of Technology student studying towards a postgraduate diploma in Journalism.

Article by AsiaPacificReport.nz
]]>