<![CDATA[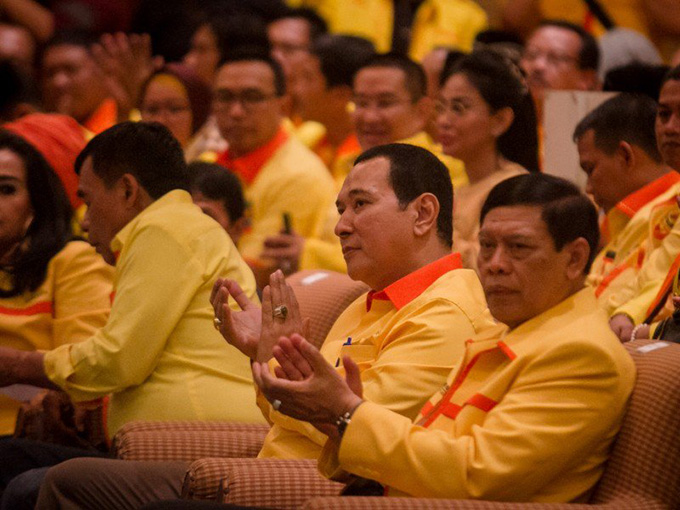 The youngest son of former Indonesian president Suharto, Hutomo "Tommy" Mandala Putra (centre), attending the opening of the Berkarya (Working) Party national meeting where he was voted chairman in Solo, Central Java, earlier this month. Image: Jakarta Post/Antara
By Ed Davies and Agustinus Beo Da Costa in Jakarta
The youngest son of former Indonesian president Suharto, Hutomo "Tommy" Mandala Putra, is making a new push to launch a career in politics at the helm of a party that believes it can cash in on his late father's legacy.
Suharto, who ruled Indonesia with an iron fist for 32 years, was brought down by protests in 1998, amid accusations of vast corruption and nepotism benefiting his family and cronies.
Nonetheless, family members have made repeated attempts to get into politics, often seeking to tap into nostalgia about the unity and security under Suharto's government, which was backed by a military that crushed any sign of revolt.
READ MORE: Open letter to PM Ardern – raise Papua human rights issue with Jokowi
"The vision and mission of this party is to prepare an alternative option for the 2019 elections," Badaruddin Andi Picunang, acting sectary-general of the Berkarya Party, said in an interview at its Jakarta headquarters.
Yearning for stability
Many people still yearned for the stability and the robust economic growth and development, at least in the earlier decades, of the Suharto era, said Picunang.
"But now we see killings everywhere, pickpockets and religious leaders attacked," he said.
Hutomo echoed this theme in a news conference after being elected chairman of Berkarya, which means "working" in Indonesian, at a party meeting earlier this month in the city of Solo.
"It is impossible for us to return to the New Order, it has become part of the history," said Hutomo, who is widely known as Tommy, referring to his father's government.
"But what we want to develop and continue are the good things that were carried out by the New Order," he said, highlighting Suharto's rolling five-year development plans.
Berkarya has an ambitious target of winning 80 seats, or about 14 percent of the 575 seats in Parliament. It is mostly being funded by Tommy and associates, according to Picunang.
Political machine
A former racing driver with a playboy reputation, Tommy, 55, made a fortune under his father's powerful patronage. His Humpuss Group of companies held the national monopoly on clove distribution, the key ingredient in Indonesia's favourite sweet-smelling kretek cigarettes.
He was sentenced in 2002 to 15 years in jail for paying a hitman to gun down and kill a supreme court judge, who had convicted him in a graft case. His term was later reduced on appeal and by remissions and he was released in 2007.
In his speech in Solo, Tommy said those who had been convicted and served their sentence, like himself, had the same rights as anyone else.
Many of the members of Berkarya are former members of Golkar, his father's old political machine and still the second-biggest party in Parliament.
Tommy failed in an attempt to win the top job at Golkar and also to get backing from other parties for a bid at the presidency. His sister, Siti Hediati, popularly known as Titiek, has stuck by Golkar and is a member of Parliament.
Tobias Basuki, a political analyst at the Centre for Strategic and International Studies, was sceptical about Tommy and other family members getting much traction from a link to the Suharto legacy.
The nationalist Gerindra party, led by a former son-in-law of Suharto, Prabowo Subianto, had been able to successfully target many of the voters who might support them, he said.
"I think this is one of their last attempts. They have been trying to stay in the mainstream but none could take control of Golkar and if they don't move fast they will be irrelevant," said Basuki.

Article by AsiaPacificReport.nz
]]>