<![CDATA[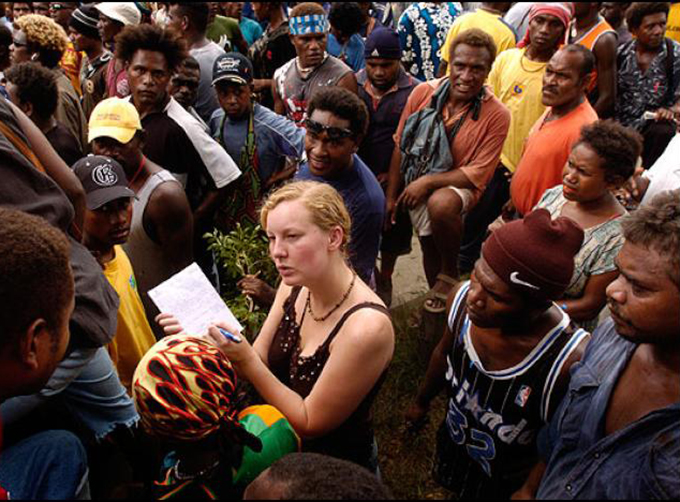 Yasmine Ryan demonstrating her skills at work in Solomon Islands … she was devoted to human rights. Image: Jason Dorday/Scoop
Pacific Media Watch Newsdesk
A New Zealand journalist and associate of the Pacific Media Centre has been killed in a fall from a building in Istanbul, reports the Turkish-based news service
TRT World
. Media industry sources have cited police as treating the death of Yasmine Ryan, 34, in a five-storey fall as "suspicious". Her death has shocked colleagues and friends around the world. A colleague, Ashfaaq Carim, at TRT World said Ryan had left behind a "rich legacy of stories that have left a deep impact on people and journalists". "This morning, I woke up to the tragic news that a trusted friend, colleague, and fellow journalist, Yasmine Ryan, had passed away," he wrote in a
TRT opinio0n blog
. "I have been blessed to know Yasmine for more than eight years. Throughout she had been an epitome of courage," he wrote.
"A selfless human. A fearless woman."
Tragedy at friend's house
The journalist was staying at a friend's house when the tragedy happened, according to news reports. "The pair had retired for the day and gone to sleep in separate rooms. The friend was awoken at 2.20pm by a noise," said
The New Zealand Herald
. "They discovered an open window and Ryan on the ground below.
RT World reported emergency services were called but declared her dead at the scene.
Police were now investigating the death.
A Ministry of Foreign Affairs and Trade spokesperson said the ministry was aware of the death of a New Zealander in Istanbul and was providing consular assistance to the family.
Zaoui book
One of her colleagues in New Zealand, independent journalist Selwyn Manning, recalls her early work in a collaborative book, 
I Almost Forgot About The Moon
– about the disinformation campaign against refugee Algerian theologian Ahmed Zaoui. "Her research and writing of various chapters in the book were so exact and thorough," Manning said. "Her passion for human rights shone through and led her, I believe, to pursue a career reporting in North Africa and the Middle East. "Early on, when I was editor of
Scoop
, I assigned her to report in the Solomons when unrest became evident after some arson attacks in Honiara. "We flew her and Jason Dorday up there to cover events. She immediately was in her element." Pacific Media Centre director Professor David Robie described Ryan as one of the most professional New Zealand journalists he had encountered working as a foreign correspondent. He paid tribute to her Arab Spring reportage from Tunisia for Al Jazeera. "Her reporting broke the mould and alerted the world to the forces of would-be change heralded by the Arab Spring, even if the early hopes dwindled in the end."

Article by
AsiaPacificReport.nz
]]>