<![CDATA[
Manus Island was the unique setting for this Sydney Film Festival documentary collaboration between Iranian-Kurdish journalist Behrouz Boochani and a Dutch filmmaker using footage shot on a mobile phone. Video: Sydfilmfest
Pacific Media Watch Newsdesk
The Journalism Education and Research Association of Australia (JERAA) has expressed its deep concern about reports that Behrouz Boochani, an Iranian-Kurdish journalist and regular contributor to Australian publications, was arrested on Manus Island early last Thursday.
He was released later in the day.
READ MORE: Médecins Sans Frontières denied access to refugees as thousands rally in Australia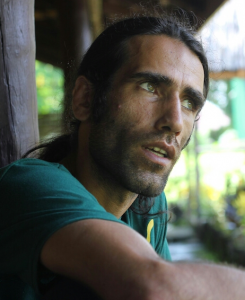 Behrouz Boochani … refugee journalist "targeted" by authorities on Manus Island. Image: Refugee Alternatives
The Media Entertainment and Arts Alliance (MEAA) chief executive, Paul Murphy, said Boochani appeared to have been deliberately targeted by Papua New Guinea (PNG) police in the crackdown on November 23 because he was well known as a journalist reporting from inside the detention centre.
"Behrouz has been one of the main sources of factual information about conditions inside the Manus Island detention centre for the past few years, and his reporting has been published in Australia and internationally," Murphy said.
"His reporting in the finest traditions of journalism has been critical when the Australian and PNG governments have done everything they can to prevent media from having access to the asylum seekers on Manus Island.
"If, as the case appears to be, he has been targeted and arrested because of his profile and his role as a journalist in an attempt to silence him, this is an egregious attack on press freedom that cannot be let stand."
Like MEAA, JERAA has called on the Australian and PNG governments to inform the public about his safety, and allow him to continue doing the journalistic work he has been for so many months.
Amnesty Award for journalism
Just three weeks ago, Boochani was awarded the Amnesty International Australian Media Award for his journalism from Manus Island.
JERAA president, Matthew Ricketson, was a guest speaker at the awards in Sydney, and testified to the loud applause that greeted the award as well as the heartfelt admiration of his colleague at Guardian Australia, Ben Doherty, who accepted the award in Boochani's absence.
Professor Ricketson said: "Behrouz Boochani's reporting has been brave and inspiring, not least because he has been pursuing it while at the same time he has been detained indefinitely.
"Governments for nearly two decades now have been fighting determinedly to hide from public view – and the possibility of public empathy – what has been happening inside offshore detention centres.
"Boochani's reporting is a vital counterweight to this campaign".
Earlier this year, MEAA, the journalists' union, co-ordinated an open letter to Prime Minister Malcolm Turnbull, calling for him to be resettled in Australia. Dozens of high-profile journalists and writers co-signed the open letter.
Boochani's work has been published in The Saturday Paper as well as Guardian Australia, while his film about life inside the Manus detention centre, Chauka, Please Tell Us the Time has been screened at the Sydney and London film festivals. He tweets at @BehrouzBoochani

Article by AsiaPacificReport.nz
]]>