<![CDATA[Article by AsiaPacificReport.nz
Howling wind rips away at a house roof in Savusavu yesterday. Video: Breaking Disaster
Fiji's capital of Suva was under lockdown last night as tropical cyclone Winston ravaged through the country and hit the main islands of Vanua Levu and Viti Levu.
Raging winds battered the city, damaging some makeshift houses and ripping off sheets of roofing iron.
Fijivillage reported the death of one man on Koro island after his house fell on top of him.
The elderly man was trying to escape from his house but it was too late.
Fifty houses were reported to have been destroyed in the village of Navaga.
The Fiji Times reported Suva was without electricity and police officers were out in numbers patrolling the streets to ensure "criminal elements" did not take advantage of the disaster.
A curfew imposed at 6pm was still in place and people still on the streets in the city were being chased away by police officers.
All businesses had also closed down.
Police Chief of Operations ACP Rusiate Tudravu said they had received reports of broken power lines.
ACP Tudravu said some people travelling to the city from the Western Division were stranded at the Suva bus terminal and police were using their resources to drop them off at their homes.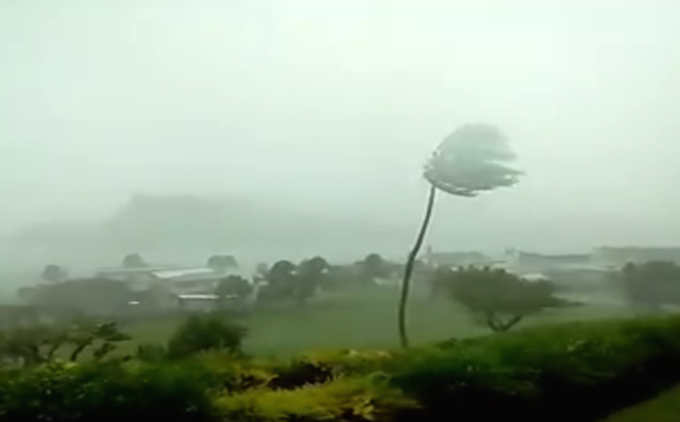 Ripped through Lau group
Fiji Television reported that Winston had earlier ripped through the Lau Group with winds of up to 220 km/h and gusts right up to 315 km/h.
Late yesterday afternoon the cyclone changed track again as it headed between Viti Levu and Vanua Levu but still maintaining it Category 5 status.
Cyclone Winston was located about 50km southwest of Taveuni or about 175km northeast of Suva at 1pm today.
FBC News reported the evacuation centers in Fiji's four regions had 687people taking shelter.
DISMAC Operations Center officer on duty Vatia Vasuca said the Eastern Division had 116 people, Central 110, Western 20, while Northern had 441 taking shelter last night.
–]]>