Source: The Conversation (Au and NZ) – By Martin Drum, Professor of Politics and International Relations, University of Notre Dame Australia
With the withdrawal of his principal challengers and the implicit endorsement from key factions within the Labor party, Roger Cook will become Western Australia's 31st premier. We can expect final endorsement from the Labor caucus and a formal swearing-in from the WA governor in the coming days.
Cook is the Member for Kwinana, in the southern suburbs of Perth, and was elected to the seat in 2008, defeating a popular local mayor by just 300 votes.
Just ten days later, he was elected deputy leader of the Labor Party, a position he has remained in since. For the entire eight and a half years of opposition he held the portfolio of health, and he was appointed health minister when Labor came to power in 2017.
---


À lire aussi :
Mark McGowan quits in his own time, after dominating Western Australian politics


---
It was in this role that he became the second most visible minister in government when the COVID pandemic hit in 2020. From March 2020 until the end of 2021, Cook was often standing next to Premier Mark McGowan when the latter announced crucial decisions that affected every Western Australian.
At the end of 2021, Cook stepped aside as health minister in a cabinet reshuffle. This could be seen as a demotion, but his new portfolio of state development, jobs and tourism still allowed him to maintain a significant role in steering the economic direction of the state.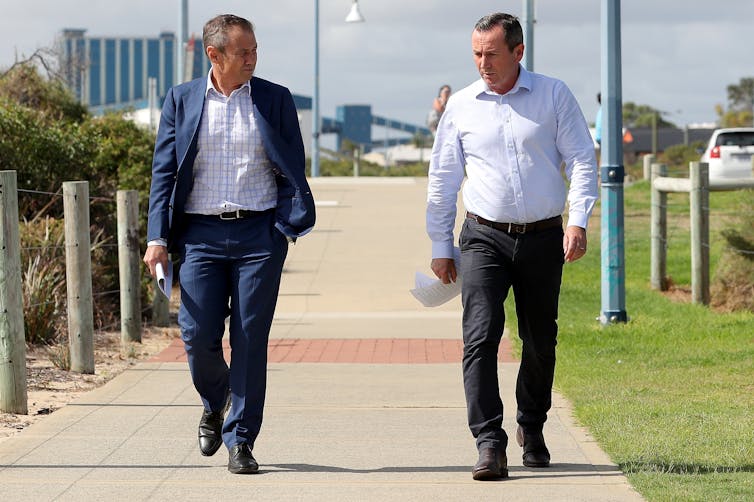 Twenty-four hours of drama
Monday's bombshell resignation of Mark McGowan as premier left his cabinet and party colleagues scrambling to determine who should replace him.
Three candidates were initially mentioned: Cook, Rita Saffioti and Amber-Jade Sanderson. As minister for transport and planning, Saffioti was central to all major infrastructure projects since the Labor government's election in 2017. She was especially known for her role in overseeing the rollout of Metronet, the expansion of the public transport system in Perth, which was the government's signature project. Not being aligned to a faction, Saffioti did not have a natural support base in caucus, making her pathway to victory more complicated.
Sanderson was a first-term minister who has enjoyed a meteoric rise, starting in the environment portfolio before being catapulted into the hot seat of health. She was a member of the United Workers Union (UWU), the largest left faction.
While Cook was also a member of the UWU, Sanderson enjoyed the support of the union's secretary and won the majority of UWU caucus members at a vote on Tuesday morning. At that point, Cook's chances looked dim. But Saffioti agreed to join forces with Cook, while the other left faction, the Manufacturing Workers' Union (AMWU), backed Cook.
Given Cook also appeared to have support among Progressive Labor (also known as the Right faction), Sanderson withdrew by the end of Tuesday, leaving Cook as the only candidate.
What remains to be seen is whether the split among the left factions in the Labor party at such a critical juncture is an enduring one. Cook may need to work to build support and collegiality from Sanderson's supporters within his own UWU faction. There is also the inevitable question around whether anything was promised to the other factions in return for their support.
---


À lire aussi :
Word from The Hill: PwC scandal, McGowan quitting politics, PM's trip to Singapore and high inflation figure


---
So who is Roger Cook?
Cook had a long initiation in politics, having been engaged in student politics during his time at university in the 1980s, rising to the position of national president for the National Union of Students. He spend time as a political adviser in the offices of well-known Labor figures in WA including Stephen Smith, Chris Evans and Jim McGinty.
Cook is known for his passion and enthusiasm for the causes of Indigenous Australians, and he worked in several advocacy roles in that area. Indigenous people featured prominently in his inaugural speech. He voiced his strong support for his wife who attended a Black Lives Matter protest in June 2020 during a period when the government was discouraging mass gatherings.
The new premier will face a range of challenges when entering the role. Perth is experiencing a housing shortage, which has exacerbated broader rises in the cost of living and contributed to a blowout in the waiting list for public housing. This is coupled with a general skills shortage, especially in the construction industry, which will make resolving the housing crisis more difficult.
There are acute problems in the juvenile justice system and health is a perennial trouble area. Finally, Cook finds himself in a struggle with other premiers (mostly Labor) over the GST allocation. This will ensure that any honeymoon is likely to be short-lived.

Martin Drum was a member of the Ministerial Expert Committee that advised the WA government on electoral reform.
– ref. After 24 hours of drama, Roger Cook becomes the next premier of Western Australia – https://theconversation.com/after-24-hours-of-drama-roger-cook-becomes-the-next-premier-of-western-australia-206754