Source: The Conversation (Au and NZ) – By Justin Wastnage, Adjunct Industry Fellow, Griffith Institute for Tourism, Griffith University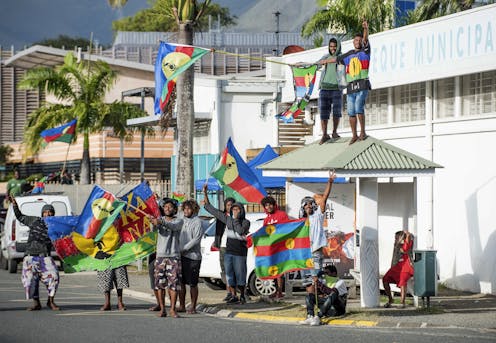 Mathurin Derel/AP
Australian Foreign Minister Penny Wong's visit to New Caledonia a few weeks ago made few headlines. In fact, it barely made the news.
Yet, her visit came at a crucial juncture for the French overseas territory, which is trying to negotiate a viable path towards a lasting self-determination, which balances the rights of New Caledonia's Indigenous populations with the political reality of three failed independence referendums.
A new country is still emerging just off Australia's coast, albeit in a slow path towards decolonisation in a process guided, but not governed, by France.
Self-determination is not a straightforward path
Officially, the subject of sovereignty has been put to bed for a while, with the defeat of the most recent referendum on full independence in late 2021. A large majority voted to remain part of France, albeit with a very low turnout rate.
However, the main pro-independence group, the Kanak and Socialist National Liberation Front (FLNKS) refused to recognise the result, as most Indigenous New Caledonians had boycotted the poll due to the traditional burial and mourning rituals following a high number of COVID deaths in the community.
Talks resumed in Paris last month around the validity of the third independence referendum in 2021 and on ways to devolve powers further.
Even the fact the Ministry of Overseas France, which oversees France's vast remaining colonial holdings, is still talking about these things is in stark contrast to the Anglo-Saxon, winner-takes-all approach to referendums.
Compare, for example, the United Kingdom government's refusal to authorise a new independence referendum in Scotland, despite 62% of Scots having voted to remain in the European Union in the Brexit vote. Nationalists there contend that conditions have fundamentally changed since the failed 2014 independence referendum.
In the case of New Caledonia and other former French possessions, there is an understanding that issues as complex as Indigenous rights take time and patience to explain and execute. And that systems and institutions need time to gain trust.
Before Wong became the first Australian minister ever to address New Caledonia's Congress, she first met representatives of the Customary Senate, a 16-member Indigenous body that consults with the government on issues related to the Indigenous Kanak people.
As Wong diplomatically put it in her address to the legislature, "New Caledonia is at a complex, historic juncture". Its path to decolonisation is not a straightforward question of restoring power to the traditional owners of the land.
---


Read more:
Why New Caledonia's final independence vote could lead to instability and tarnish France's image in the region


---
A unique power structure
Indigenous Melanesians, who reclaimed the once-pejorative term "canaques" and adopted the word Kanak for themselves, make up 40% of the population. A further 10% is made up of Polynesians (largely from Tahiti or another French Pacific territory, Wallis and Futuna).
Despite a long colonial history – first as a penal colony, and later as a destination for French free settlers – New Caledonia's European population has only ever accounted for 40% of the population. Today, around a quarter of the 270,000 New Caledonians identify as having European heritage.
---


Read more:
Why New Caledonia's instability is not just a problem for France


---
But almost as large as the European population are those of mixed heritage. A legacy of colonisation, workers from Vietnam, Vanuatu, Algeria and other former French colonies settled in New Caledonia, married and had children. These New Caledonians often hold the balance of power in the political process.
As a result, a complex web of power-sharing structures has emerged over the past 20 years to give a voice to all New Caledonians. There are three provincial governments. One, called South Province, is centred around the capital, Nouméa, on the main island and is home to two-thirds of the population and the majority of the economic activity.
To balance out the disproportionate power of Greater Nouméa, two other provinces, North and Loyalty Islands, were established. Both have Kanak majority populations.
This seemingly unwieldy power structure has been designed from the bottom up. The basic law of New Caledonia, as enshrined in an amendment to the French constitution, is referred to as "organic law" because it is not prescriptive, but rather, flexible.
For example, while some local councils hold elections for the Customary Senate seats, others do not. This is true to the spirit of the organic law – that each Kanak tribe can determine its own system, under a broad umbrella.
Charting a path forward
The French state has progressively devolved power to New Caledonia since the historic Nouméa Accord of May 1998. Its predecessor, the Matignon Accord, was essentially a peace agreement that ended an occasionally bloody campaign for independence from France, led by the the Kanak and Socialist National Liberation Front.
Today, the coalition holds 20 of the 54 seats in the quasi-federal parliament that Wong addressed. And, in December, Louis Mapou became the first independence politician to hold the post of president of New Caledonia.
The coalition's mission remains a sovereign, independent New Caledonia, or Kanaky (the group's preferred name for the new country). Yet, given the complex demographics, it has failed to win a majority in three referendums.
For now, the country remains a French territory, albeit one with substantial autonomy. France maintains responsibility for defence, internal security and currency controls.
But New Caledonia now has many of the rights associated with statehood, including a New Caledonian citizenship that sits alongside French. It now has the right to conduct foreign policy and trade talks with its Pacific neighbours. Japan recently opened a consulate in Nouméa and other countries are beefing up their presence to counter Chinese influence in the region.
This most recent devolution of powers made Nouméa an obvious stop for Wong, who also visited Tuvalu on the same trip, completing her pledge to visit every member of the 17-member Pacific Islands Forum in her first year.
In doing so, on Djubéa-Kaponé land, she pledged deeper partnership with a key regional ally and one of the world's largest nickel producers. And she gained insight into one of the world's most ambitious power-sharing structures created since the fall of apartheid in South Africa.

Justin Wastnage has previously received funding from the French Ministry of Overseas France and has written a tourism guide to New Caledonia funded by the South Province government of New Caledonia.
– ref. With independence off the table for now, what's next for New Caledonia's push toward self-determination? – https://theconversation.com/with-independence-off-the-table-for-now-whats-next-for-new-caledonias-push-toward-self-determination-204536