Analysis by Keith Rankin.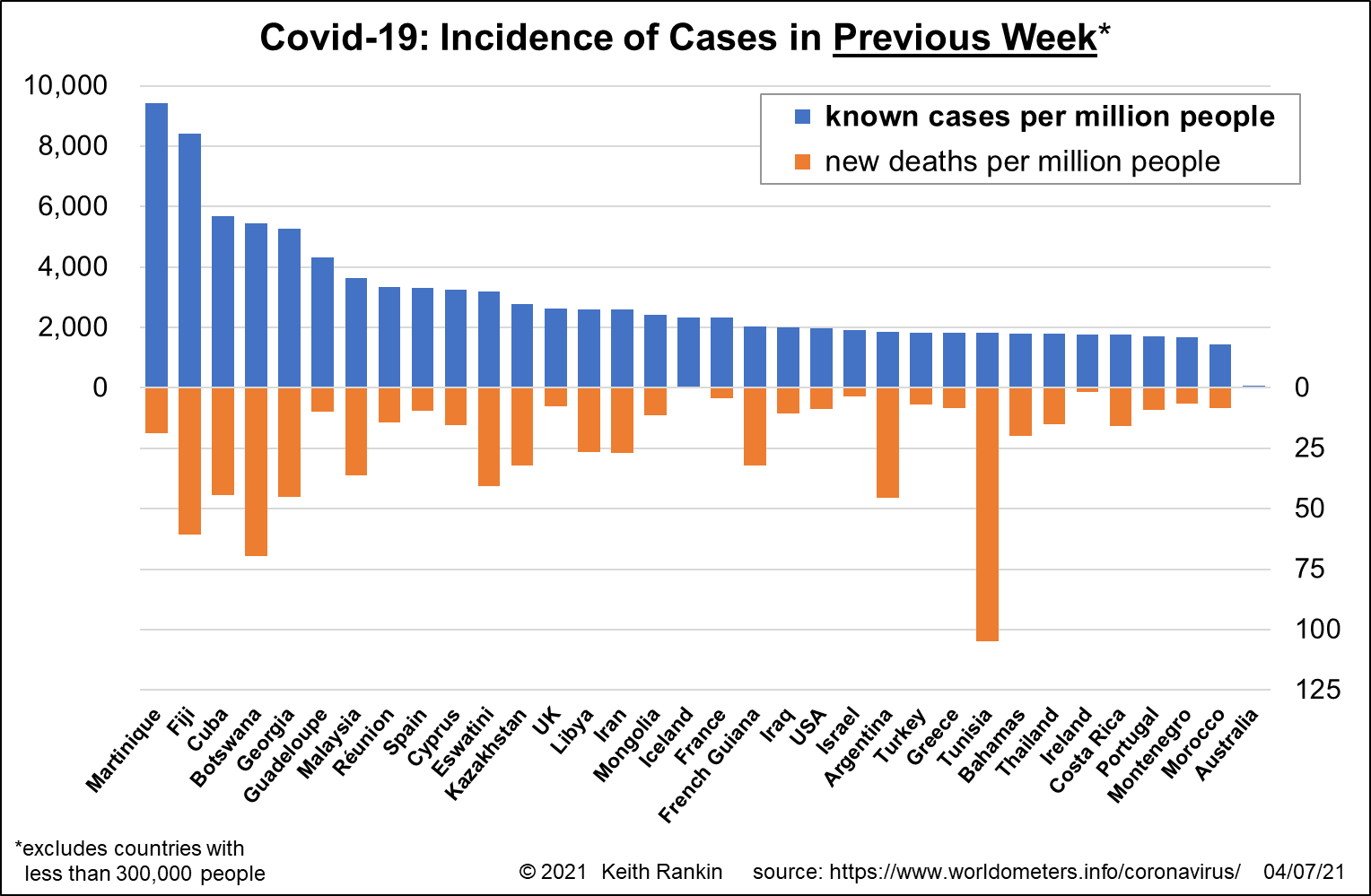 The issues to watch out for now are the extent to which countries with high vaccination rates are (1) getting positive cases, and (2) getting Covid19 deaths. And one particular point to watch out for is the extent to which early vaccinator countries show signs of relapse, as immunity levels wane over time.
As for 2020, the tropical holiday destinations are well represented (and a significant number of these are not shown here, because their populations are less than 300,000 people). Important holiday destinations that do show are these French dependencies: Martinique, Guadaloupe, and Réunion. We also see popular Mediterranean holiday destinations showing up: Spain, France, Greece, Portugal, Morocco. Generally these have low death rates, but it's still too early into August holiday month to declare that deaths will remain low.
Generally the places with the highest per capita cases of Covid19 are now quite dispersed, reflecting a mix of countries which experience high traffic at their borders, and other countries which have struggled to control domestic outbreaks.
Israel, Iceland, United Kingdom, Spain, Portugal, Greece all have very high full vaccination rates, high case numbers, but low death rates. All should be watched to see if death rates stay low. Of these, Israel and Iceland have had the most recent outbreaks. (Also, little Gibraltar has the world's highest vaccination rate, at over 100%, and would be in about 6th place on the above chart.) We should also note Cyprus, which is coming out of a particularly bad outbreak, after having largely missed out on earlier covid waves.
I have also included Australia, for context. Australia's lockdowns have clearly had a major impact on slowing down the growth rate of Covid19 infections. But low levels of immunity in Australia – both low from past infections and low from vaccinations – mean that it's slow exponential outbreak may continue for a fearfully long time.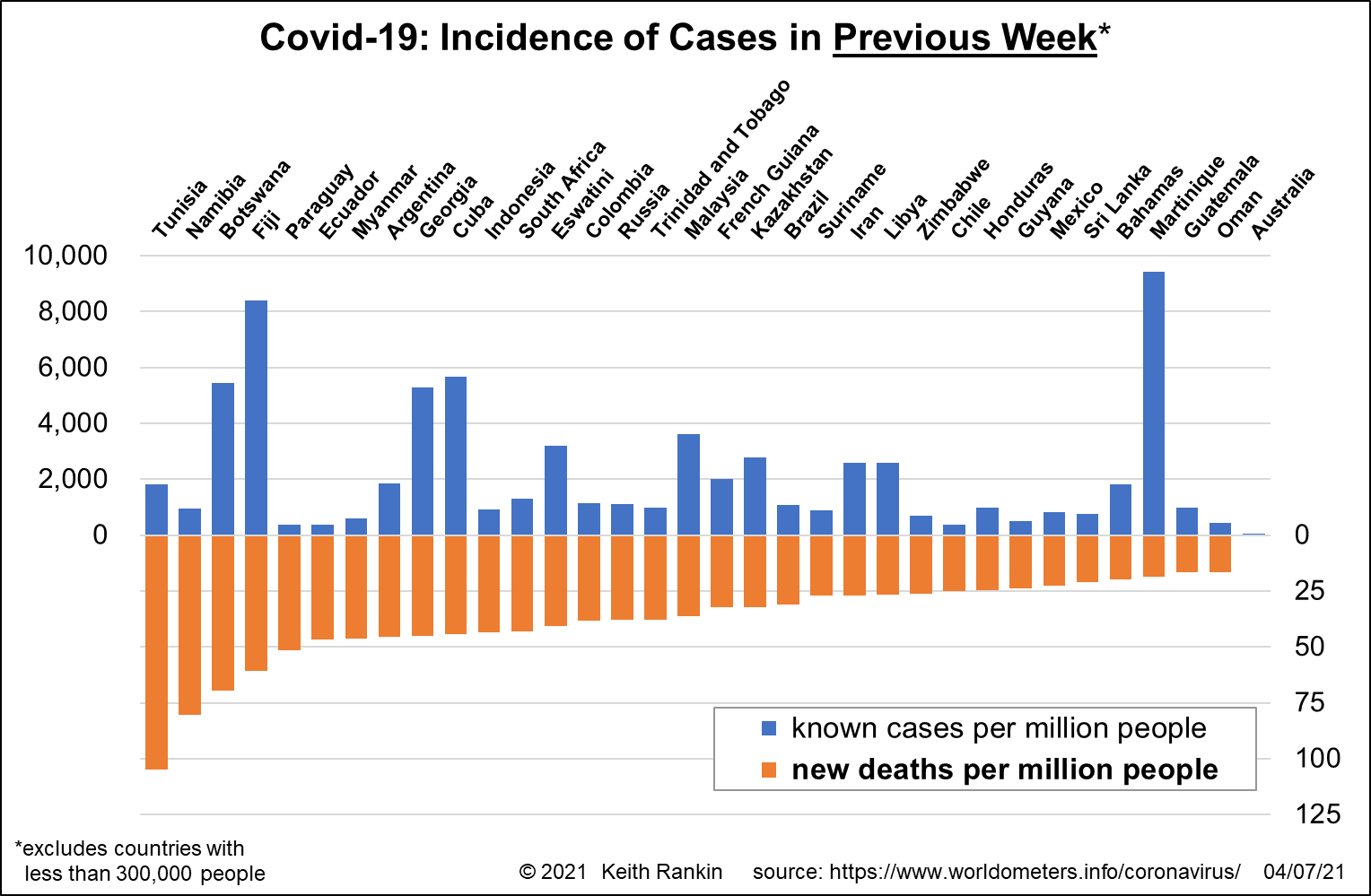 On deaths, we still see the impacts of the major outbreaks in Southern Africa, North Africa, South America, and South Asia. And Russia. And Iran. My hunch is that deaths will continue to fall in most of these countries, and will not appear in large numbers in the northern autumn as they did in 2020.
One country to watch is China. It has low levels of immunity; and reliance on draconian lockdowns and a vaccine that may have been the least effective so far. In other words – to use a forest fire analogy – it has by far the most 'fuel' to power an outbreak that may prove as hard as the Australian outbreak to contain.
In New Zealand, we now know that the speed of the vaccine rollout is the difference between life and death. The SARS-COV2 virus will reach an equilibrium in the Northern Hemisphere in a year or two – as did the virus that caused the 'Russian flu' pandemic around 1890. But it will kill many kiwis – sooner or later – unless we can achieve herd immunity through vaccination.