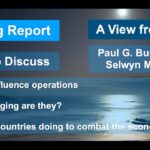 A View from Afar: In this week's podcast Selwyn Manning and Paul Buchanan discuss: The latest information on the Israel/Palestine conflict and consider; is the ceasefire likely to hold? What are the underlying causes of the most recent hostilities?
Is there a case of political opportunism in play by the Government of Israel? Is there a case of disproportional defence? If so, does this amount to crimes? And if so, what global body is able to consider such allegations?
And is Palestine's Fatah a party of the past and will Hamas survive Israel's intent to destroy it?
*** ALSO, Samoa and the political constitutional crisis. How did it get to this? And, w
here does Samoa stand now as a principled member of the PIF?
OK, let's cross to Paul Buchanan to discuss all of this and more…
WE INVITE YOU TO PARTICIPATE WHILE WE ARE LIVE WITH COMMENTS AND QUESTIONS IN THE RECORDING OF THIS PODCAST:
You can comment on this debate by clicking on one of these social media channels and interacting in the social media's comment area. Here are the links:
If you miss the LIVE Episode, you can see it as video-on-demand, and earlier episodes too, by checking out EveningReport.nz or, subscribe to the Evening Report podcast here.
The MIL Network's podcast A View from Afar was Nominated as a Top  Defence Security Podcast by Threat.Technology – a London-based cyber security news publication.
Threat.Technology placed A View from Afar at 9th in its 20 Best Defence Security Podcasts of 2021 category. You can follow A View from Afar via our affiliate syndicators.