Analysis by Keith Rankin.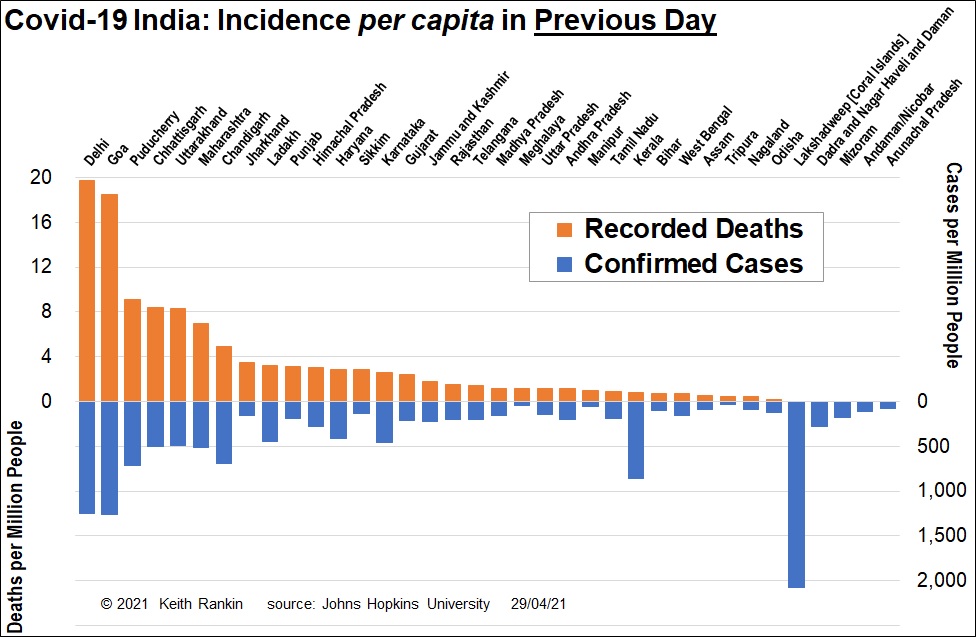 The present wave of the Covid19 pandemic is far from evenly spread through India; indeed our news coverage is biased by most of the reporting coming from New Delhi, and from journalist assumptions labelling big outdoor events as 'super-spreader' events.
The chart shows, that, two days ago, Delhi and Goa had the most deaths, and among the most confirmed cases. In each of these city states, in one day there were nearly 20 recorded deaths per million people, and just over 1,200 newly confirmed cases. Goa is India's Macao, a Portuguese heritage enclave, and a popular destination for tourists from Mumbai and New Delhi, as well as with foreign visitors.
We should also note that, in India's smallest state – popularly known as the Coral Islands – two in a thousand people (0.2%) got Covid19 in a single day. Probably many were domestic tourists rather than locals; but this makes the local service workers prime candidates for catching the virus.
Mumbai, India's commercial capital, is in Maharashtra state; it's statistics are almost certainly worse that the average for Maharashtra state. Once again – as has happened in the world since Covid19 began – it is the richest cities that tend to have the most cases, though the deaths are not necessarily the richest people in those cities.
In India's second tier of affected states, the most affected by Covid19 are in the north – near the Himalaya mountains – and in tourist centres such as Kerala and Puducherry (Pondicherry, the French colonial city south of Chennai).
Chhattisgarh and Jharkhand are unremarkable states to the southeast of New Delhi, with minimal connection to the River Ganges. Neither seems to be particularly affected by regional elections, and the rallies that accompany elections in India.
Bangalore (Bengaluru) – India's 'Silicon Valley' is in Karnataka, and Hyderabad is in Telangana. These states are in the 'middle of the pack', though Bangalore seems to be getting quite a few new cases.
The principal states on the River Ganges – Uttar Pradesh, Bihar and West Bengal – are among India's poorest and most populated. They all have well below average numbers of cases, despite the television pictures we see of alleged super-spreader events, of masses of people bathing in the holy Ganges. Similarly, Tamil Nadu – largest state in the south (and containing Chennai, formerly Madras) – has had comparatively low case numbers. So far, Kolkata (formerly Calcutta) in West Bengal has been largely spared, especially compared to the richer comparator cities of New Delhi and Mumbai.
The five states with Legislative assembly general elections are: Assam, West Bengal, Tamil Nadu, Puducherry, and Kerala. The first three have had, so far, comparatively low incidences of Covid19 in the present outbreak. The latter two – Puducherry and Kerala, both important domestic tourist destinations – have had high incidences of Covid19, but this is probably not due to election rallies in these places.
For interest, New Zealand's Associate Minister of Health – Ayesha Verrall – is of Maldivian descent. The Maldive Islands – a popular tourist destination near to India – had 700 new reported cases per million people. That would have placed the Maldives at fifth place in the chart, had it also been an Indian province.
We should also note that the data coming from India almost certainly understate the problem there. I heard one suggestion that there are 30 times more cases than are being reported. For New Delhi, 30 times 1,250 is 37,500 case per million, or 3.75 percent of Delhi's population. Cities in Europe such as Prague and Budapest almost certainly now have about 75% of their people who have been infected with Covid19. New Delhi is certainly tracking in that direction, but will probably end up no worse affected that these two European cities. Kolkata will not follow that trajectory; Covid19 remains a condition transmitted by richer more mobile people who work indoors. Kolkata has too few rich people.