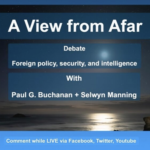 A View from Afar: Paul G. Buchanan and Selwyn Manning debate:
Whether the New Zealand Security Intelligence Service has accepted its failure to identify and detect terrorist planning activity in the lead up to the tragedy that occurred in Christchurch against Muslim people on March 15, 2019.
ALSO, since the Christchurch terror attacks, after the Commission of Inquiry, after all the external and internal assessments and reports, should New Zealanders be satisfied that the NZSIS is match-fit, ready and resourced, equipped to identify extremist hate ideologies and prevent them from posing threats against this country's peoples?
If not, what needs to change?
COMMENT ON THIS DISCUSSION:
You can interact with the programme by clicking on one of these social media channels. Here are the links:
If you miss the LIVE Episode, you can see it as video-on-demand, and earlier episodes too, by checking out EveningReport.nz or, subscribe to the Evening Report podcast here.