Analysis by Keith Rankin.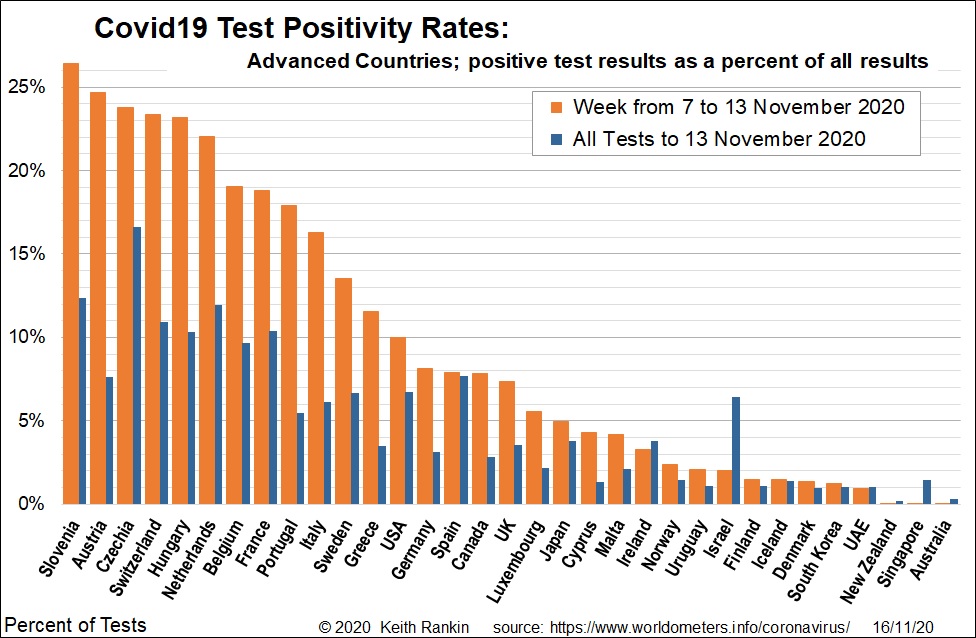 The above chart shows the world's most economically developed countries, including three of the most developed in Eastern Europe (Slovenia, Hungary and Czechia), and one of the most developed in South America (Uruguay).
In early November, the countries with the most positive results are all clustered around Austria, in central Europe. The other main country that borders Austria is Germany, which is also shown to have a recent positivity rate well over five percent.
The next batch of countries are those on the west coast of Europe, with Netherlands being the worst, with France and Belgium not far behind. Portugal, once a good performer, is now one of the worst. The next worst group are the Mediterranean countries in the Eurozone: Italy, Greece, Spain, Cyprus and Malta. Then there is Israel which had a major outbreak two months ago.
Scattered amongst these – with rates above five percent – are several very important countries: Sweden, United States, Canada, United Kingdom. Scandinavian countries on the other hand – Sweden excepted – generally show positivity rates below two percent.
For East Asian economically developed countries, Japan is clearly worst, with South Korea's testing outcomes comparable with Denmark and Finland; and United Arab Emirates (eg Dubai). Singapore – in November – has had lower positivity rates than New Zealand, but has had significantly higher historical rates. Uruguay has positivity rates similar to the best of the Scandinavian countries, and much better than other South American countries. The Argentine 'Pumas' rugby team was able to train in Uruguay before coming to Australia this month.
Of particular importance is that – based on Covid19 test results – many European countries' leaders are much worse Covid19 performers than are the worst of the Anglo countries (USA, Canada, and UK). We love to lampoon Donald Trump for his appalling pandemic performance; and Boris Johnson too. We should note how much worse in the last few months the political leaders of France, Austria, Netherlands, Switzerland and Belgium have performed. And maybe we should point the finger a bit more at Ursula von der Leyen, who is the president-equivalent of the European Union. Canada's Justin Trudeau also has questions to answer.