Analysis by Keith Rankin.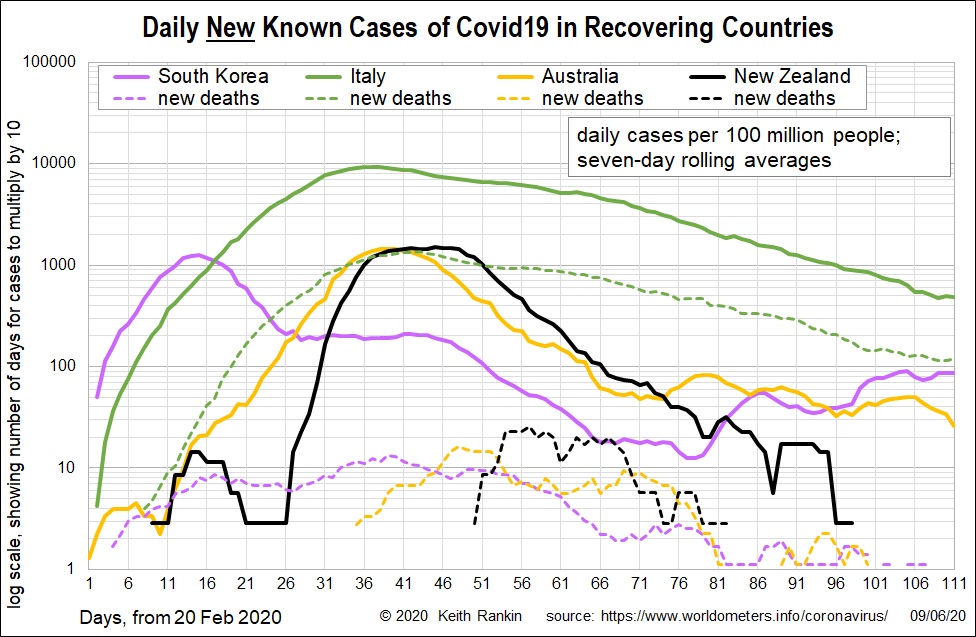 These charts plot seven-day rolling averages. It means that the most recent death and case incidences of Covid19 is the average of new cases for the seven days ended 9 June 2020.
The New Zealand data looks incomplete, but that's because it is now zero; New Zealand is recovered, not recovering. Contrast this with Australia and South Korea, which have few cases compared to Europe and North America, but are having regular new cases in small numbers. New Zealand, unlike these, continued its downward path of cases.
For countries in the advanced stage of recovery, and with a history of high levels of testing, the case incidence is more important than the death rate. Australia and Korea seem likely to continue in this way for several months yet.
For Italy, recovery is real, though protracted. It still has cases per capita at ten times the rate of Australia. And Covid19 deaths in Italy occur at a daily rate in excess of the case rate in Korea and Australia.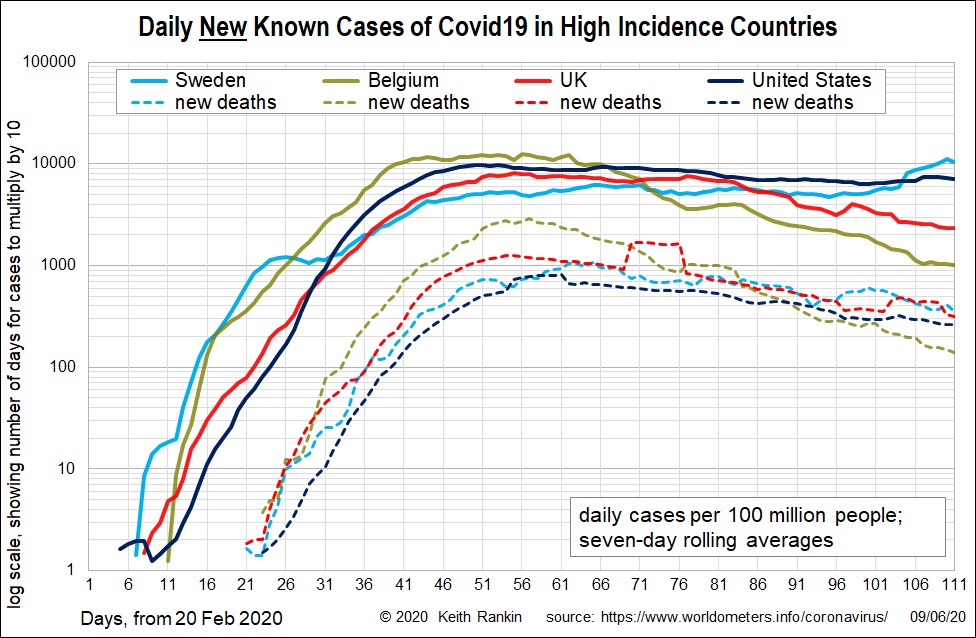 The high incidence countries show much slower recoveries. Belgium looks similar to Italy in the previous chart, though it's only just got down to Italy's rate of deaths, and still has a higher incidence of new cases.
For these countries, the death statistics give the best idea of their ongoing prevalence of Covid19.
The rising case incidence data for Sweden – and the almost flat case line for the United States – indicate that higher testing rates are revealing more cases. Sweden has had 21 percent of its test results for the last week come out positive. The USA now has a positivity rate of just under five percent; still high. Belgium has one percent of its recent tests coming out positive, and the United Kingdom has 0.77% positive. (For the recovering countries, Italy now has a positivity rate of 0.64%, South Korea 0.32%, and Australia 0.04%.)
While the extent of testing has made a huge difference, recovery will continue to be protracted for all countries which allowed themselves to have high infection rates before taking effective measures against Covid19.