Editor's Note: Here below is a list of the main issues currently under discussion in New Zealand and links to media coverage.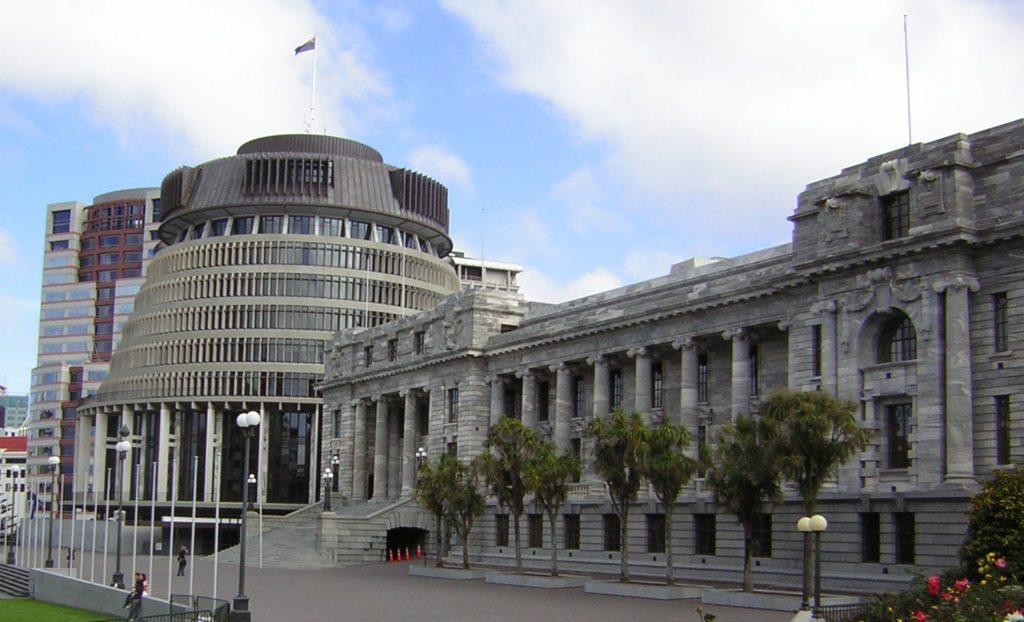 Today's content
Economy, recovery, UBI
Chris Trotter (Daily Blog): The List Candidate: Winston Peters and the Looming Covid-19 Depression
Chris Trotter: If The Answer Is "Treasury", Then Ask Another Question
Matthew Hooton (Herald): Into the future — by committee (paywalled)
Richard Harman (Politik): Years of pain, difficulty and frustration lie ahead
Brian Fallow (Herald): To boost recovery, open up the local body money tap (paywalled
Newstalk ZB: Trade Minister: NZ's economy needs to diversify and move away from China
Simon Wilson (Herald): Is the Government serious about a universal basic income right now? (paywalled)
Keith Rankin (Evening Report):  Universal Income Flat Tax: the Mechanism that Makes the Necessary Possible
1News: How the Government pays for its Covid-19 policies
Janet Stephenson (Newsroom): Six new approaches in a world beyond lockdown
NZ's public health response
Michael Morrah (Newshub): Health experts criticise NZ's COVID-19 community transmission data as 'meaningless, uninterpretable'
Dan Satherley (Newshub): Level 3 'makes no sense' unless health officials are hiding something – expert
Peter Dunne: What's in a word? Well, not a lot it would seem
Andrew Geddis (Pundit): Come Home … We Still Need You … ?
RNZ: Global pandemic was a matter of 'when, not if', expert says
Matloob Husain (Stuff): Viruses are a national security issue, and we need a budget to fight them
1News: Before lockdown, NZ was on trajectory 'closer to Italy than we'd like', epidemiologist says
Thomas Coughlan (Stuff): Clark strengthens contact tracing oversight
Nita Blake-Persen (RNZ): Covid-19 surveillance to test supermarket, rest home staff
RNZ: Nine to Noon: Covid-19 vaccine strategy needed, scientists say
Rachel Sadler (Newshub): New Zealand to produce vaccine with Australia, overseas developers
1News: No Kiwi-developed Covid-19 vaccine planned, but NZ to work with international vaccine developer
Marc Daalder (Newsroom): Govt app quietly rolls out daily health check-ins
Government
Gordon Campbell: On the " Where's Winston?" question
Michael Neilson (Herald): Human Rights Commission calls on Government to step up response
Te Aniwa Hurihanganui (RNZ): Human Rights Commission makes 30 recommendations in report on Covid-19 response
Brittney Deguara (Stuff): The importance of Jacinda Ardern sharing the spotlight during Covid-19 pandemic
Martyn Bradbury (Daily Blog): Winston gasps for news oxygen and the Greens promise something something
Michael Hall (RNZ): PM's earrings help fledgling jewellery firm through financial downturn
Parliament
Collette Devlin (Stuff): Bill to allow MPs and councillors to take pay cuts imminent
No Right Turn: A new extreme for urgency
Vita Molyneux (Newshub): Prime Minister Jacinda Ardern says general election will still be held in September
ODT: Clark reiterates intention to contest Dunedin seat
Phil Smith (RNZ): We few: the level 3 Parliament 
1News: Paula Bennett and Shane Jones trade cheeky political jabs, reflect on lockdown experiences
National Party
Brent Edwards (NBR): National runs risk of political drift (paywalled)
Mike Hosking (Newstalk ZB): Simon Bridges' role has never been more vital
Social impact of pandemic and lockdown, mental health
Anna Whyte (1News): Most experts think exit from Level 3 should be several weeks away, Sir Peter Gluckman says
Zane Small (Newshub): PM's former science advisor Sir Peter Gluckman warns of 'frustration and anger' over COVID-19 alert level 3 deadline
Amelia Wade (Herald): 10% of NZ likely to develop depression due to Covid-19: Sir Peter Gluckman
Brent Melville (BusinessDesk): Economic impact creates 'new vulnerable' – Peter Gluckman
RNZ: Poverty, family violence discussed at Epidemic Response Committee meeting
Holly Walker (Spinoff): How our leaders can minimise the negative effects of loneliness after Covid-19
Vera Alves (Herald):If the Government cares about mental health, it needs to create jobs
Youthline
Susan Strongman (RNZ): Youthline scrambles to make up $300k shortfall
1News: Youthline survey reveals negative impacts Covid-19 lockdown is having on young Kiwis
Emma Russell and Natalie Akoorie (Herald): Mental health of Kiwis under pressure over future uncertainty
Trans-Tasman bubble, Level 2
Mackenzie Smith (RNZ): Experts debate including Pacific in trans-Tasman bubble
1News: Alert Level 2 could see NZ enter into trans-Tasman bubble – Winston Peters
Jenna Lynch (Newshub): Trans-Tasman 'bubble' could happen during COVID-19 alert level 2 – Winston Peters
Collette Devlin (Stuff): Winston Peters says New Zealand and Australia 'beating the crap' out of Covid-19
Zane Small (Newshub): Australian TV hosts joke with Winston Peters about stealing trans-Tasman border 'bubble' idea
Grant Bradley (Herald): Covid 19 coronavirus: Winston Peters says NZ and Aust 'beating the crap' out of bug
Joanne Carroll (Stuff): West Coast calls for eased Covid-19 restrictions
Yvette McCullough (RNZ): More tourism businesses will fold if alert level 2 limits travel – industry
Fast food business break level 3 rules, workers abused
Alice Wilkins (Newshub): Union receives complaints fast-food workers aren't physical distancing
1News: WorkSafe warns it will shut down businesses if they flout the Level 3 rules
Meagan Harvey (Herald): Why New Zealand could head back into lockdown soon
Aaron Leaman (Stuff): Fast-food burgers can't become country's banana peel during Covid-19
Megan Harvey (Herald): KFC workers abused during first day back from lockdown
Essential workers, employment
Melissa Chan-Green (Newshub): Supermarket staff abused six times more than normal during lockdown
Melanie Sharma-Barrow (Stuff): Spot the difference between the walkers and the workers
Toby Morris (Spinoff): The Side Eye: Essential
1News: Nelson New World staff member diagnosed with Covid-19, others isolated for testing
Zane Small (Newshub): Jacinda Ardern asks private sector to 'value your workforce' the way Government has
Glen Scanlon (RNZ): The wage subsidy: Your questions answered
Debrin Foxcroft (Stuff): Staff angry and scared after Farmers, Whitcoulls cut pay
Lockdown
Cherie Howie (Herald): Locked down: The four weeks that changed NZ forever (paywalled)
Te Aniwa Hurihanganui (RNZ): A dance that's lasted a lifetime: 'It just wasn't what you did'
Education
Simon Collins (Herald): University of Auckland asks contract staff to work for no pay
Laura Wiltshire (Stuff): Redundancies, 4-day working week and paycuts all on the table as Victoria battles $40 million deficit
—————
Giles Dexter (Newshub): Majority of teachers think students will need more help when they return to school
Simon Collins (Herald): Small and remote schools get help as Govt moves to boost post-Covid rebuild
Georgina Forrester (Stuff): Jacinda Ardern's Covid-19 conversations with Suzy Cato
Business
Jason Walls (Herald): MPs unanimously pass biggest tax support package in NZ's history
1News: Jacinda Ardern encourages Kiwis to support local, says smaller businesses still face tough times
Anne Gibson (Herald): Opinions divided on Government rent subsidy for business (paywalled)
Belinda McCammon (RNZ): Queenstown business owners struggle with paying rent
Robin Martin (RNZ): Businessman draws attention to lease clause allowing rent cuts
Dileepa Fonseka (Newsroom): Full Govt guarantee needed for business loans
Anne Gibson (Herald): Auckland's centre is going to be a graveyard' – MP Nikki Kaye (paywalled)
Community roadblocks
Matthew Hutching and Nick Truebridge (RNZ): Checkpoint: Northland checkpoint remains with police help
Anna Bracewell-Worrall (Newshub): Māori Party co-leader accuses National of inciting 'racism' over iwi checkpoints
Amelia Wade (Herald): Police Commissioner Andrew Coster under fire for condoning community checkpoints
1News: If we'd shut down checkpoints there would've been protests – Police Commissioner
Matt Burrows (Herald): 'That's a disgrace': MPs, Police Commissioner in fiery clash over COVID-19 community roadblocks
Helen Castles (1News): Some iwi-led checkpoints causing tension as they continue through Alert Level 3
Kate Hawkesby (Newstalk ZB): Northland roadblocks should have been shut down immediately
Inequality, welfare, hardship
Susan Edmunds (Stuff): Breadwinner asks: Why can't I access Government support?
Tamsyn Parker (Herald): KiwiSaver hardship claims expected to spike up from July (paywalled)
RNZ: Huge demand for food parcels predicted to grow
Mark Quinlivan (Newshub): 'It's so sad' – Auckland City Mission says people who have never needed assistance reaching out for food grants
1News: Government doubles Winter Energy Payments for low-income families, over 1m Kiwis to benefit
Environment
Donna Awatere Huata (Newsroom): Stop using Covid-19 as cover for lobbying-as-usual
Brad Flahive (Stuff): Auckland traffic pollution soars under Covid-19 alert level 3
Olivia Wannan (Stuff): Can carbon offsetting still thrive?
Amber-Leigh Woolf (Stuff): Charging for water bottling would become 'another consumer tax', company says
Marty Sharpe (Stuff): New water-bottling operation proposed in Hawke's Bay
Lois Williams: Relief for sphagnum moss industry as West Coast council reverses wetland decision
Katie Todd (RNZ): Remuera residents gagging at eel and sewage miasma
Joel Maxwell (Dominion Post): No lockdown, but still code brown: level 3 kicks in for swimmers everywhere but not Titahi Bay
Transport
Thomas Coughlan (Stuff): Winston Peters hints at big changes for Air NZ
1News: Air New Zealand reflects on 80th birthday, acknowledges uncertain times ahead
Joel MacManus (Dominion Post): Massive increase in Wellington bus users, but who's paying for it?
Repatriation, quarantine
Gill Bonnett (Herald): Work visa holders stuck overseas having 'sleepless nights'
Fiona Connor (Newshub): Call to Government for 'quarantine queue' by New Zealand visa-holder 'left in limbo' with wife and children stuck overseas
Matt Burrows (Newshub): 'You wouldn't feed it to your dog': Quarantining Kiwis blast Hilton Auckland over three days of 'cold', 'vomit-like' food
Eleanor Ainge Roy (Guardian): Let them eat cake: New Zealand couple document luxury life in Covid-19 quarantine
Health system, PPE gear
Anuja Nadkarni (Stuff): Health sector could look to Air New Zealand for IT help
RNZ: Health reform urged as GPs call for delayed review's release
Jamie Ensor (Newshub): Lockdown strategies helping New Zealand conquer influenza – expert
Georgina Campbell (Herald): Ministry gives assurances over quality of its PPE stock
Herald: Sir Ray Avery raises concerns over Chinese masks
Care of our elderly
Katarina Williams (Stuff): NZ Aged Care Association gets audience with Ministry over rest home testing
1News: Review into rest home Covid-19 clusters underway
Domestic violence
Kirsty Johnston (Herald): Big Read: How we can stop men's violence against women
Anna Whyte (1News): Surge of family violence reports anticipated as lockdown lifts
Bianka Atlas (RNZ): The shadow family violence pandemic – and the link to animal abuse
Local government
Joel Maxwell, Matthew Tso, Piers Fuller and Virginia Fallon (Dominion Post): Wellington City councillors and Mayor Andy Foster told by regional mayors to 'pull finger' following public spats
Georgina Campbell (Herald): Divided Wellington City Council finds unity the day it's told to 'pull finger'
Harry Locke (RNZ): Kāpiti mayor says Wellington councillors' issues could affect region
Kāpiti News: Kāpiti mayor calls on Wellington City politicians to sort differences for the 'sake of the region'
Georgina Campbell (Herald): Wellington City first-home buyer rates rebate saved from chopping block
Bridie Witton (Stuff): Wellington tradie stung by dump fees
Doug Laing (Hawkes Bay Today): Covid 19 economic impact: Napier council proposes rate increase and dipping into reserves
ODT: Invercargill City Council paycuts criticised
Evan Harding (Southland Times): Council staff in Southland laid off, wages to be cut
Hamish McLean (ODT): Dunedin mayor looks for budget revisions but not to 'slash and burn'
Desley Simpson (Herald): Council is acutely aware of your financial stress
Cherie Sivignon (Stuff): Permanent chlorination proposed for more Tasman water
Provincial Growth Fund
1News: Regions around NZ set for funding boost, more jobs after Govt loans $48 million for nine projects
Charlotte Jones: PGF funding signed off for the Coast
RNZ: Long wait for construction of Northland's water storage facility
Media
Tom Frewen (Scoop): Concert FM: Yes/No/Maybe Minister
Hayden Donnell (RNZ): Was the Ashley Bloomfield bleach question bad?
Police
Sam Hurley (Herald): Police rape case: Cop jailed for sexually violating colleague still employed by police
Catrin Owen (Stuff): Police sexual assault victim praised for bravery during 'brutal' trial
Waatea News: New team reviews police armed response pilot
Pacific
Benjamin Robinson-Drawbridge (RNZ): Detained refugees look to courts for Covid-19 protection
RNZ: Former NZ MP and mayor to stand for Niue parliament
RNZ: Samoa women register party for 2021 election
RNZ: NZ and Australia send help to Bougainville for covid response
Loan sharks
Stuff Editorial: Protections for predatory times
Rob Stock (Stuff): Loan shark clampdown fast-tracked
1News: Government fast-tracks new protections against loan sharks due to added financial stresses of Covid-19
Other
Cate Broughton (Stuff): Tangi attracts 100, as some whānau stay home due to Covid-19 rules
Rawiri Taonui (Waatea News): COVID Update 30 April 2020 | Checkpoints and Police share same goal
Ben McKay (Stuff): Aid agencies urge New Zealand to help poorer nations
Patrick Gower (Newshub): Son of COVID-19 victim warns of 'sneaky' virus that took his mum's life
Herald: 'Goodbye, Mum. I love you': Son's diary of mother's last days with Covid-19
Amber-Leigh Woolf (Stuff): Reusable cups at cafes are allowed, Ministry of Health says
1News: Māori and beneficiary households most impacted by higher tobacco prices – Stats NZ
RNZ: Jobless immigrants face poverty, deportation, exploitation – immigration advise
Catrin Owen (Stuff): Young Labour camp assault: Man to take suppression fight to Court of Appeal
Denise Piper (Stuff): Far North iwi hopeful for future, despite dire need for food packs
Tom Pullar-Strecker (Stuff): IR makes it easier to reimburse work-from-home expenses
Hamish Rutherford (Stuff): Reserve Bank lifts LVR restrictions, seeing risk of banks being reluctant to lend
RNZ: Reserve Bank to scrap loan-to-value ratio for one year
RNZ: ANZ half year profits take a tumble
RNZ: NZIFF 2020 to be held online