Editor's Note: Here below is a list of the main issues currently under discussion in New Zealand and links to media coverage.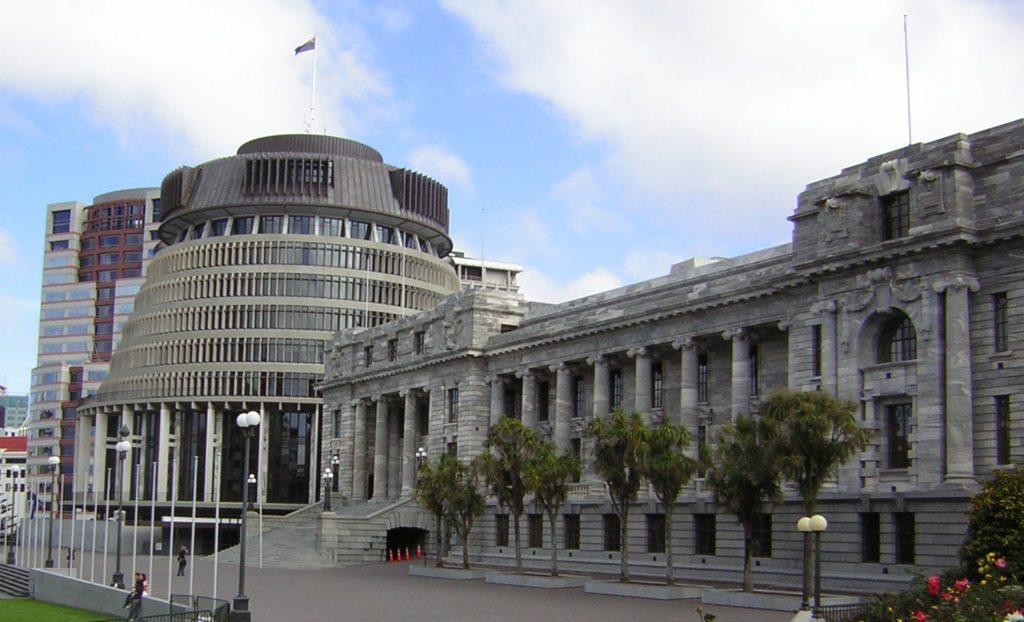 Today's content
Government
Phil Pennington (RNZ): Controversial tech firm Palantir had talks with govt on Covid-19
Sam Sachdeva (Newsroom): Officials pitched OIA suspension during lockdown
Chris Trotter: Long Live The People's Dictatorship!
RNZ: Study investigates NZ reaction to government's strict laws
Peter Dunne: Resumption of Parliament welcome and overdue
Malcolm McKinnon (Democracy Project): The Epidemic Response Committee in historical context
Jason Walls (Herald):Inside NZ's favourite reality TV show – the 1pm press conference (paywalled)
1News: Surge in national pride and willingness to support NZ businesses during pandemic
Thomas Coughlan (Stuff): The Government's Covid-19 lockdown measures have overwhelming public support, according to a poll
Toby Manhire (Spinoff): Public backing for NZ Covid-19 response rises to 87% – new poll
Simon Bridges
Matthew Hooton (Herald): Simon Bridges' leadership beyond salvaging (paywalled)
Jane Patterson (RNZ): Simon Bridges' leadership questioned after missteps
Brent Edwards (NBR): Bridges over troubled water (paywalled)
Chris Trotter (Daily Blog): Deposing Simon Bridges Would Be A Mistake
Mike Hosking (Herald): Bridges coup nothing more than social media crap
Public health strategy
Thomas Manch (Stuff):  Contact tracing 'gold standard' weeks away as end of Covid-19 lockdown nears
Dan Satherley (Newshub): How's New Zealand doing per capita? And is that a fair way to compare us?
Devi Sridhar (Guardian): Crunching the coronavirus curve is better than flattening it, as New Zealand is showing
Dan Satherley and Ella Prendergast (Newshub): Infectious disease expert fears surge in COVID-19 cases under levels 2 and 3
Emma Russell (Herald): What's New Zealand's long-term plan for a Covid-19 vaccine?
Siouxsie Wiles & Toby Morris (Spinoff): What  do we mean we talk about the 'elimination' of Covid-19?
RNZ: Contact tracing on the agenda at Epidemic Response Committee meeting
Rob O'Neill (NBR): Reality check: NZ's 'appless' Covid-19 response is working (paywalled)
Katarina Williams & Georgia-May Gilbertson (Stuff): Ministry's refusal to allow testing of asymptomatic aged care residents criticised
Stuff Editorial: Impasse over rest home resident testing must be broken
1News: Push underway to increase Covid-19 testing in Māori, Pacific communities
Mackenzie Smith (RNZ): Testing-for-all centre in Auckland reaching Pasifika communities
1News: Anxious Kiwis concerned about incoming arrivals, shift to Alert Level 3
RNZ: Traveller in isolation says enforcement of social distancing rule lacking
Michael Morrah (Newshub): New Zealand needs to urgently look at wearing masks in public – expert
Economy and society
Simon Wilson (Herald): Once we beat pandemic, imagine what we could do next (paywalled)
Mike Treen (Daily Blog): First steps on a workers' recovery plan
Andrew Barnes (Stuff): How the economy and society might change after the Covid-19 pandemic
Mike Smith (Māori TV): Failure to change economy will cause 'catastrophic disaster'
Brian Fallow (Herald): Four vital elements to lift spending out of lockdown (paywalled)
Mark Quinlivan (Newshub): Sir Peter Gluckman explains what New Zealand's four key focuses should be for the future
Gordon Campbell: On why governments are in effect, printing cash to defeat Covid-19
Richard Harman (Politik): "Helicopter" handouts not yet cleared for takeoff
Jenée Tibshraeny (Interest): PM: Helicopter money wouldn't be especially successful… at Level 4
Zane Small (Newshub): Jacinda Ardern weighs in on likelihood of Kiwis getting one-off cash injections
Susan Edmunds (Stuff): Finance Minister not ruling out Covid-19 response dropping cash to Kiwis
Herald: Grant Robertson says 'helicopter' cash for Kiwis an option to help NZ economy recover
Dan Satherley (Newshub): 'Helicopter money' for everyone an option to boost economy – Grant Robertson
1News: Universal cash handouts to all New Zealanders among options Government is considering
David Hargreaves (Interest): Credit card spending dives by a record amount
Brent Edwards (NBR): Record drop in credit card spending in March (paywalled)
Richard Prebble (NBR): Eat cream buns – it is going to be a 1930s-like depression (paywalled)
Jessica Tyson (Māori TV): Māori ministers developing response package to help Māori unemployment
Zane Small (Newshub): Jacinda Ardern shoots down COVID-19 economic stimulus idea of easing foreign buyer ban
Susan Edmunds (Stuff): Rich migrants not solution to New Zealand's Covid-19 problems, economists say
Susan Edmunds (Stuff): International property investment could kickstart construction sector: Drury
Charlie Dreaver (RNZ): Let rich people build more luxury homes in NZ – Xero founder
Brent Melville (BusinessDesk): Fast fibre key to attracting rich listers, Rod Drury says (paywalled)
Community checkpoints
James Baker (Stuff): Police refute Simon Bridges, say no gang members at Maketū checkpoint
RNZ: Iwi checkpoints credited for Te Whānau a Apanui's zero Covid-19 cases
Rukuwai Tipene-Allen (Māori TV): Harawira invites Northland MP to attend Kaikohe checkpoint
Waatea News: National MP challenges on checkpoint ban call
Matt Burrows (Newshub): Community roadblocks can no longer operate without a police presence
Chelsea Boyle (Herald): Police say they do not encourage community checkpoints, outline the rules
Enforcing the lockdown, compliance
Derek Cheng (Herald): Police chief Andrew Coster on how police will enforce alert level 3
Stuff: More than 4000 lockdown breaches, police will man holiday checkpoints
1News: 'Stay home and save lives' – Police warn against travelling over Anzac weekend
1News: Thousands of breaches reported during lockdown, Police Commissioner reveals
Kate Newton (RNZ): New videos show how Covid-19 slowed New Zealand's pulse
Michael Hayward (Stuff): Data visualisations show how we moved – or didn't – during lockdown
Inequality
Chelsea Boyle (Herald): The face of social need, huge demand for food parcels and food grants
Sarah Robson (RNZ): Most people turning to Salvation Army are doing so for first time
Melanie Earley (Stuff): New 'underclass' caused by Covid-19, Salvation Army says
Chris Farrelly (Herald): Homelessness during pandemic
John Cuttance (ODT): We're all in this together. Or are we?
Treatment of essential workers, redundancies
Susan Edmunds (Stuff): Lockdown bonus removed for supermarket workers
Hayden Donnell (RNZ): Essential workers deserve to keep spotlight once lockdown is gone
Glen Scanlon (NRZ): Disability employer Altus' redundancy package: a story with no winners
Wage subsidy
Nita Blake-Persen (RNZ): Dozens of family trusts among Covid-19 wage subsidy claims
Andrea Fox (Herald): Wage subsidy audit asks 39 applicants to return money
Dan Brunskill (BusinessDesk): Unions hold fee increases, take wage subsidy as redundancies hit (paywalled)
Business
Hamish Rutherford (Herald): A shout out for those who are mad enough to start a business (paywalled)
Jenny Ruth (BusinessDesk): Little financial impact from covid-19 for nearly a third of employees (paywalled)
Matt Burrows (Newshub): Government 'started OK' with wage subsidies, but is now 'resting on its laurels' – Steven Joyce
Dileepa Fonseka (Newsroom): Loan scheme not so 'open for business'
Greg Ninness (Interest): Commercial landlords and tenants need to realise they are joined at the hip
Media
Tom Pullar-Strecker (Stuff): MediaWorks, Sky TV and TVNZ may have best reason to be pleased with media aid
Gavin Ellis: Welcome relief for broadcasters but print remains hard-pressed
Anna Rawhiti-Connell (RNZ): Govt social media spend: The devil's in the detail
Mark Jennings (Newsroom): Jacinda needs to do a deal with Mark
Colin Peacock and Hayden Donnell (RNZ): Government moves on short-term relief for media 
Newstalk ZB: Head of NZME pleased with media relief package
RNZ: Govt support package offers little to newspapers
Dita De Boni (NBR): Broadcasters favoured in $50m media rescue package (paywalled)
Tom Pullar-Strecker (Stuff): $50m government package to help media through crisis
Tamsyn Parker (Herald): Government unveils $50m support package for media
Tim Murphy (Newsroom): Govt's $50m boost for news media
Toby Manhire (Spinoff): Faafoi unveils $50m rescue package for NZ media as Covid-19 crisis bites
1News: Government announces $50 million support package for NZ media industry
Eleanor Ainge Roy (Guardian): New Zealand to give $50m to help ailing media groups during Covid-19 crisis
Dita De Boni (NBR): $50m in urgent medicine for media announced by minister (paywalled)
RNZ: NZers more trusting in news outlets than other countries – survey
Peter Griffin (BusinessDesk): Time to join Australia's bubble on tech regulation (paywalled)
Katie Kenny (Stuff): Boosts to New Zealand fact-checking efforts help Facebook tackle Covid-19 misinformation
Foreign affairs and trade
Jason Walls (Herald): NZ likely first country Australia will open its borders to – Scott Morrison
Thomas Manch (Stuff): Australian PM Scott Morrison says open border with New Zealand being discussed
1News: Singapore receives first planeload of essential supplies from NZ, including 20 tonnes of meat
Jamie Gray (Herald): NZ meat exports to China back at pre-outbreak levels (paywalled)
Local government
Chris Eichbaum (Newsroom): Covid recovery – local government up to the task?
Georgina Campbell (Herald): Wellington mayor bringing in facilitator to sort out divided council
Georgia-May Gilbertson (Stuff): Napier City Council offers support for residents and businesses during Covid-19 pandemic
Marcus Anselm: South Wairarapa council proposes $1.5 million loan to fund infrastructure stimulus
Stephen Franks: Is voluntary reduction of Councillor pay prohibited?
Damian George (Stuff): Some cities can recycle under level 3 but Wellington's kerbside collection will not resume
Jamie Ensor (Newshub): Wellington's recycling service not returning anytime soon – Mayor
Charlotte Jones: Rates drop likely for some Ōpōtiki property owners
Health system
Natalie Akoorie (Herald): 50 complaints to Health and Disability Commissioner over coronavirus
Eric Crampton: Public Health Priorities
1News: Health Minister grilled over distribution of flu vaccines, 'disconnect' between Govt and health industries
1News: Rapid stocktake of PPE distribution ordered to ensure DHBs are sending out equipment in timely manner
Samantha Motion (Herald): Tauranga Hospital investigation into whether virus spread in ward (paywalled)
Natalie Akoorie (Herald): Jennifer Rouse paid $15,000 for breast cancer surgery that would normally be free
Emma Russell (Herald): Study shows significant drop in trauma admissions during lockdown
Amelia Wade (Herald): Officials reviewing how they speak publicly about patients after giving family false hope
Vita Molyneux (Newshub): Northland pharmacist says Prime Minister Jacinda Ardern has her facts wrong over supply of flu vaccine
Bridie Witton (Stuff): Mengingococcal harder to spot during Covid-19 and flu season
1News: Family visits to rest homes to be given 'case-by-case' treatment as part of updated health services in Level 3
RNZ: Pasifika healh official stresses importance of medical appointments
1News: GPs feeling the financial strain as Covid-19 changes how doctors work
Jo McKenzie-McLean (Stuff): GPs 'angry' and 'disappointed' by funding back-track
Molly Houseman (ODT): Thousands missing dental care
Dave Excell (Newsroom): Dentists getting drilled by lack of Govt help
1News: Pharmacies on the brink of collapse as Covid-19 lockdown continues
1News: Plunket home visits go online for lockdown, and could stay that way
Education
1News: Revealed: Schools bringing in staggered start times, multiple entrances when reopening under Level 3
Simon Collins (Herald): Ministry of Education relents – childcare playgrounds will be open after all
John Gerritsen (RNZ): Many early childhood centres likely to remain shut at alert level 3
Te Aniwa Hurihanganui (RNZ): Kōhanga reo advised to stay closed under alert level 3
Kaysha Brownlie (Newshub): 28 of 405 students to attend Christchurch school next week
1News: Nanogirl to launch science show for older students on TVNZ's education channel
Hamish MacLean (ODT): Education hit hard by border closures
Environment
Michael Neilson (Herald): New Zealand's Paris Agreement greenhouse gas emissions targets to be reviewed
James Shaw (Guardian): The Covid-19 crisis creates a chance to reset economies on a sustainable footing
1News: New research needed to gauge impact of Covid-19 lockdown on environment
Bruce Munro (ODT): Virus could be game-changer for climate politics: Prof Robert Patman
Klaus Bosselmann (Newsroom): Covid-19 could trigger systemic change
Pat Baskett (Newsroom): 'Renewable' energy future needs scrutiny
Repatriation
Jake Kenny (Stuff): Private jet lands in Dunedin to take mystery travellers home
RNZ: Flight returning Kiwis stranded in India arrives on Saturday
1New: Three Air NZ flights to bring stranded Kiwis home from India
Tourism, hospitality
Gareth Vaughan (Interest): 'Maybe we should be running it more along the lines of one large national park'
Madison Reidy (Newshub): Banks accused of refusing to lend money to tourism businesses desperate for finance
Tess Brunton (RNZ): Tourism job cuts a 'horror story' for Queenstown – mayor
Anne Gibson (Herald): Shotover Jet, top tourism attractions close as Ngāi Tahu Tourism cuts 300+ jobs
Amanda Cropp (Stuff): Ngāi Tahu Tourism may lay off 300 workers
RNZ: Unemployment to rise as 300 face job loss at Ngāi Tahu Tourism
Louise Scott (ODT): Ngai Tahu Tourism: 100s face jobs loss
Louise Scott (ODT): Closure of Shotover Jet proposed, 300 jobs on the line
John Lewis (ODT): Motels are empty but bills keep coming in
Hunting
1News: Hunting on foot permitted during Level 3, but duck shooting season postponed
Collette Devlin and Jo McKenzie-McLean (Stuff): Level 3 ban on hunting lifted but with new restrictions in place
RNZ: Hunting to be allowed on private land under Covid-19 alert level 3
Herald: Hunters allowed to hunt on private land at alert level 3
Angie Skerrett (Newshub): Restricted hunting allowed under level 3 lockdown, duck-shooting postponed
Primary and extractive industries
Robin Martin (RNZ): Seabed mining bid goes to Supreme Court
Robin Martin (RNZ): Taranaki seabed mining opponents ready to stop 'risky extractive practice' again
Mike Watson (Stuff): Trans Tasman Resource off to Supreme Court to fight for right to mine iron sand off Taranaki coast
Gavin Evans (BusinessDesk): Seabed miner seeks top court hearing (paywalled)
Transport
Ben Leahy (Herald): Passengers encouraged to wear masks, school buses back: Transport update
RNZ: Regional airlines must prove operational plans to access funding – minister
RNZ: International passenger numbers at Auckland airport drop 95 percent
Police
Jordan Bond (RNZ): Police officer punching boy, 13, unjustifed, watchdog finds
ODT: 'Disgusting': Police apologise for 'poor timing' of post
Anzac Day
Andre Chumko (Stuff): Jacinda Ardern asks Kiwis worldwide to stand at dawn for Anzac Day
1News: PM encourages Kiwis to have their own Anzac Day dawn services, from their driveways
Other
RNZ: Customs investigates Ruby Princess
1News: Migrant workers stuck and stressed in Queenstown during coronavirus outbreak
Florence Kerr (Stuff): The Cook Islands need tourists – but opening borders could create a Covid-19 disaster
Ryan Anderson (Stuff): Ihumātao: Campaigners confident land will not be developed as talks stall in lockdown
Jared Savage (Herald): Kawerau man appears in Whakatane District Court and charged with social media threat to kill Simon Bridges and family
Tamsyn Parker (Herald): SkyCity fire: Ruling of accidental cause won't stop legal action (paywalled)
Chelsea Boyle (Herald): Lockdown lawsuit fails: Legal action against Jacinda Ardern dismissed
1News: Wellington artist gains thousands of 'likes' for art featuring PM as Wonder Woman
Tracy Neal (RNZ): Cheaper fuel good news for busy trucking firms during Covid-19 restrictions
Hamish Cardwell (RNZ): Covid-19 bringing a mixed bag of results for courier companies