Editor's Note: Here below is a list of the main issues currently under discussion in New Zealand and links to media coverage.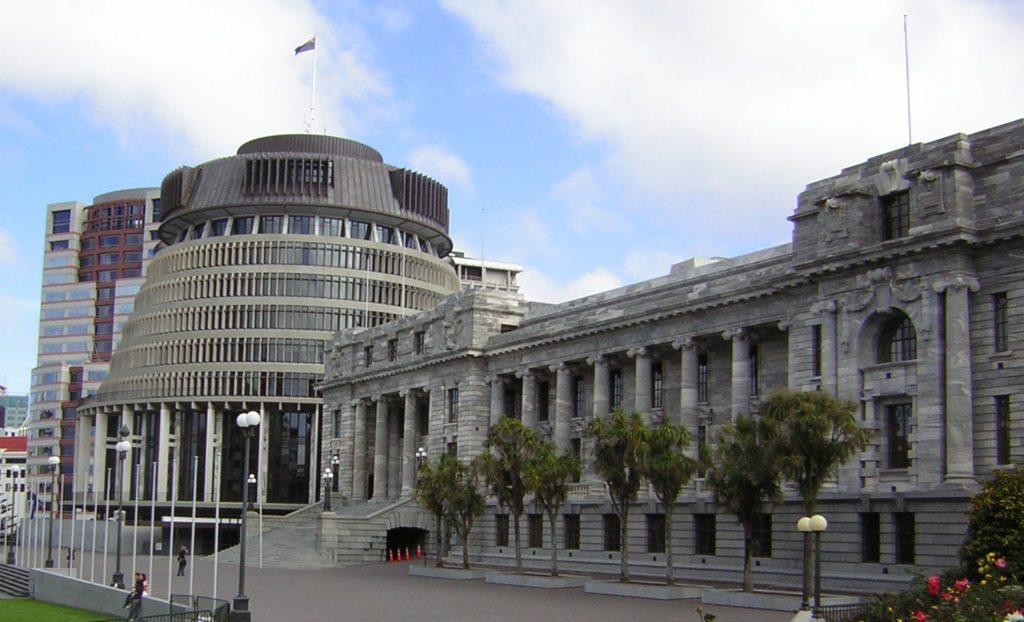 Today's content
National Party, Simon Bridges' leadership
Ben Thomas (Spinoff): One giant misstep: Simon Bridges' flailing attack was too far, too soon
Tova O'Brien (Newshub): National MPs concerned about leader Simon Bridges' 'tone' on COVID-19, 'membership is not happy
Richard Harman (Politik): Those who could depose Bridges
Simon Wilson (Herald): Pandemic diary: Please Mr Bridges, that's enough (paywalled)
Anna Rawhiti-Connell (Newsroom): Read the room, Simon
Heather du Plessis-Allan (Newstalk ZB): Why it's easy to believe the National coup story
Duncan Garner (Newshub): Alleged National Party coup has 'classic hallmarks' of previous leadership spills
Martin van Beynen (Press): Bridges had a point on unpreparedness
Barry Soper (Newstalk ZB):It's absurd to suggest Simon Bridges' lockdown criticism is politicking
Jamie Ensor (Newshub): Political commentators predict Simon Bridges will remain leader until election
Stuff: Simon Bridges quashes claim of a National Party coup attempt
Newstalk ZB: Simon Bridges denies claims of impending National Party coup
Scott Palmer (Newshub): Rumours Simon Bridges will be rolled 'just nonsense' – Paul Goldsmith
RNZ: Simon Bridges defends stance after backlash from post criticising government
1News: Simon Bridges defends controversial Facebook post criticising Govt after Level 4 extension
Herald: Simon Bridges denies claims of impending National Party coup, defends Facebook post
Jason Walls (Herald): Finance Minister says Simon Bridges is 'politicising' the level 4 lockdown extension
Thomas Coughlan (Stuff): John Key describes what Chris Luxon would be like as prime minister
Herald: Former PM John Key praises Christopher Luxon as National leader Simon Bridges faces backlash
Health system
John McClure (Stuff): Should we go just as hard on other killer diseases?
Guyon Espiner (RNZ): Pharmac back-tracks on plan to fund lung cancer drug Keytruda
Amelia Wade (Herald): 'Decades of neglect' of the health system have caused Covid-19 breakdown issues
Michael Morrah (Newshub): Health workers threatened with disciplinary action for speaking out over PPE issues
Katie Todd (RNZ): 'PPE breach' blamed for Christchurch healthcare workers catching Covid-19
Georgina Campbell (Herald): Thousands more masks found with crumbling elastic
Mark Quinlivan (Newshub): Prime Minister Jacinda Ardern disagrees with frontline health workers saying there's an issue with flu vaccine supplies
Collette Devlin (Stuff): Medical Association warns not to make flu mistakes with a Covid-19 vaccine
RNZ: Reusable masks to add extra layer of protection for workers
Natalie Akoorie (Herald): Health watchdog warns ordinary patients slipping through Covid-19 cracks
Sean Hogan (1News): Patients not turning up to hospitals for heart attacks as DHBs look to clear growing backlogs
RNZ: Nine to Noon: Covid and cancer, treatment & diagnosis
Sae Strang (Newshub): Lack of test results in the health sector causes anxiety for high-risk patient
Tina Law and MIchael Hayward (Stuff): Elective surgeries may increase as Covid-19 alert level drops
1News: Clashes over rest home testing, flu vaccinations at Epidemic Response hearing
Herald: Health Minister can't confirm when payment to GPs will be made; we contact trace only 185 cases a day
Amelia Wade (Herald): GPs have funding pulled just as they're bracing for the 'tsunami' after the lockdown
Collette Devlin (Stuff): Doctors say Government not coughing up 'promised' Covid-19 funding
Anna Whyte (1News): Medical Association warns many GP clinics will not survive after lockdown
Marc Daalder (Newsroom): Will pharmacies, GPs and dentists survive Covid-19?
RNZ: GPs fear for jobs, midwives feel ignored from government support
RNZ: Epidemic Response Committee challenges government's health response
Anna Bracewell-Worrall (Newshub): Frontline health workers' blunt warning to government the sector is facing financial collapse
Herald: Dental association warns Epidemic Response Committee of looming crisis
1News: Dentists warn of major problems as Covid-19 lockdown continues
Hannah Kronast (Newshub): Dentists issue dire industry warning
Vita Molyneux (Newshub): COVID-19 lockdown triggers 'huge' increase in mental health issues
Louisa Steyl (Stuff): SDHB ready for second wave of coronavirus cases
Contact tracing, surveillance
Matt Bartlett (Newsroom): Covid-19 mass surveillance terrifying for the future
Thomas Manch (Stuff): Contact tracing system blamed for New Zealand remaining in Covid-19 lockdown
RNZ: Businesses say they're in the dark about contact tracing
Covid-19 strategy
Derek Cheng (Herald): The brink of elimination? Number of higher risk cases down to two
AP: The world looks on as NZ aims to pull off bold goal of eliminating Covid-19
Oliver Lewis (Stuff): New Zealand wants to 'crush Covid-19 completely' says infectious diseases doctor
Jame Baker (Stuff): Health expert says second Covid-19 wave possible
Phil Pennington (RNZ): Health Ministry cautious over reports of re-infection
Scott Palmer (Newshub): New report shows how New Zealand's alert system could help rest of the world
Rawiri Taonui (Waatea News): COVID Update for Māori 22 April 2020 –  Lower new cases for Māori and Pacific
Rawiri Taonui (Waatea News): COVID-19 Update for Māori 20 April 2020
Government, parliament
Herald: 'I disagree': Prime Minister Jacinda Ardern at odds with a number of people during press conference
Peter Dunne (Newsroom): Leaving lockdown politically harder than going in
Rachel Sadler (Newshub): General Election date should be moved – political commentator
Peter Gluckman (Stuff): Democratic innovation provides platform for public trust in midst of crisis
David Farrar: 7 months to get an OIA response from PMs Office
Economy, government spending, trade
Brian Fallow (Interest): How the Government is funding its massive increase in spending
Toby Moore (Stuff): Fixation on public debt comes with tradeoff
Kate MacNamara (Stuff): China trade in the age of Covid-19
Susan Edmunds (Stuff): 'Truly enormous' economic hit will push jobless to 11%, house prices down 15%: ANZ
Mike Hosking (Newstalk ZB): The economic pain of pandemic still ahead of us
Business, employment
Tom Pullar-Strecker (Stuff): KiwiRail is latest state-owned business to discuss help
Andrew Barnes (Stuff): Why working less could get us back to 'normality' sooner
Zane Small (Newshub): Jacinda Ardern rejects Labour MP's doubt about strength of small businesses pre-lockdown
RNZ: PM rejects comments by MPs on small business
David Farrar: Zero income is beyond pretty bad
Richard Harman (Politik): Avoiding the depression
Martyn Bradbury (Daily Blog): What on earth was Deborah Russell thinking?
Hamish Rutherford (Herald): MP Deborah Russell says businesses struggling in lockdown must have had a lack of financial strength
Anuja Nadkarni (Stuff): Labour MP Deborah Russell blames businesses for struggling during Covid-19 lockdown
Zane Small (Newshub): Labour MP Deborah Russell facing backlash over 'tone-deaf', 'offensive' remarks on small businesses
RNZ: Bank support of loans scheme for SMEs too slow – Robertson
Brent Melville (BusinessDesk): Orr tells banks to boost SME spend
Education
Kim Moodie (Herald): 'I don't want an epidemic in my community' – Morrinsville College Principal
Herald: Jacinda Ardern hits back at Morrinsville College principal's stance over school openings
Simon Collins (Herald): Auckland school principals agree to 'do our bit for the recovery'
Glen McConnell (Stuff): Teachers are essential workers. Despite petition, they're needed in class
Brittney Deguara (Stuff): How early childhood centres will work, and keep children safe, when they reopen
Laura Wiltshire (Stuff): Parents criticise private school for charging same fees while taking wage subsidy
1News: Student-led petition calls on Govt to reduce NCEA credits for this year
Daisy Hudson (ODT): University gives rebate to students who have moved home from halls
Herald: University of Auckland tops global sustainability impact second year in a row
Queenstown, migrant workers, overseas visitors
Jo McKenzie-McLean (Stuff): Call for jobless, income-less migrant workers to get jobseeker benefits
Tess Brunton (RNZ): Queenstown renters struggling to survive in lockdown
Eleanor Ainge Roy (Guardian): Migrants stranded in Queenstown as New Zealand lockdown sparks 'refugee crisis
Guy Williams (ODT):$30m support funding welcomed
Guy Williams (ODT): 30% jobless rate foreseen in Queenstown
Amanda Cropp (Stuff): Up to 160,000 overseas visitors still here, welfare concerns grow
Checkpoints
Kereama Wright (Māori TV): Maketu checkpoint operators refute politician claims
Heta Gardiner (Māori TV): PM declares support for community-collaborative checkpoints (video)
RNZ: National wants clarity on checkpoint legality
Karl du Fresne: At last, some pushback – albeit half-hearted – against Harawira's vigilantes
Essential workers
1News: 'Thank you for keeping us safe' – PM acknowledges cleaners for their work during Covid-19 pandemic
Georgia Forrester (Stuff): Prime Minister Jacinda Ardern thanks Kiwi cleaners during lockdown
Belinda Feek (Herald): Essential worker left in tears after being pulled over for speeding
Lockdown compliance, breaches
1News: Nearly 60 per cent of adults want to stay in isolation after Level 4 restrictions lifted – survey
RNZ: Bubble-bound: Data shows most people obeying rules
Harriet Robinson (RNZ): Almost 4000 people breached Covid-19 lockdown – police
1News: Dr Lance O'Sullivan admits own lockdown breach, after scorning others for breaking lockdown
Matt Burrows (Newshub): 'I've been a dick': Dr Lance O'Sullivan admits coronavirus lockdown breach hypocrisy
Melanie Earley (Stuff): Dr Lance O'Sullivan admits breaching level 4 Covid-19 lockdown
Herald: Dr Lance O'Sullivan admits lockdown breach
Housing
RNZ: Forty percent of Pasifika people in crowded housing
Vita Molyneux (Newshub): Renters call for nationwide strike amid COVID-19 pandemic
RNZ: Economist predicts house prices to fall at least 10 percent
Inequality, welfare
1News: Government ramps up spending on welfare, food support for vulnerable Kiwis
RNZ: More money set aside by government to help welfare and food needs
Susan St John (Newsroom): Not too late to change abhorrently wasteful policy
Local government
Georgina Campbell (Herald): Wellington's Convention Centre: The awkward middle child
Damian George with Andre Chumko (Stuff): Wellington's convention centre could be repurposed if market doesn't bounce back – mayor
Georgina Campbell (Herald): Councils told to hold off on voluntary pay cuts decisions
Glen Scanlon (RNZ): Longterm casual council staff going without pay
Ellen O'Dwyer (Stuff): Childhood hardship leads Waikato council boss to donate salary to city school
RNZ: Christchurch City Council boss to take 10 percent pay cut
Marcus Anselm: Mayor: Calls to cut pay and rates 'irresponsible'
Marcus Anselm: Rates rise proposed at first South Wairarapa District Council online meeting
Luisa Girao (ODT): Southland mayors call for pay freeze for elected positions
Greg Sayers (Herald): Auckland Council needs bold changes after Covid 19 coronavirus (paywalled)
Marty Sharpe (Stuff): Should council have completed investigation into Mayor accused of sexual harassment?
Repatriation
Jordan Bond (RNZ): NZ plane to fly out of New Delhi this Friday, but at a cost
Hamish MacLean (ODT): Dearth of details about plane
Environment
Herald: Climate change costs NZ in droughts, floods – Victoria University, NIWA
Eloise Gibson (Stuff): New Zealand's Paris pledge up for review
Eloise Gibson (Stuff): Trains, traps and pink batts – the govt's array of climate-friendly spending options
Mike Hosking (Newstalk ZB): Climate nutters taking advantage of our hardship
Primary and extractive industries
Andrea Fox (Herald): Dairy industry wage subsidy claims raise questions (paywalled)
Rebecca Howard (BusinessDesk): Don't bank on dairy saving the day
Maja Burry (RNZ): Relief for farmers as Moving Day confirmed to go ahead
RNZ: China's wild meat clampdown affecting NZ venison exports
Robin Martin (RNZ): Seabed mining bid goes to Supreme Court
Transport
1News: Air New Zealand reveals number of employees who have tested positive for Covid-19
Mark Quinlivan (Newshub): Air New Zealand reveals 30 staff members infected with COVID-19
RNZ: Air New Zealand releases new domestic schedule for alert level 3
Samantha Gee (Stuff): Air New Zealand proposal to close Nelson heavy maintenance facility 'devastating'
1News: Regional airline facing crash landing if it can't qualify for aviation support package
Joel MacManus (Dominion Post): Full Metlink bus schedule will return for Alert Level 3, rides stay free
Takeaway food
Joel MacManus and Emily Brookes (Stuff): Jacinda Ardern: Order from local restaurants that don't use Uber Eats
Lee Kenny (Stuff): Businesses back PM's call to skip Uber Eats and order directly from local takeaways
Lana Andelane (Newshub): Uber Eats' 'crippling' commission rates need to be capped by NZ Government – Restaurant Association
1News: Uber Eats, Covid-19 hit restaurants owners in the pocket as Level 3 looms
Anuja Nadkarni (Stuff): Food delivery services on offer under Covid-19 level 3 lockdown
Pacific
RNZ: WHO urges caution over lifting Covid-19 restrictions
RNZ: Fiji NGO says Covid-19 no excuse for human rights violations
Jamie Tahana (RNZ): Former Fiji PM Qarase remembered as a passionate, yet controversial, figure
Tourism
RNZ: Zero international arrivals marks low point for tourism
Patrick Gower (Newshub): Let's create an 'ANZAC bubble' and get tourism going between NZ and Australia when it's safe
SkyCity fire
Anne Gibson (Herald): SkyCity fire: Fire and Emergency NZ rejects calls by waterproofing subcontractor to withdraw report
Anne Gibson (Herald): Cause of SkyCity fire – gas torch left cardboard smouldering for 38 minutes
George Block (Stuff): SkyCity convention centre fire started accidentally by workers fitting roof – report
RNZ: SkyCity International Convention Centre fire was accidental – report
Other
Guyon Espiner (RNZ): Concerns prisons will turn into Covid-19 'quarantine facilities'
Tim Murphy (Newsroom): Trust 'high' in news in New Zealand
Hamish Rutherford (Herald): Board of Crown-backed venture capital fund confirms investigation (paywalled)
Michael Bott (Stuff): All frontline police should wear body cameras that record all use of force interaction
Sarah Robson (RNZ): The NZ doctor aboard the cruise ship with more than 100 Covid-19 cases
Susan Edmunds (Stuff): Les Mills' 'audacious' call for payments through lockdown
Herald: Les Mills asks members to restart payments despite still being closed
Debrin Foxcroft (Stuff): Level 3 won't be the magic tonic for retailers struggling under Covid-19 restrictions
Tony Wall (Stuff): Cinema owners are desperate for more Government cash so they can survive the Covid-19 pandemic
Te Aniwa Hurihanganui (RNZ): Whānau relying on hunting for food should have exemption – leaders
Matt Burrows (Newshub): PM Jacinda Ardern says New Zealand 'very open' to joining inquiry into China's handling of COVID-19
Zoë George (Stuff): New Zealand Rugby unlikely to meet board diversity quota, risking funding
Holly Carran (Newshub): Orana Park receives $300k in donations from Kiwis to help support zoo through lockdown
Lana Andelane  (Newshub): Brian Tamaki's followers post death threats against Jacinda Ardern on public Facebook post
Lana Andelane  (Newshub): Hopes that COVID-19 level 3 will ease up 'upsetting' lockdown restrictions for funerals
RNZ: Mosque terror attack inquiry findings delayed two more months
Meriana Johnsen (RNZ): Lockdown a chance to live off the land, whānau say