Editor's Note: Here below is a list of the main issues currently under discussion in New Zealand and links to media coverage.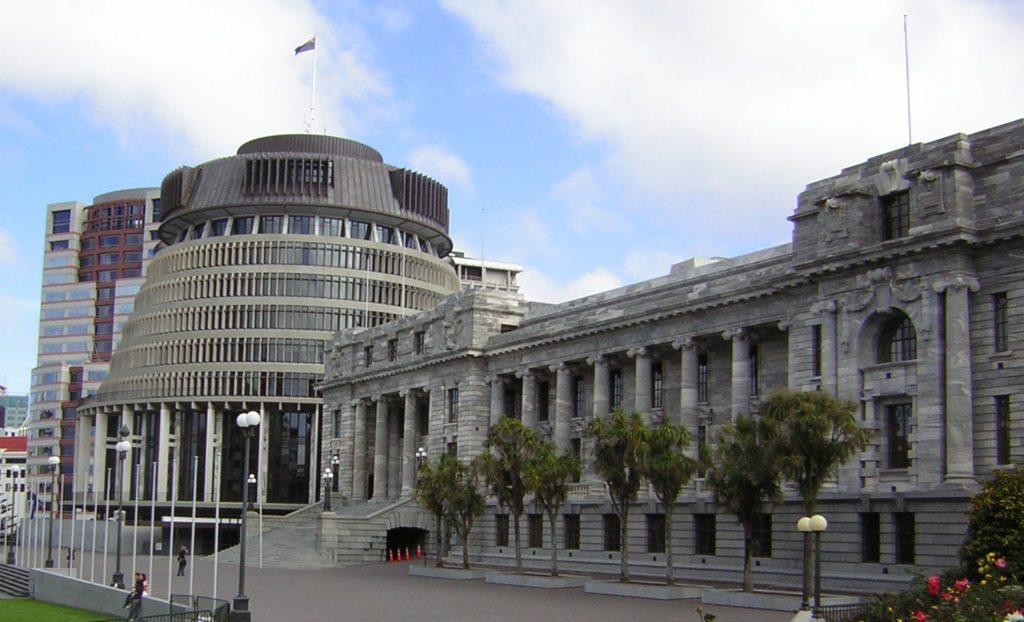 Today's content
Public health strategy
Virginia Fallon and Bridie Whitton (Stuff): Call for return to normal life puts tens of thousands at risk
Derek Cheng (Herald): Cabinet urged not to play 'Russian roulette' with New Zealanders' health by rushing lockdown decision
Henry Cooke (Stuff): Don't look to Australia for lockdown example, says expert
1News: Government still has work to do to prevent playing 'Russian roulette' with Kiwis' health: epidemiologist
John Gibb (ODT): Lockdown hasty exit a risky gamble that could cost lives
1News: Level 4 lockdown needs to be done once and done right to stamp out Covid-19, expert urges
Siouxsie Wiles (Spinoff): About those cries of 'over-reaction' on NZ's Covid-19 response
Marc Daalder (Newsroom): 'Contrarian' academics oppose NZ lockdown
Jamie Ensor (Newshub): Academics propose easing restrictions, lockdown no longer needed
Newstalk ZB: Simon Thornley on why he believes lockdown has been an overreaction
Richard Harman (Politik): The pressure goes on
Gordon Campbell: On the argument over whether lives or livelihoods are more important
RNZ: Covid-19 surveillance system needs more attention – epidemiologist
1News: Professor calls for more transparency in reporting of rural Covid-19 statistics
Stuff Editorial: Without clear evidence, this is no time for a hasty retreat from lockdown
Herald Editorial: Next steps crucial to keep support (paywalled)
Zane Small (Newshub): MPs question New Zealand's COVID-19 lockdown as Australia's lighter approach produces similar results
Heather du Plessis-Allan (Newstalk ZB): Have we gone too hard in this lockdown?
Katarina Williams (Stuff): Relying on other countries for vaccine 'wrong approach', top scientists say
RNZ: Covid-19 vaccine development programme urged
Martyn Bradbury (Daily Blog): Death Cult Capitalism tries to eclipse Egalitarian NZ
Farah Hancock (Newsroom): What does it take to stop a cluster?
Government
Richard Shaw (The Conversation): Trust in government is high in NZ, but will it last until the country's elections later in the year?
Thomas Coughlan (Stuff): Boris Johnson's 'digi kiwis' no longer working on NZ Covid-19 response
Sam Sachdeva (Newsroom): What life after lockdown could look like
Hannah Kronast (Newshub): Jacinda Ardern says NZ can't 'take our foot off the pedal' with COVID-19 restrictions
Jamie Ensor (Newshub): New Zealanders shouldn't assume lockdown lifting next week – Jacinda Ardern
1News: Jacinda Ardern wants as few 'restrictions as possible on New Zealanders' while trying to eliminate Covid-19
Lana Andelane (Newshub): Government extends New Zealand's state of national emergency during COVID-19 crisis
1News: State of national emergency extended for another seven days
Stuff: Winston Peters says fishing critics need a 'sense of humour'
1News: 'Very lucky to be surrounded by kindness' – Jacinda Ardern thanks family for help during lockdown
Treasury modelling
Zane Small (Newshub): Treasury's scenario of up to 26 percent unemployment 'unacceptable' – Finance Minister
Thomas Coughlan (Stuff): Grant Robertson won't accept worst case scenario of hundreds of thousands additional unemployed
Brian Gaynor (BusinessDesk): Covid-19 is much bigger than the GFC (paywalled)
Jo Moir (RNZ): Unemployment can be kept below 10 percent – Treasury
Bernard Hickey (Newsroom): Should we spend an extra $20b, or $40b?
Charlotte Graham-McLay (Guardian): New Zealand jobless rate could hit 13% even if lockdown ends next week, modelling suggests
Pattrick Smellie (BusinessDesk): Four years to low unemployment possible post-covid: Treasury (paywalled)
Matt Burrows (Newshub): What the Government needs to do to keep unemployment below 10 percent
Anna Whyte (1News): Unemployment could hit 25 per cent in worst case lockdown scenario – Treasury modelling
Michael Reddell: The Treasury's economic scenarios
Alex Braae (Spinoff): How Covid-19 will damage the economy, according to Treasury
Economy
Thomas Coughlan (Stuff): We've stopped worst effects – now let's get ready for the next crisis
Tom Pullar-Strecker (Stuff): Too-short 'failed lockdown' would be worse outcome for economy in long run, bank warns
Chris Trotter (Interest): The lesson of history is 'liquidate orthodoxy'
James Fyfe (Newshub): Economist warns of 'very challenging year' ahead with a 'lot of pain' to come for Kiwi businesses
Susan Edmunds (Stuff): New Zealand economy won't look 'normal' for a long time
Priscilla Dickinson (Newshub): Loss of international tourism 'a game-changer' – economist
Christine Rose (Daily Blog): Investing in a resilient future a lesson from Covid-19
Business, job losses
Anna White (1News): Nearly $9 billion in wage subsidies paid to 1.4 million workers across New Zealand
Amanda Cropp (Stuff): Coronavirus: Government package offers $3.2b worth of tax and business assistance
Liam Dann (Herald): Government launches new $3b business tax package
Jane Patterson (RNZ): $3 billion tax break to help small businesses survive Covid-19 crisis
Herald: SME tax relief, new commercial tenant measures introduced
1News: Raft of new measures announced to provide relief for small, medium-sized businesses
Jenée Tibshraeny (Interest): Business tax changes worth more than $3 billion unveiled
Jenny Ruth (BusinessDesk): Appetite for business, mortgage holiday schemes fades (paywalled)
Jenée Tibshraeny (Interest): Rules changed to allow commercial tenants and mortgage holders given more time to sort their affairs before landlords and lenders swoop in
1News: Increase in sustainable business could be more feasible after lockdown, advocate says
1News: Never a better time for employers to integrate flexibility, EMA says
—————
Susan Hornsby-Geluk (Stuff): Employers must consult before making staff redundant during Covid-19 pandemic
Melanie Carroll (Stuff): Burger King NZ owners in receivership, hopes of sale
RNZ: Owners of fast food chain Burger King go into receivership
Damien Venuto (Herald): Can Burger King find a buyer? Retail expert's view (paywalled)
Victoria Young (BusinessDesk): Burger King operator in receivership, blames coronavirus (paywalled)
Tom Pullar-Strecker (Stuff): 2degrees proposes to cut its workforce by 10%
Paul McBeth (BusinessDesk): 2degrees to lay off 120 staff, slash costs
Environment and conservation
Michael Neilson (Herald): Climate Change Commission warns high emission economic recovery could deepen climate crisis
Eloise Gibson (Stuff): Climate Commission warns high-emissions coronavirus spend-up will spark new crisis
Reweti Kohere (NBR): Climate commission encourages green lens on virus recovery (paywalled)
No Right Turn: Climate Change: The need for a green recovery
Teuila Fuatai (Stuff): Fleeing or living – questions from the frontline of climate change
Raf Manji (Stuff): NZ should lead move to fossil-fuel reduction treaty
Eloise Gibson and Olivia Wannan (Stuff): How to live lightly while in home lockdown
Olivia Wannan (Stuff): Will the lockdown combat mindless consumerism?
Katie Doyle (RNZ): NZ's native birds thrive under Covid-19 lockdown
Lois Williams (Stuff): Conservation minister affirms conservation board's right to meet – despite iwi boycott
Tracy Neal (RNZ): Funding pushes efforts to eradicate stoats on Rangitoto ki te Tonga / d'Urville Island
Fletchers, construction
Mike Treen (Daily Blog): Nationalise Fletcher Building to ensure we can rebuild NZ
Anuja Nadkarni (Stuff): Fletcher Building receives $66.3m through Covid-19 wage subsidy scheme
Zane Small (Newshub): Grant Robertson hints at construction workforce coming back during alert level 3
Rest homes
Hamish McLean (ODT): Aged-care facilities in focus as New Zealand deaths rise
Newstalk ZB: Aged care review announced as death toll grows
1News: Dr Ashley Bloomfield disputes suggestion Rosewood Rest Home residents were left to die in hospital
David Williams (Newsroom): Rosewood exposes broken elderly care model
RNZ: CHT St Margarets facility identified as Auckland rest home cluster
Katie Todd (RNZ): Man unable to find out if mother-in-law moved from Rosewood Rest Home
RNZ: Checkpoint: Some exceptions for visiting dying relatives at rest homes – Aged Care union boss
Masks and protective gear
Michael Morrah (Newshub): PPE still not available to some nurses at Burwood Hospital, site of six COVID-19 deaths
RNZ: Healthcare provider struggling to get enough PPE
Gary Payinda (Herald): Surgical-type face mask should be safe enough to use on frontline (paywalled)
Essential workers
Marc Daalder (Newsroom): One third of new Covid-19 cases are health workers
Dubby Henry (Herald): Eight healthcare workers in Auckland's DHBs have Covid-19
Glen Scanlon (RNZ): Publicly-funded workers ineligible for subsidy 'should continue to be paid' – PM
Rosie Gordon (Newshub): Frontline workers finding alternative accommodation to protect their families from COVID-19
Marlon Drake (Stuff): Our essential workers should all be on a living wage
Glen Scanlon (RNZ): Essential worker leave scheme: 70-year-old 'can't even sleep at night'
Education
Simon Collins (Herald): Online learning 'game-changing' – but many may still miss out
John Gerritsen (RNZ): Term of distance learning begins for teachers and pupils
Zac Fleming (Newshub): Tens of thousands of Kiwi kids lack internet, devices for online learning
Simon Collins (Herald): Māori TV's educational channel will run for 10 weeks
Imogen Wells (1News): Online safety filter available for kids at home learning remotely
RNZ: Secondary school principal wants NCEA level 1 suspended for 2020
Andrew Patterson (Newsroom): It's school, but not as you know it
1News: How to cope with kids learning at home during the lockdown
Zac Anderson (Stuff): As a principal, it's bloody awful not knowing if our kids have eaten today
—————
No Right Turn:Debt isn't support
ODT: Government's student assistance package decried
Sinead Gill (Critic): Students Across New Zealand Are Angry About the Tertiary Student Support Package
Zane Small (Newshub): Course-related costs limit increased as part of COVID-19 tertiary relief package
Collette Devlin & Lee Kenny (Stuff): PM Jacinda Ardern announces tertiary student support package
—————
Georgia Forrester (Stuff): Childcare centres expected to be 'flexible' about fees during lockdown, Education Minister says
Media
David Farrar: Media models are changing
Tim Murphy (Newsroom): A reality TV show where the news media bare all
Pattrick Smellie (BusinessDesk): Time to let NZME and Stuff merge? (paywalled)
Colin Peacock (RNZ): Big cuts announced by NZME in latest COVID-19 response
RNZ: NZME to cut 200 jobs as advertising revenue plummets
Susan Edmunds and Tom Pullar-Strecke (Stuff): Media company NZME cuts workforce by 15%
1News: NZME cuts '200 positions', asks employees to take 15 per cent pay cut for 12 weeks
Jamie Ensor (Newshub): NZHerald, Newstalk ZB owner NZME cuts more than 200 jobs
Dita De Boni (NBR): NZME slashes 15% of workforce as advertising plummets (paywalled)
Local government
Tom Hunt (Dominion Post): Wellington Water polls residents on dumping city's sewer in Cook Strait
Adam Dudding and Eugene Bingham (Stuff): Coronavirus NZ podcast: Over-rated? Why councillors are meeting in secret
Susan Botting (RNZ): Northland councils' rates under spotlight
ODT: Ratepayers asked to pay what they can; DCC to look at options
ODT: Central Otago rates to be invoiced as usual but scope to avoid penalties
Repatriation, ex-pats, migration
1News: 'I'm grateful to be home' – Kiwis stranded in South America return to NZ on rescue flight
Liu Chen (RNZ): Family back from Wuhan: 'Everyone is trying to help us'
Hannah Martin (Stuff): I'm a Kiwi overseas – what happens if I get sick?
RNZ: More Kiwis arriving than leaving for first time
Transport
Rachel Thomas (RNZ): Regional flights in doubt after shutdown
Ananish Chaudhuri (Herald): Air New Zealand pilot layoffs – there is a better way (paywalled)
Melanie Carrolll (Stuff): Air New Zealand credits spark complaints to Commerce Commission
Rachel Thomas (RNZ): Long term grounding of large planes is 400 hours per aircraft
Pacific
RNZ: Fiji police arrest more Covid-19 restriction breachers, including one of their own
RNZ: Fiji Health Minister warns that Covid-19 screening is compulsory
Dominic Godfrey (RNZ): Many homeless or without electricity in Fiji after Cyclone Harold
RNZ: Cyclone Harold has already cost Fiji millions of dollars
RNZ: Wharves and coastal roads in Tonga need repairing after Cyclone Harold
Koroi Hawkins (RNZ): NGO backs Vanuatu's disaster officials as it gets OK to distribute aid
Deaths of fisheries observers
Andrea Vance (Stuff): Death on the high seas; the mysterious death of a humble fishing observer
RNZ: Latest death of Pacific fisheries observer highlights protection flaws
Lockdown breaches, enforcing the lockdown
Virginia Fallon (Stuff): Police report 1452 breaches as Kiwis continue to ignore rules
Helen Castles (1News): Former MP Hone Harawira defends travelling to 'essentially fabulous' Easter breakfast with sister
Denise Piper (Stuff): Hone Harawira says 600km trip, meal with family in Auckland 'was safe'
Vaimoana Tapaleao (Herald): Former MP Hone Harawira causes stir after trip to Auckland
Iwi checkpoints
Dean Nathan (Māori TV): Closing gateway to Far North to protect against virus great for community
Taroi Black (Māori TV): Ruatoria checkpoint worker feels let down by police decision
Sport
Steve Hepburn (ODT): Sport must wait: Gerrard
Vinnie Wylie (RNZ): Former All Black Eroni Clarke appointed to NZR Pasifika role
RNZ: Essential turf maintenance can resume at golf courses today
Other
Tapatahi, Tepara Koti (Māori TV): Māori orgs getting homeless into iso-proof accomodation
Marty Sharpe (Stuff): The rise of cultural reports in the New Zealand criminal justice system
Susan St John (Newsroom): Universal basic income: be careful what you wish for
Monique Poirier (Democracy Project): Politicising a crisis
Robert Patman (Newsroom): Is Covid-19 turning the tide against national populism?
Fran O'Sullivan (Herald): Call to millionaires: Come to 'Sanctuary NZ' – for a price (paywalled)
Lois Williams (RNZ): Opening date for Te Nikau Grey Hospital dependent on Covid-19 situation
Newsroom: In lockdown with Paula Bennett
Georgia Forrester and Brittney Deguara (Stuff): Four months on, here's what we've learned about Covid-19 so far
Anan Zaki (RNZ): Christchurch's $475m convention centre opening pushed back
Lawrence Gullery (Stuff): Lingering drought prompts more calls to rural helpline during Covid-19
Juha Saarinen (Herald): Dangerous anti-5G conspiracy theorists cross the line (paywalled)
Stephen Forbes (Stuff): Funeral directors and families battle with restrictions
1News: Sir John Kirwan urges Kiwis experiencing lockdown mental health issues to utilise new online tools
Tracy Neal (RNZ): Optimism arts sector will bounce back from Covid-19 blues
Tom McKinlay (ODT): An art to profit us all