Editor's Note: Here below is a list of the main issues currently under discussion in New Zealand and links to media coverage.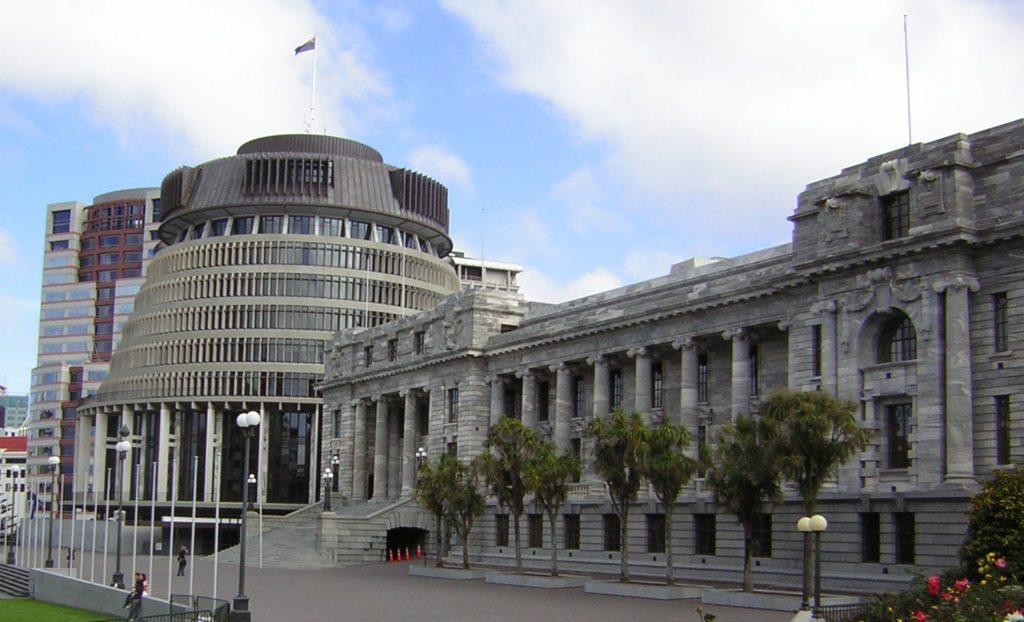 Today's content
Coronavirus
Kate MacNamara (Stuff): The Government's business continuity plan should include the wage cost of self-isolation
Shamubeel Eaqub (RNZ): Don't panic – a recession may not be what you think
Press Editorial: Who pays for the coronavirus crisis?
Julie Iles (NBR): Covid-19 puts unusual pressure on employers (paywalled)
Richard Harman (Politik): Jacinda launches a calm offensive
Herald Editorial: An unexpected global storm has all eyes on Grant Robertson's fiscal response (paywalled)
Paul Goldsmith (Herald): What our economic response to coronavirus should look like (paywalled)
Tom Pullar-Strecker (Stuff): Reserve Bank governor Adrian Orr advises businesses to mind the gap but 'keep calm'
Jenée Tibshraeny (Interest): Financial stability the RBNZ's top priority right now, says Assistant RBNZ Governor
Michael Andrew (Spinoff): A beginner's guide to the Covid-19-triggered market turmoil
Jess Berentson-Shaw (Newsroom): View Covid-19 through a different policy lens
Marc Daalder (Newsroom): What US Covid-19 response means for NZ
Dileepa Fonseka (Newsroom): Businesses fear late and weak response
1News: Small-town New Zealand suffering as forestry industry's hit hard by impact of coronavirus
Dileepa Fonseka (Newsroom): Covid-19 tourism package 'not going to do a thing'
Lydia Lewis (Newshub): Vodafone to test pandemic plan by making 1200 employees work off-site
Grant Bradley (Herald): Air New Zealand and unions working on cost-cutting measures (paywalled)
Andrew Dickens (Newstalk ZB): Coronavirus outbreak is the wrong time to play politics
Alan Kenyon (1News): PM accuses Simon Bridges of 'scaremongering' with 'irresponsible' coronavirus criticism
—————
Sam Morgan (Newsroom): Some worrying calculations on Covid-19
Kate Hawkesby (Newstalk ZB): Mosque attack memorial and Pasifika should give way to coronavirus
Lana Andelane (Newshub): Ministry of Health urges unwell NZers to stay home, avoid mass gatherings
Zac Fleming (Newshub): Ministry of Health urging anyone who is slightly sick to stay home
1News: Health Minister's warning amid coronavirus outbreak: 'If in doubt, don't go out'
Kim Moodie (Herald): NZ experts paint picture of coronavirus 'worst-case scenario' and how we can prevent it
Jamie Ensor and Rachel Sadler (Newshub): Doctor estimates half of New Zealand's population could become infected
RNZ: Experts warn of hospital resources being stretched
Mike Houlahan (ODT): Govt issues guidance for aged care providers
Anne Gibson (Herald): Retirement village sector chiefs form task force to protect elderly (paywalled)
Anna Whyte (1News): Coronavirus: NZ's self-isolation requirement extended to travellers from all of Italy
Collette Devlin (Stuff): Italy travel restrictions ramped up, Kiwis told not to cruise
RNZ: Covid-19 travel restrictions extended to travellers from Italy
1News: Simon Bridges calls for travel ban on visitors from coronavirus-stricken South Korea, Italy
1News: McDonald's bans reusable coffee cups at NZ restaurants as a coronavirus precaution
Kim Baker Wilson (1News): Coronavirus panic causing unprecedented blockages in Auckland's sewage system
SFO launches investigations into Lianne Dalziel and Phil Goff
Nick Truebridge (Stuff): Auckland Mayor Phil Goff hits back as SFO confirms probe
Dominic Harris and Nick Truebridge (Stuff): Serious Fraud Office launches investigations against mayors Lianne Dalziel and Phil Goff
RNZ: SFO launches investigations into Auckland, Christchurch mayoral campaign donations
Ella Prendergast and Mark Quinlivan (Newshub): Serious Fraud Office investigating Auckland, Christchurch mayoral election donations
Anna Whyte (1News): SFO launch investigations into mayors Phil Goff and Lianne Dalziel election donations
Kate Hawkesby (Newstalk ZB): Political investigations not a good look
Elections
Chris Trotter (Daily Blog): Forgetting To Remember New Zealand's Racist Election.
Luke Oldfield (The Big Q): Dear John, could you be the Kingmaker? Intriguing possibilities in 2020 New Zealand election
Anna Whyte (1News); New law passes to fund disability-related costs for political candidates
Abortion
Gordon Campbell: On the loss of abortion safe zones, Coronavirus and class
Jo Moir (RNZ): Labour shrugs after abortion clinic safe-zones vote misfire
Amelia Wade (Herald): Voting mix-up sees abortion safe-zones axed and MPs 'gutted'
Anna Bracewell-Worrall (Newshub): Abortion reformists fuming after MPs scrap creation of 'safe zones' around clinics
Henry Cooke (Stuff): Andrew Little will not try to re-insert 'safe zones' into abortion bill after procedural snafu
Anna Bracewell-Worrall (Newshub): No plans to reverse abortion 'safe zone' scrapping
Thomas Coughlan (Stuff): Last minute mistake changes abortion law as Parliament accidentally passes amendment
David Farrar: A stuff up in Parliament
Family First: Who voted against all attempts to moderate the extreme abortion bill?
National on regulations, raising GST
Jamie Ensor (Newshub): National isn't planning GST increase if elected, but won't entirely rule it out – Simon Bridges
Jenée Tibshraeny (Interest): National not planning a GST hike, but won't rule it out
Claire Trevett (Herald): Simon Bridges and the Red Tape under the bed (paywalled)
Brent Edwards (NBR): Paul Goldsmith says regulations may be good ideas but impose costs (paywalled)
RNZ: Simon Bridges: Reducing regulation important for strong economy
1News: Bridges reiterates plan to scrap thousands of regulations will improve lives of renters, small business owners
Christchurch mosque shootings, rightwing extremism
Kurt Bayer (Herald): The Ripple Effect: Hope, fear and gun laws – the fallout from March 15
Katie Todd (RNZ): Christchurch mosque attack donation logistics 'very difficult' and not over yet
John Battersby (Stuff): More intolerance is not the answer to intolerance
Glenn McConnell (Stuff): I spent a year watching the alt-Right after the devastating Christchurch terror attacks
Newstalk ZB: Paul Spoonley: Threat of far-right extremism hasn't gone away
Maysoon Salama (Guardian): The Christchurch attack traumatised us, but we are determined to be happy
Stuff: National March 15 remembrance service moved to Christchurch's Horncastle Arena
1News: Location change for Christchurch terrorist attack remembrance service
Education
Zane Small and Caley Callahan (Newshub): Union backs using 'force' against high school students as Ombudsman pushes back
John Gerritsen (RNZ): Parents seek tax rebates on past camp fees
Zane Small (Newshub): Lawmakers urged to stop the 'evangelising of children' in New Zealand schools
Richard Prebble (NBR): Every school day matters (paywalled)
George Heagney (Stuff): Massey staff to down tools to discuss proposed restructure
Lee Kenny (Stuff): 16 jobs to be axed as part of University of Canterbury restructure plan
Environment and conservation
Wayne Linklater (Stuff): Conservationists fiddle with predators while Rome burns
1News: Urgent action needed with Auckland's Hauraki Gulf on verge of 'environmental collapse'
Kate Evans (Guardian): We used to be leaders': the collapse of New Zealand's landmark ocean park
Olivia Wannan (Stuff): Thames-Coromandel council fails to bat off climate change court case
Eva Corlett (RNZ): Thames-Coromandel council faces court over not signing climate declaration
Lawrence Gully (Stuff): Open Country Dairy applies for 35-year permit to discharge contaminants into river, air
Farah Hancock (Newsroom): Toxic stockpile site given 10 days to clean up
RNZ: Iwi furious at company's plan to leave oil production equipment on Taranaki sea floor
Cherie Sivignon (Nelson Mail): Nelson regional sewage treatment plant consents granted for 20 years
RNZ: News that New Zealanders are ignoring Tongariro rāhui upsets iwi
RNZ: The Detail: New Zealand's battle against wildlife smuggling
Tiwai Point
Rachael Kelly (Southland Times): Environment Minister David Parker pens scathing letter to Rio Tinto
Craig McCullough (RNZ): Mataura dross: Environment Minister targets smelter company in letter
Drought
1News: Government announces $2 million in funding for drought-stricken farmers and growers
Kim Moodie (Herald): Drought relief: Farmers and growers to get $2m more from Government
RNZ: Drought for North Island, Chatham Islands, part of South unlocks $2m relief funding
Stuff: North Island drought classified as 'large-scale' event, the worst since 2013
Marcus Anselm (RNZ): Wairarapa 'heading into a drought' – Fed Farmers
Charlotte Jones (RNZ): Water pressure: Regional council prepares for worst-case drought
Anusha Bradley (RNZ): Parched conditions in Hawke's Bay hitting hard amid calls for drought declaration
Housing
Cat MacLennan (Newsroom): What Auckland's 'ghost homes' could do for the housing crisis
Marta Steeman (Stuff):State house builder Kāinga Ora is testing its first factory-made bathroom pods, prefabricated in Canterbury
Tina Law (Press): New social housing development to provide much-needed homes in Christchurch
Denise Piper (Stuff): Northland state housing tenant devastated over leaving home of 15 years
RNZ
Tom Pular-Strecker (Stuff): RNZ originally considered taking Concert channel off broadcast radio altogether
Damien Venuto (Herald): The big mistake RNZ made when it came to Concert
Tim Batt (Metro): Which of RNZ's 'Ten New Zealanders' are you?
Battle of Kororāreka commemoration
Jessica Tyson (Māori TV): 175 year commemoration of the first battle of the Northern Wars
Peter de Graaf (Northern Advocate): Battle of Kororāreka remembered 175 years on
1News: Battle of Kororāreka 175th anniversary commemorated with dawn service in Russell
RNZ: Ceremony marks Hone Heke flagstaff felling
Health
Briar Marbeck (Newshub): Government urged to fund GP visits for cancer patients
Waatea News: Navigators help Maori through cancer journey
Dan Satherley and Emma Stanford (Newshub): Facebook still rife with vaccine misinformation – NZ study
Louisa Steyl (Stuff): HealthCare NZ amends its restructure plan after protests
Foreign affairs
RNZ: Aussie deportations: Time for NZ govt to 'step forward' on world stage
Lloyd Burr (Newshub): Boris Johnson's middle finger to Kiwis
Local government
Chloe Ranford (Stuff): Ransomware attack behind offline parking app around the country
ODT Editorial: Rating jobs by the numbers
Liz McDonald (Stuff): Christchurch convention centre Te Pae bidding for events after Auckland fire
Transport
John Anthony (Stuff): Air NZ concerned about Auckland Airport's loss of 'aeronautical competency'
Chris Teo-Sherrell (Stuff): Not so fast – we must protect our footpaths from wrongheaded Govt plans
Primary industries
Maja Burry (RNZ): Million-dollar food and fiber project aims to boost Taranaki economy
Jane Matthews (Stuff): Taranaki food and fibre sector gets $900k boost for future ventures
Colin Craig-Cameron Slater defamation case
Stuff: Judge was not wrong to deny Colin Craig a payout for defamation, Court of Appeal hears
Melissa NIghtingale (Herald): Colin Craig's appeal over defamation case with Cameron Slater ends
Other
Dileepa Fonseka (Newsroom): Govt 'dithering' on migrant exploitation
Jenna Lynch (Newshub): Firearms licences were among personal details breached in Tuia250 security failure
Stephen Forbes (Stuff): Avondale Jockey Club faces being stripped of assets under proposed law
Jock Lawrie (ODT): Public Service Bill: Terminology may stymie advances
Morgan Godfery: The union movement and the Te Tiriti
Te Aniwa Hurihanganui (Spinoff): Once I was fluent in te reo. Now I'm trying to recover what I lost
Aaron van Delden (RNZ): Gisborne Council weighing up ways to reuse wastewater
Marcus Anselm (RNZ): Airport spend expected to add to rates rise in Wairarapa
Christine Rovoi (RNZ): Kiribati, Rotuman languages now part of NZ language weeks lineup
Emma Perry (ODT): No plans to shut rodeo down after bull deaths
Susan Edmunds (Stuff): Changes to make child support easier to comply with, Govt says
Pattrick Smellie (Herald): Solar power for commercial buildings – it's finally time (paywalled)
Duncan Bridgeman (Stuff): New Zealand environmentalist and entrepreneur Sir Rob Fenwick dies
Stuff: Environmentalist Sir Rob Fenwick dies at age 68
Hamish Cardwell (RNZ): ANZ cutting Te Kuiti branch opening hours a blow for struggling region, mayor says
RNZ: Company fined $12,000 for operating South Island tours without permit
Emily Brookes (Stuff): Local feminist video starring Claire Chitham lacks diversity, will be reshot