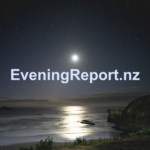 <![CDATA[MIL OSI Analysis – Pacific Media Watch/Pacific Media Centre.
PMW's Alistar Kata has revived the Southern Cross programme on Radio 95bFM.
Monday, April 20, 2015
Item: 9227
AUCKLAND
(Pacific Media Watch):
Host of 95bFM's 
Southern Cross
programme Nick Bond talked to Pacific Media Watch's Alistar Kata today about whether New Zealand and Australia should remain in the Pacific Islands Forum. The Forum has lifted its suspension of Fiji, but Fiji Prime Minister Voreqe Bainimarama does not want to rejoin the forum while Australia and New Zealand are still members. Kata said Bainimarama wants the key decisions that come from the Forum to be made by Pacific Island leaders themselves. "He thinks that Australia and New Zealand have too much influence and control over the decisions the Forum makes," she said. "Where Bainimarama is coming from is that he wants the responsibility of those big decisions that come out of the Forum to be made by the Pacific leaders themselves, and no longer donor countries or donor institutions." Kata said although she understood what Bainimarama was trying to say, there was a "reason" why more developed countries were involved in the Forum. "In a way I understand where he is coming from, but at the same time you can't have a Pacific Forum without Australia or New Zealand." New Zealand Prime Minister John Key's response to Bainimarama's claims was that without Australia and New Zealand, the Forum would not have the money to keep it running. Today was the second broadcast in a return of the
Southern Cross
programme on 95bFM http://www.95bfm.com/assets/sm/220885/3/SouthernCross20Apr2015.mp3
Listen to Alistar Kata's comments
Last week's new Southern Cross programme
This work is licensed under a Creative Commons Attribution-NonCommercial 3.0 New Zealand Licence.
]]>