Source: The Conversation (Au and NZ) – By Sarah Austin, Lecturer in Theatre, The University of Melbourne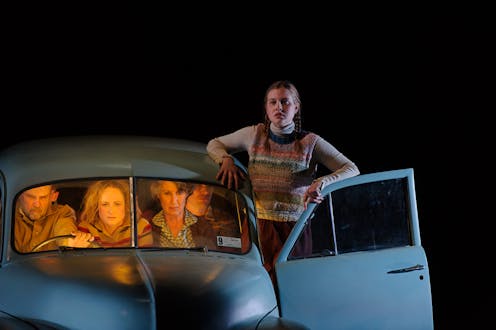 Sarah Walker/MTC
Emerging from one of Australia's most enduring and significant theatrical partnerships between director Susie Dee and playwright Patricia Cornelius, My Sister Jill is a contemporary homage to George Johnston's classic 1964 Australian novel My Brother Jack.
Both these works are set in post-war suburban Australia in the 1960s. But instead of the longing for the classic values of an older Australia that valorise war heroism and stoic masculinity, My Sister Jill centres the perspectives of those impacted by this narrative.
Parents Jack (Ian Bliss), a war veteran and prisoner of war from Changi on the Thai-Burma railway, and Martha (Maude Davey) have five children. Jill (Lucy Goleby), the eldest daughter, is intelligent and fierce. Johnnie (James O'Connell) frequently experiences his father's violent ire as he is deemed "soft". Door (Benjamin Nichol) and Mouse (Zachary Pidd) are twin brothers with mental telepathy and a joyful desire to be physically close at all times.
Christine (Angourie Rice), the youngest, plays the narrator. She seeks to connect with and understand her father through his stories of the horrors of war, sometimes biting off more than she can chew when the tales become deeply bleak and disturbing.
In a blistering post-war social and cultural commentary, My Sister Jill disrupts ideas of colonial glory with a troubling depiction of family violence, PTSD, homophobia and the ruinous intergenerational impacts of patriarchal oppression on everyone.
The volatility of trauma
The show is set in and around the family's weatherboard home, and the set design by Marg Horwell features a beautifully restored 1953 FX Holden on stage.
It is a pared back, familiar landscape of dry yellow light, lino tiles, fading wallpaper and porch chairs, and the site of a cultural identity permeated by patriarchal violence from the perspective of White Australian culture.
As the story progresses, the children grow up under the volatility of their father's trauma. They are frustrated by their mother's fear and inaction. We witness Jack's anger and violence toward his wife and children, his alcoholism and failure to hold down a job, his nightmarish memories and the anti-therapeutic 1960s attitude towards mental health. In one scene we watch Martha diligently "change the subject" to bring Jack back from the emotional edge as his memories of war threaten to overwhelm him.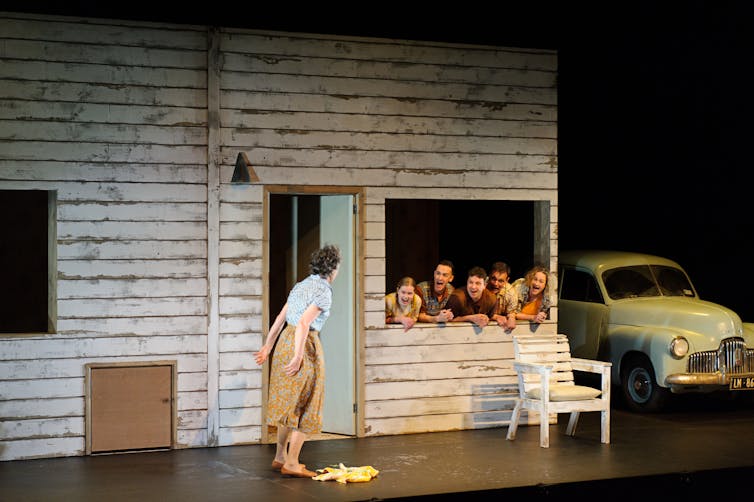 Jack's story about surviving a torpedoing of a Japanese freighter by clinging to a raft while covered in thick black oil is taken from aspects of Cornelius' own father's life. The harrowing details of this particular scene as Jack recalls this moment of survival to Christine are profound and unsettling.
On stage, Christine is deeply impacted by this story, its retelling taking her into an imagined reality too frightening to contemplate. War is hell, the play reminds us, an indiscriminate false moral vacuum full of deep harm. Any notion of national pride that persists constitutes a dangerous narrative that whitewashes the violence of colonisation in our own backyards and homes.
---


Read more:
From shell shock to PTSD: proof of war's traumatic history


---
Idealism and false promise
Throughout the play, Jill emerges as a resistor to her father, incapable of holding back her fury at his behaviour.
Jill carefully looks after Johnnie when he returns to bed with urine-soaked pyjamas after being beaten. We see her refusing to wait inside the freezing cold FX Holden with the others when Jack leaves his family for hours outside the pub. Ultimately Jill is unable to "cut her father some slack", as her mother suggests. She continually confronts her father, is forced to leave school and find work and ultimately moves out of home and becomes an organiser of anti-war demonstrations.
Christine travels from undying support of the wonderful father hero and a desire to head to war herself, to becoming the only child left in the family home. At this point, as she describes her father yelling at her mother all day long, she begins to echo her sister Jill's intolerance of her dad and we see the full circle impact of intergenerational trauma.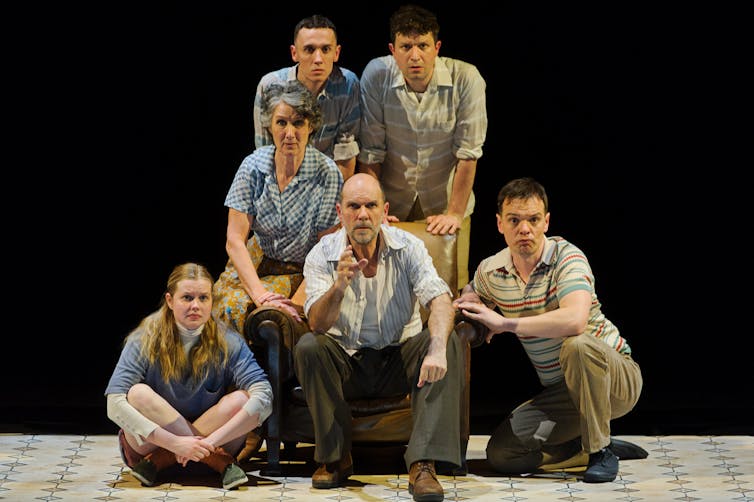 Christine reunites with Jill as a young adult, about to head to university, the first of the family to attend. Jill is proud of her, and promises she, too, will attend university one day. We are reminded of what has been lost for Jill. Christine speaks to the audience one of the last lines in the play "She will, won't she, My Sister Jill? She will. Will she?"
Wrapped up in this moment is the idealism and false promise of the late 1960s Australia.
My Sister Jill raises the spectre of the question about what has changed in Australian culture since that time and what harmful narratives we continue to deny – or are we now able to collectively address?
One can only hope the answer to Christine's question "will she?" is, like the answer to other questions aimed at addressing the ongoing impact of colonial violence on our national culture, a huge resounding yes.
My Sister Jill is at the Melbourne Theatre Company until October 28.
---


Read more:
More than half of Australians will experience trauma, most before they turn 17. We need to talk about it


---

Sarah Austin does not work for, consult, own shares in or receive funding from any company or organisation that would benefit from this article, and has disclosed no relevant affiliations beyond their academic appointment.
– ref. My Sister Jill: Patricia Cornelius' new play is a blistering post-war social and cultural commentary – https://theconversation.com/my-sister-jill-patricia-cornelius-new-play-is-a-blistering-post-war-social-and-cultural-commentary-214367